Well, I have a bunch of pictures to share...
Most of them I didn't take, nor was I in, - or even around for..
and I have no idea how to blog that.
Do you know that that means??
Well, in case you have no other contact with me besides this blog- it means Ri got to go on his brocation after all.. YAY!!!
After Ri went to bed, and I posted my last blog, and we had both sort of given up(Ri did half consider going on his own)- but then Ben read my blog, and joked that Ri should have called him.
We assumed with work, and a new baby, Ben was way too busy for a last minute trip.. but Ri& Ben did end up getting a hold of one another ... AND Ben was super excited to go!!!
Freaking AWESOME!! Ben did get Ri to call Ileana and make sure it was ok with her , being V-day weekend and all. She laughed,It was cute though.
But now what?
My (and the kid's)long lonely weekend was pretty boring.. and Ri took my camera so I didn't even get pics!
I tried to get Ri to step in as a guest blogger , but that is not really his thing. He will be grilled about what sort of explanation he can give to write with each picture, maybe I will break him and he will just end up penning most of this MWHAHAHAhahaha ( look out for
Ri has a blog?!
coming to inboxes near you ;) )
- I think am gonna just tell you what I did 1st...
because it is hella interesting, and junk.
Ri spent his last night home running all over creation trying to get last minute things, while Rory and I kicked around the house.It was hard to say bye to him. Rory and I didn't really want him to leave... excited for him- but we knew we were all going to miss each other
a lot
.
Rory did give me a tiny scare, waiting for Ri to leave, to have potty trouble. After her sick, I was thinking "Great. now she has an infection".. but she was fine. Just being too busy. Mostly, I just cleaned up and watched bad tv while she played. We did end up having a rough time getting to bed without Ri - so we had a slumber party on the living room floor.
I woke up in the morning to JJ at my door with Valentines Day Flowers from mom and dad- Aww! Rory checked the mail and found Momo had sent her a card ,too.Ri called to tell me he made it ALL THE WAY to Tennessee- in the worst weather EVER without stopping.Crazy.
Rory spent the day outside with Noobs digging in the dirt ,eating mandarin oranges off the tree,and having a blast in the sun- even with the cold wind.
We didn't really do much, and the house was lonely. So we arranged to stay Valentines night at moms. Rory had a blast, eating junk food , watching GIANT tv,playing with dolls and looking through old pics
- while I drank all their soda ,ate tons of carbs, and chatted with my brother JJ
because my parents have actual social lives.
Mom took Amy to a Drs appt the next day- so it was just Rory and I hangin with JJ again.
After We slept in for a long time on the SUPER comfy bed in this room-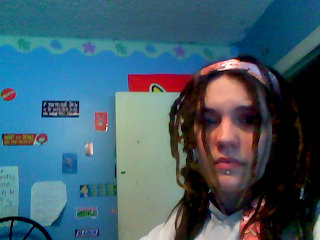 Still decorated with Amy and Libby's stickers..
I spent sometime digging through the past , my old junk in the storage barn.. and laying in the hammock - it was sorta warm and pretty out.
Mom brought Amy and Allura there too before we left- So, I got to hold cute chunky niece , and I don't have any pictures.sorry.
JJ brought us home and we waited all to anxiously for Ri to get home-The dog and kitties were pretty mad about being left home for a whole night.
Rory pretty much crashed though.
Ri finally made home at around midnight Monday/almost Tuesday.
By then all my friends/relatives, had asked 100 questions about him- and I didn't know, the places he went were soo rural and backwoods that he didn't have enough signal to call much.I had really expected to get to chat with him more while he was gone.. I think a day longer and I may have completely lost my sanity.
So now, pictures... and Ri's half of the story..
This is a palm tree just north of Jax-
Is that not the oddest thing ever?
Ben took most the pictures.. I know I have said before, I can hand Ri the camera but I cannot make him take pictures.
Now, I am really glad it was Ben who went with him; I bet I wouldn't have any pics for this post,lol.
The horrible icy roads in South Carolina
Coming into Asheville North Carolina
Pretty!
Ri met up with his old neighbor in Greeneville Tennessee
The view from Monument Hill ,facing Viking Mountain
They met up with Ri's friends from elementary/middle school for dinner-
Yeshua ,Rusty, and Ri
.. and went out to Yeshua's cuz's bar afterwards
"Don't fuck with the guy in the jacket" look.. lol
Jello shots
Ben is huge in Japan
the bartenders
They went out to a club, and back to Yeshua's house for a bit.. and from what I hear got pretty wasted.lol.
Crashed hard at the hotel before getting back on the road..
on through Gatlinburg- aww, around where we got married
Ripley's Aquarium of the Smokey's-
Ri was hoping to show Ben some of the cool stuff there , but they drove through on Valentines Day and the place was TOO packed to stop.
They made it into GA Sunday evening.. To Ri's Aunt Angie's cabin
Could barely make it up the drive.
They had a long night of debauchery and sledding- they had went everywhere in Hendersonville, and called everywhere in Asheville in search of sleds, but
everyone
was sold out, they ended up buying cement mixing pans, that weren't exactly sturdy enough for a grown man.
They took pics the next morning- the snow had melted a bit.
The icy road Ri slid across into a ditch on the night before-
He didn't manage to hurt the car.
They don't know whose dog that is, but his aunt says it always comes up when they are there too.
..they actually sled down this?! In the middle of the night?! - and no hospital trips
But, Ben did get a stick up his nose
.. Ri says this pic gives you an idea of the sort of roads they had to drive on to get to the cabin
Ri let Ben drive for awhile.
Ri says they got home much faster than if he was driving.
They did take some time to stop and go shopping..
Ri brought me a present-
My 1st reaction "Wow, those are hideous"
Dontcha love them?
I did sort of get him a present too.
My sis found someone basically giving away a Wii and a couple games , and got it for us( I have to pay her back)!!
We went to Lissy house and babysat Nico for a bit so she could go pick it up
He is soo big. he is standing on his own!!and walking with you if you hold his hand
He LOVED Ri's hat and loved it more when I put it on him
We spent the rest of the day looking for the accesories we needed for the wii
This guy outside walmart was awesome. He really did want smiles, he thanked us when we smiled at him ..
Driving around was stressful. Ri was grouchy and still dragging a bit from his trip and we couldn't find half of what we needed.
By the time we got home both Rory and Ri needed to be sent to bed. Ri was sick as a dog by morning. He did work a bit at nalu's to help them open back up- since his boss just got back from Hawaii.. but he called in to cowboys, stopping to pick up the last thing we needed for the Wii( a simple cord, why was that soo hard to find?)but.. we needed batteries, and Chinese food. So he picked that up before trying to get rest off the travel sick he had.
Make her stop looking so big!!!!
She is in love with this Zoo game we got with the wii!
Today, (Thursday) we spent the day relaxing. We stopped by Val's and hung out for a bit.
Rory jumped on the trampoline with purple lips but having a blast.
We got pizza before heading home. You know you have a weekly pizza habit when the pizza place knows your name by your order.
There is more funny stuff , about temporary insanities ..but it isn't fit for this blog
Ri shaved his beard tonight - it was starting to get all sorts of out of control, and he didn't want to trim it up. He says he feels like he's lost the spirit of Chuck Norris.
I think we are still in sort of recovery mode from the last few days...
Between mom's house full of soda and junkfood,, and the pack or dr.pepper I sucked down on my own my body is mad at me- Rory ate enough candy to take down a diabetic elephant,
and Ri, well roadfood enough said.
We'll get into the swing of things soon though. And it was totally worth it. I am sooo happy he got to go next time he better find away to call me more though...
no. next time it's my turn.
I just need people to stop being cranky around here. please.
PEACE AND TOFU CHICKEN GREASE ,
BABYHELLFIRE