Hey!!
Oh Saturday! I remember the joy of a nice chill Saturday.
My brain and body need rest.I can barely focus on typing this.You'd think I had went to school..
Oh! I know you are eager to hear all about Rory's 1st day of school-
I'll just get to that.
Thursday Morning- Rory had picked her outfit the night before. She wanted to wear her new shirt- with her fav Beatles song on it, and decided to wear her old skirt to match it.
We got up ridiculously early. Ri made her an egg while I did her hair.
- Rory was so excited to ride her bike there- She sang all the way
"
Wonder Pets
!
Wonder Pets
!
We're on our way To help a friend And save the day We're not too big And we're not too small
"... she could have at least sang the song on her shirt, instead of infecting me with that earworm.
I am seriously loving riding there,far more than I thought I would.
Rory ,too- any person we pass, she waves at and says "Hey! I'm on a trailer bike!"
Thursday-was her 1st day, but they staggered Kindergarten entry-the 1st 4 days of the school week only a couple of kids from each kindy class had their first day,
and Friday is the official 1st day.
IOW, Thursday it was only her and a couple of other girls.
We got to walk in and wait in the cafeteria with her and her classmates/other parents for the teacher to come. I got some cute pics of her chatting with the other kids, but I am not really comfy sharing them here without permission.
She is so outgoing and was so excited. She didn't seem nervous or worried AT.ALL.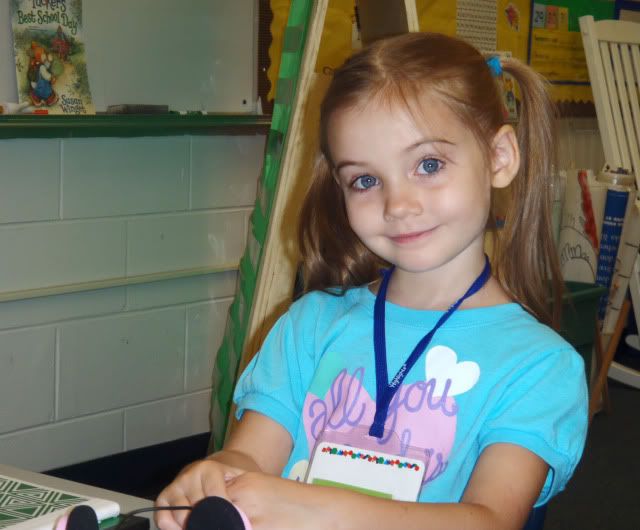 I might have cried. I might have worried about her- but she was so big about it all.
We got to sit in with the class for about an hour :
We watched the girls talk with the teacher-
and do a few morning activities. They were Hilarious.
Rory was determined to ask her teacher "Is Strawberry Shortcake real??"
but she didn't know either.
They were so adorable asking questions and sharing, all the parents were laughing.
. one of the other dads was like "we should be paying to see this".-It's like watching that 'kids say the darnedest things'
The principal came and gathered all of us parents up, and led us(herded us) through the halls to show us around.
We met the nurse and other admin, then went to the cafeteria for an hour long meeting going over a few things, once more...meeting the PTOA pres, and the vice principal, security officer and so on. They all seem really nice.
We rode our bike home, and wondered about her, and contemplated what to do with ourselves the next few hours.
We went to the grocery store to get a few things- and a cake for my sis. I ran into a bunch of old coworkers/friends and ended up chatting them up for awhile. They could see how nervous I was. I probably checked the time every ten seconds. It is just so awkward with Rory not right next to me.I wondered about every little thing.
' would the other girls be nice?"
"did i leave her lunch box in the right place, would she know where to find it?"
"would she be ok using the bathroom there
?"
"will she get in trouble
?"
"will she miss me?"
and on and on.
My Mom & Lissy were in town buying stuff at the craft store- and stopped in to distract me.Plus, get Lissy's cake.
I played with Nico for a bit.
They hung out here while we picked up Rory-keeping an eye on the confused dog.
We made it to school early, but the teacher came out early as well. Rory's teacher said she did great.
Rory hopped on the bike telling me all about her Playground partner, their snack, her lunch- how they saw tadpoles, and went to the playground THREE times!
She had SO much fun. :)
She was surprised to see Eggy and Lissy here when we got home- with special after school/Aunt Lissy bday cake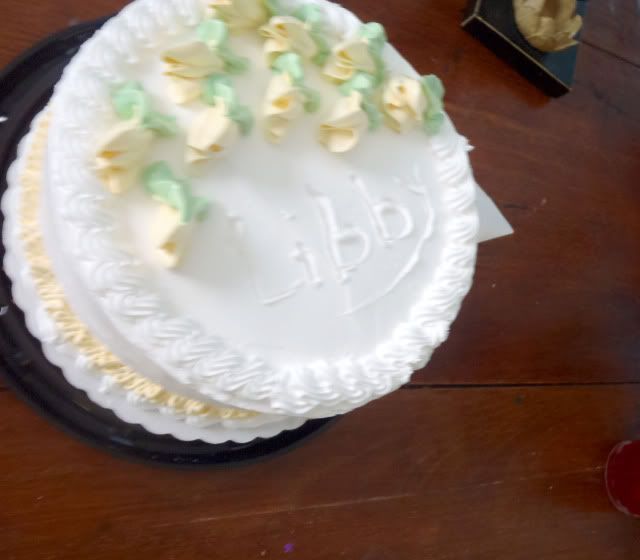 We had a hard time trying to find a cake with "that good whipped icing" but I found it- and Libby Loved it- Perfect, because I didn't get her an actual gift.
Nico was tired and they left after that.
Rory bounced off the walls excitedly telling me everything all night. How she got a BLUE BEAR-which means she was very good, and all the cool things she had done.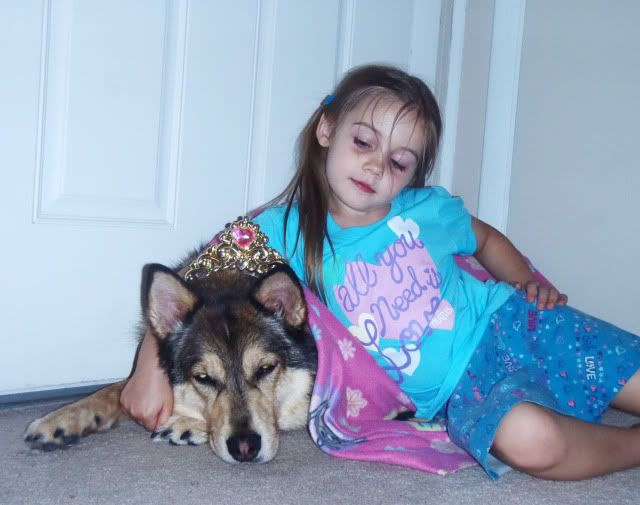 She missed her doggy , I think.
She picked out her Red&white outfit for the next day- and helped make her lunch box- while Ri went out surfing in some crazy stormy waves.
Friday was her 1st day with the whole class-
It was wet and yucky out, a bit harder to wake her up- but she was still really excited,and ready on her morning ride.
We didn't get to go in with her,we had to walk her to the cafeteria door.We reminded her to walk to her class table- and told her "
Have a good day
" and she ran right in.
She didn't stop and hug us bye.
she didn't even turn and wave.
She just walked right in.
it stung a little.
On one hand...but knowing she was that happy and excited to go , that she is so big , I think made it easier.
I am really glad she has been so happy and excited by school. Thank goodness she isn't a crier..because I know would be a complete wreck.
In school they read a book about a raccoon who was nervous on his 1st day-so his mom kissed his hand and told him if he misses her ,he could hold it to his cheek and feel her love.
..so he kissed her hand and said she could do the same.
..They colored a kissing hand for us.A little outline of her tiny hand with a heart in the middle.
Are these teachers trying to make me cry?!
I will yaknow, I am a total crybaby!
Ri and I rode home and decided to take the dog on a run around the neighborhood.The doggy would have hugged us bye before school.lol..but she has always been less independent than Rory.
Ri let me sleep in all morning. I swear ,I have been peddling that bike in my sleep.-freaking 4 miles a day!
When I woke up from my nap at noonish- he had already left for work, and i thought he didn't hug me 'bye' either.. but ,turns out,
he had ...I was just sleeping soo hard I didn't notice.
I lazed around for a bit, then headed out to pick Rory up.
it was a MADHOUSE in the walker pick up area this time.
SOOO many walkers- parents all dressed up , I felt very out of place.Until the hippish mom next to me started chatting me up. She was really nice.
For whatever reason when the kids started pouring out of the front door the Moms also started crowding in. By the time Rory's class came out , I could see her- but I couldn't push past the crowd to get to her. So her teacher sat her on the bench(seriously, I was RIGHT in eyesight-- that is how crowded it was.).. I had to park the bike and make my way past the crowd of waiting moms To talk to her teacher and get her.
Though, waiting gave me the chance to chat with the teacher a bit- and Rory gave her a big hug bye.
She says Rory is soo sweet :) .
Ri had called me and said it was super slow at work- if we wanted to swing by on our way home. Rory was thrilled about that-
She got to show him some of the cool things she had done in class AND get a Hawaiian punch.
She sat and ate telling me - and everyone within earshot- all about her day,and all her new friends.
Then speed raced it all the way home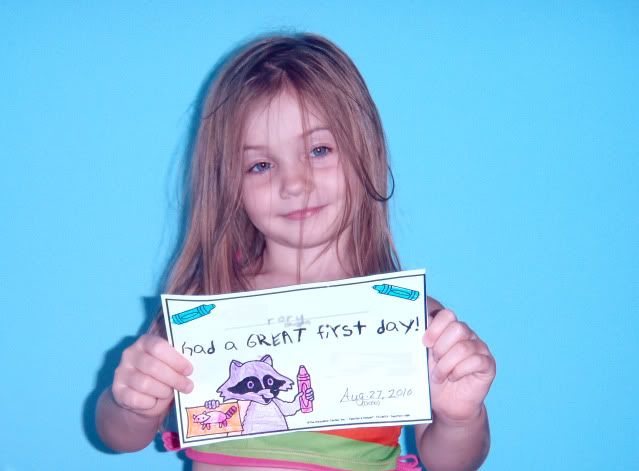 I let her stay up a little late last night. She watched old InspectorGadget on the computer, and ate berries and pancakes for dinner.
Then played Wii with Ri and his friend Jay before she decided she was ready for bed.
Rory didn't let me sleep in as long as I would have liked- but we had a nice chill day. She reeaally wanted to go out on another bike ride-I just didn't have it in me.
"Let's not go for a ride today , let us relax"
Instead, she put on every dress-up outfit she had,
and did crafts all day.
And we made sugar cookies. ..which was an all day messy project.
- We spent the night eating more junk than we needed and doing nothing :) . I appreciated it.
Rory was extra clingy and needy and inquisitive all day though.
In fact, If any one could tell me
"why they are called the Mario Brothers, if one is named Luigi?
"- I would really appreciate it.
As stressed,nervous and terrified as I WAS about everything- It is working out amazingly.
(I really don't deal well with change)
Ri has been soo stressed with me stressed. it has hurt him to not know how to help me be positive-and not dwell on the scary changes.
Today, With Rory already doing so well in school,
with the realization that bike transport is such an awesome fun thing ,instead of a fear or chore,
with a card from a friend,who I have never met IRL- that made me literally cry that someone could be so sweet out of no where.
and that is the big one:
with such amazingly supportive friends/family in real life and online -
I am really starting to feel like I can let got of a lot of my trivial stresses. I can and should stop focusing on them.
I am gonna start up September knowing I am blessed, and lucky-
and try not to worry sooo much. I know I need not- and I know it is hard on the people around me that I do.
Thank you all so much for reading with me here,
and helping me get there-you know who you are
.. now hold me to that.
I need to get used to having a camera again, and I hope to have more pictures for you soon.
For now It is almost Sunday and my chilled out weekend is growing too short.
PEACE AND TOFU CHICKEN GREASE,
BABYHELLFIRE