Sooo,Halloween stuff.
I know,I know, it isn't quite even Halloween yet.Ah well.
Saturday , We ended up running pretty late,I woke up with an upset stomach and slowed us down.I must have ate something bad.We rushed to go to IHOP..but there wasa huge wait and we vowed to find another breakfast place for pancakes.We kept running into huge waits.Freaking before holiday weekend had us out and about with the everyone else fighting for breakfast tables...plus we were late.We ended up at denny's.With chewy pancakes surrounded by the smell of B.O.
We made it to "The Sea world spooktacular" again .The weather was dreary and wet,,but not bad.It was MUCH more crowded than last time.Rory did dress up.I chickened out on walking around sea world as an old lady though.-I fought cramps all day.I told Ri ,when Rory weans I am going vegan.Its egg intolerance more than anything I think.
We did get to catchy a "Hot Peas and Butter" concert. They are really talented ,they didn't hold the audiences attention as well as the "Dirty Sock funtime band" did though.I can't say Rory was as into them,she was hot,tired ,and just wanted to more candy.We did end up meeting them shortly and got a tshirt.It was so crowded we skipped a lot of the scheduled shows.I much prefer those on a weekday...and just checked out the animals and did some trick or treating.Everyone recognized Little Red and she had a great time.I think she says "chocolate treat" instead though!
My fave pic: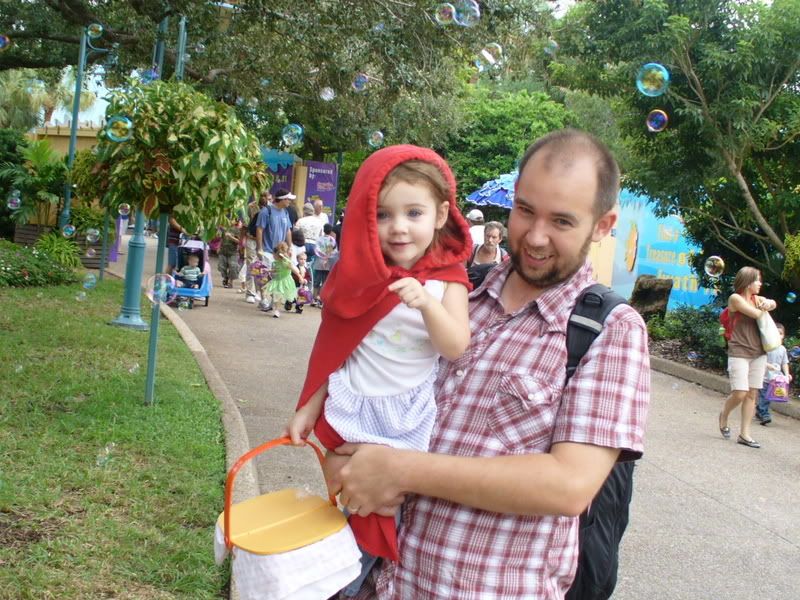 Clickables-in backwards order.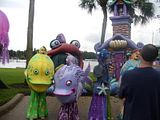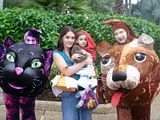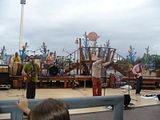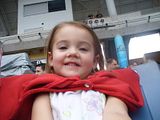 We didn't stay very late,got her a toy otter(we think?) and decided to stop in publix for a few necessities before going home.
All Rory wanted(and still wants) was to consume mass amounts for 'trickortreats" as she calls her whole goodie basket full of goodies.
Yesterday-I mostly just lounged trying to get my belly better.Lazy,lazy weather.
I got really scary ,dizzy last night when Rory went to bed.I'm not sure why,but allergies have been kicking my ass.I hope that's all it is.
Today ,Ri's day off.We headed to walmart for some last minute halloween stuff.We ended up sneaking toys out of the toy dept at big lots..We are SOO going to end up needing to buy a storage unit for presents. We got some pumpkins ,some candy (in case we actually get kids here),and an iron..cause it was cheap and I need one to iron the siggys into Rory's band shirts.Rory didn't want to be out,and wanted to come home most the day.It is a nice day to just be lazy.
LOL Rory is "gugging" her imaginary tea right now..I have tried to get her to stop,but she won't it is almost as cute as annoying.