Sigh.
I don't have time for this post.
Hell, I don't have time for this month. My brain is functioning a full month ahead- focusing on all we need to do by July, and August. It is stacking up.
If I was feeling a touch more obsessive I would have a good hundred lists actually penned out,instead of floating around my head weighing it down
( though- the extreme electricity and pressure in the air lately is playing a huge part in that weighty feeling) .
I realized today that I have forgotten all about June.
In fact, if Lissy hadn't called to harass me about it I wouldn't be putting this post up now..
("Jeez,Ani they are like 10 days apart now- I even had a dream you posted and rushed to look when i woke up")
It didn't even dawn on me that it was almost fathers day AND that my birthday is THIS Monday until Lissy said it. Holy Crap!
I don't have time to get older.
June needs to come after August I simply do not have time for June this month
I have shit to pack
not that I am doing that either.
I have shit to clean
...nope not doing that either.
I have shit to plan...
thinking about doing so counts for that one, right?
I have shit to get..
and no money to get it with.
I have shit to watch
I wanted to rewatch Weeds before the new season started- that I am doing. I can do that while I pack-theoretically, right?
I HAVE to stop cursing so much.
and I have 1million pounds of every sort of anxiety known to man.With all my worldly possessions spread out across my floor to pack and everyone dropping in to witness it I feel raw, and exposed sort of anxiety worse than normal. Plus. Ri decided we should smoke less- and with it being 1 million degrees that wasn't too hard,,,but now that it is cool and stormy it is.
All together,I think I have a new condition they shall name it babyhellfire disease.
there is no cure.
It has been a huge mess- stress with the house and money and how we will leave/sell/rent/explode this house, and car for that matter.
advice from soo many people- hating most the advice and the contact with people.
While Trying to figure out how to do Lissy and Amy's weddings, and get what I need for them-
AND taking a day off to go on a HUGE long bike ride with Ri ALL over St.Auggy to map out how far our new house is from everything.(thank goodness Ri's mom was able to watch Rory so we could do something so crazy- we rode from the downtown to the beach and back!! )
AND trying to get ready for Rory's 1ST YEAR OF SCHOOL! She is going to be in kindergarten ahhhh!!!
but, you don't care about my mental dilemma,
You just want to see pictures of the chaos causing it.
However.I have also failed at that. Despite all the trips to St.Auggy, and the trips out wedding shopping with my sisters I haven't got many pictures.
In fact the only really great pictures of the new house are the ones Ri took
(which we got the keys to Thursday so we can start working on it)
Monday it is being tented and fumigated, so we can't start anything until after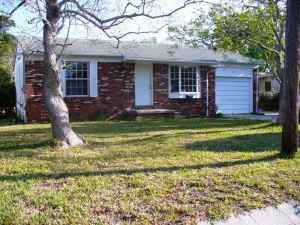 and looking over the pics , all that I can see is the work we need to do along with packing and moving in.
That front door must be rekeyed.. Luckily the guy Ri rides bikes with is also a locksmith.
The bathroom is my biggest concern- Ri is more worried about the stuff I don't mind like the paint color..
He has been looking up a new faucet for the shower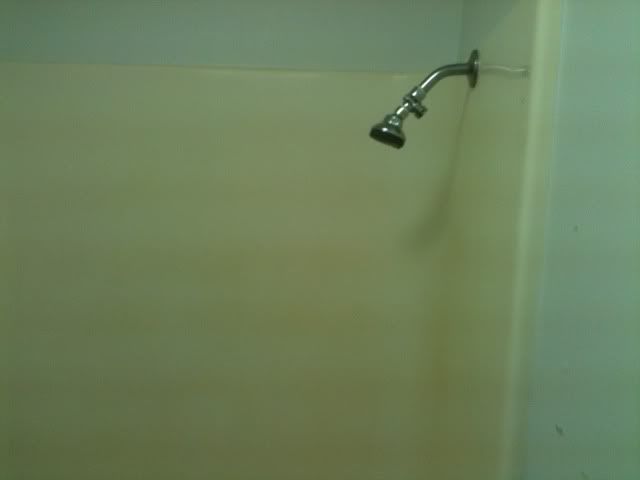 I sort of like the med cabinet- and the tile floor. the bathroom is tiny, but it might be a smidge bigger than the one we have now
the plain white dingy walls must must must go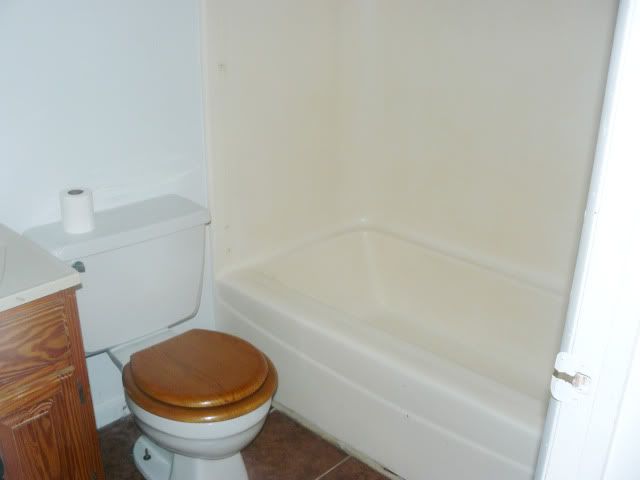 The backyard is AMAZING
Just amazing..Rory loves it
but we need to hire a lawn guy.
I'm not maintaining that.
So excited about the screened in porch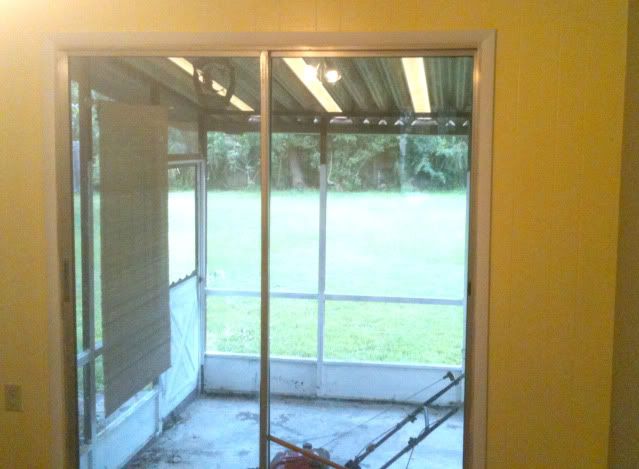 but it needs to be cleaned and rescreened- and the a new backdoor.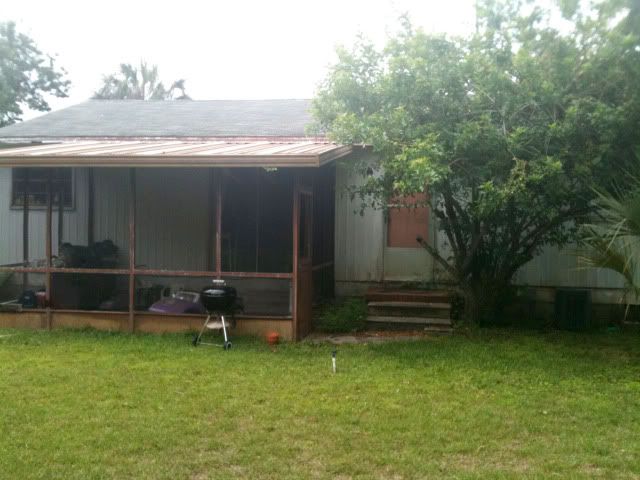 they cleared all this stuff out- except this old purple dresser- that needs to be moved.
The walls needs pressure washed.
That tree needs to be trimmed blocking the back door.
For that matter,a bit of the plants need to be trimmed back one half of the fence is COVERED in jasmine- completely overgrowing the gate so it won't close.. but it is soo pretty I'm not sure if I'll have the heart
We aren't sure yet if we will fix the backyard fence, Noobie could/would escape the fence regardless- so really she is stuck with her tieout/leash rules
Rory took this pic of random plant
The living room isn't all that bad ,but the carpet need to be steamed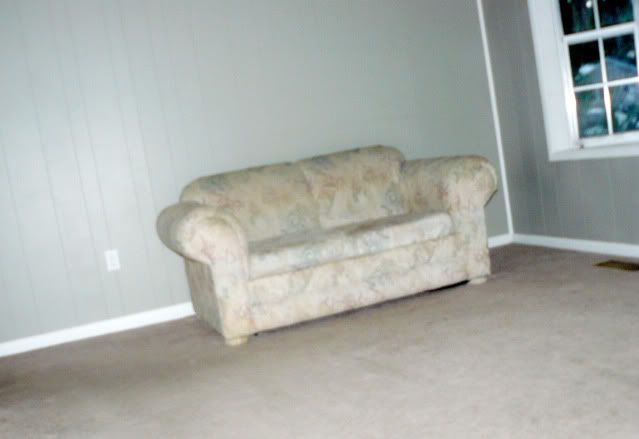 also.. this couch
Do you want this couch? Should I keep this couch? Ri doesn't want it..
it is standard ,I could find a slip cover.
Ri doesn't want the gray walls either
he hates them.
I honestly think it is a nice neutral- if a little dark for the small space...
he wants them gone.
Please.
advise.
Also, the kitchen.Ri wants to paint the kitchen,
Honestly.
The yellow may be the only color that could brighten and stretch that tiny room and not clash horribly with the black.
He wants bright basic colors red,blue
but those those might be too dark in this room.
he doesn't like a lighter blue.
IDK.
I have changed that wall 90million colors in photoshop.
It might stay yellow.
It is much smaller.
No dishwasher.
sigh.
But there is pantry space and floor space enough to put in a small island or maybe that playtable like we have here.And it isn't open to the whole house.
So when Janedoe Judgmental opens my front door she doesn't have to cringe at my sink full of dishes- or unwiped cofffee spill counter.
Then there is this OTHER room
dining room, computer room,craft room. It is the converted garage space.
bigger than the other rooms.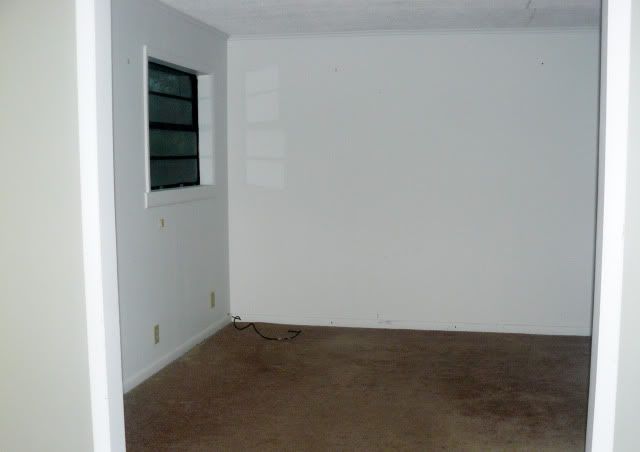 This pic shows half of it.
Here is Rory's room:
She likes it. She gets the big front window.
it is smaller I am concerned about that. her room is PACKED with toys as it.
She will need to be more organized. She says she wants shelves.
Our room is similar - not much bigger either.
but two closets.
two closets in the hallway,
and a closet next to the front door.
at least we know we can store stuff..
and the little half garage WILL fit our deep freezer, we were momentarily wondering what we would do about that.
The bay window needs a cushion.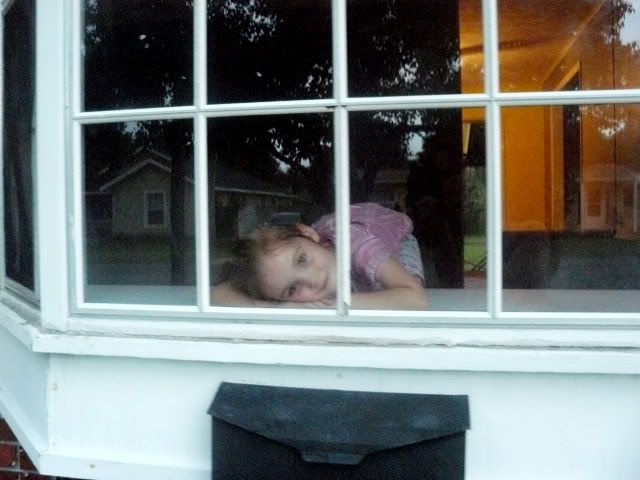 ....anyone know how to make one? No such item exists on the interents.
help.
It also needs a pressure wash and paint.
I could nitpick my current home this way as well...
but I won't
those pictures are FAR too embarrassing.
Overwhelmed is not a strong enough word.
Anyway.
As far as the prep for Lissy&Boo
AND
Amy&Aaron 's wedding goes ..
well it goes things are falling into place. Went all over creation with the group of them last week.
They decided on a sunrise sunset thing.
Sunrise on the beach for a small party with Lissy-
then running back for sunset and Amy to get married
then big joint reception hogg roast, and fireworks.
Found/put together bouquets at hobby lobby
Lissy's looks AMAZING. Amy's will look awesome with her dress.
We went all over St.Auggy, with little luck before deciding to stop in at a little wedding boutique in Palatka before dropping Lissy off-
when we saw a local childrens store we thought they might have a flower girl dress for Rory
instead- Amy found the red pooffy prom dress of her dream wedding,
and we basically tripped over the perfect bridesmaid dresses for me and Steph IN OUR SIZE! The one fore me is even extra long!
Craziness it was too perfect. Lissy spent the other day with Steph and found the dress of her dreams- spending more money than planned but she is still happy.
Now all that is left is Rory , I think.
I hope.
Rory is HARD to shop for right now, she is stuck in the gap between toddler and girls sizes- some dresses aren't even available in a four/xs girls... but a 4t is too small, and a 5 girls is too big!!
Oh, oh-
and I have been trying to scour the net for a dog with lissy- she wanted a decent size dog while Boo will be gone- and she found one at a shelter
a puppy brained hyper boxer/cathoula leopard dog
they said his name was Hogan, but it didn't fit.
they tried a bunch of names on him, Nico insited the dog was Boo and babyBoo's therefore his name must be booshy-then the two different colored eyes they started calling him Bowie and he
answers
here is a vid of him
He is to hyper and nibblefectionate for Rory she says he frightens her. I think he will adjust and be fine,though. He still has lots of puppy in him.
On the subjects of shelters,
they crazy feral stray we named GraceFolly ,the one we thought had kittens in the woods so we kept feeding her in hopes she would bring up the kittens and we could catch her in a trap to get her fixed- she quit coming around. We had run out of catfood since Bailey is gone and all, and tried putting her out some of Noobie's salmon flavored dog food- I guess she didn't like it, and stopped coming around. I think the other neighbors (who have outdoor cats) have better food so she brought her kittens over there. I hope anyway.
All is well that ends well I guess, we really were hitting crunch time with figuring out what to do to help her before we moved.
Noobs seems sort of stressed between the packing and the stormy weather.. I hope she handles the move ok. poor rotten dog.
Rory is nervous about starting school and not eager to help plan or even shop for it.
but.She wants littlest pet shop everything. How bad would it be to bribe her to go to school by buying her a littlest petshop lunch box??
Well.
Anyways.
it is 5 am.
it is Fathers day. Sometime tonight we are 'spsed to go out with Val and fam for dinner.
So HAPPY Father's Day! Love you dad!
and happy birthday to me or something...
but for now I am off to
watch Weeds
... er, clean and pack.
That's a lie too,I'm totally gonna take a nap for awhile before anything.
One more thing.
Don't come over.
unless you want to leave here with two tons of junk, clean, move stuff to st.augustine for me, or get drunk and play scrabble.
PEACE AND TOFU CHICKEN GREASE,
BABYHELLFIRE