Awww! Family dorkiness. Seems like a good beginning for this post.
I know what you are are thinking..
"Where have you been BHF?!?!
"
"Do you just not have ANYTHING going on to share?? "
or
"Are you soo busy with a real life that you haven't had time for a blog post?!"
..Yeah. I got the fancy computer and computer desk, and mostly use it to catch up on tv shows-
and yes, all the good shows have just had season finales,
and new shows so far suck, and I still haven't blogged...
(WHAT?! I never claimed to have good taste.)
Despite that evidence of the lameness of my existence..
I do have some news I just wasn't comfortable sharing it until today
...and if I can't share it sorta defeats the purpose of blogging
(...not that anybody reads this, but that is another subject)
It started Saturday..
Well.
It started long before Saturday, but Saturday is the point of interest.
Did I ever mention we have been looking for a rental place in St.Auggy??
We are even talking about getting rid of the big money Prius and keeping on with house payment AND a rental payment(and get a more affordable old used car for the time being, until we can sell the house).
Well, Ri found an ad on craigslist, it didn't mention pets- but it was in our price range and he just decided to call..
the guy was REALLY nice.
Ri checked it out for himself and asked if there was a time Saturday he could bring us up to look-
It is in a really great neighborhood, right near the elementary school we want to send Rory to.
It is set up a lot like our house- except smaller.
but, it also has a screened in back porch
- and they actually did that thing with the garage(turning half of it into a room and using the other half for storage) that we always talked about.
Oh and a bay window..
Rory and I are both freakishly in love with the bay window..
However, Rory calls it a Simpsons Window.
- our child is so quirky.
It was sort of weird to look at because his current tenant hadn't moved out yet(their new place wasn't ready yet)
, but they were having a huge garage sale - and also really nice.
So... We might move soon, just in time for Rory to start school . The guy called today and emailed us the lease for us to go over.
I am scared to even be excited, but I can just feel a bit of the tension ease off my shoulders.
So, that was early Saturday afternoon that we looked at the place. Ri stopped and got us lunch and we drove around looking at a few more places and discussing it.
And Lissy called asking if I could come over on my way back-
and help her with a big life changing event of her own..
No.
She isn't pregnant.
She is gonna marry Boo!!
he is about to leave ,for a year for work- so they decided to get married.
NOW.
They were talking about just going to the courthouse - but then decided they would rather it be
on July 4th. So then, they started talking about a little beach wedding.
Funny thing is Amy has been talking about getting married to Aaron too- Mom has sort of discouraged her telling her Lissy had to get married 1st-
but then they started talking about
both
getting married on July 4th.
So Ri dropped me off to help plan such insanity.
Rory was NOT happy about not getting to go.
Girls night without her was NO FAIR.. but she was excited to learn she would get a flower girl dress.
and I rode with Lissy to drop of Boo- and baby Boo.
and to pick up these two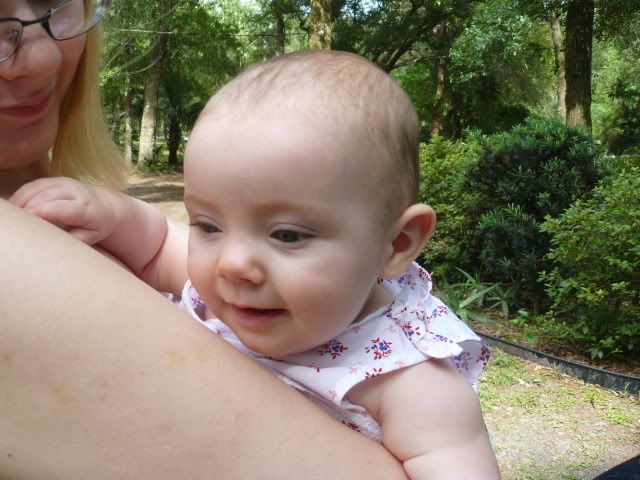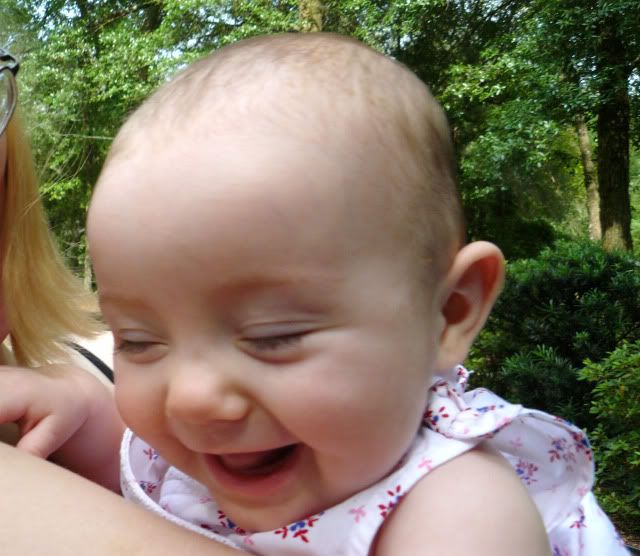 You see that! I caught her! She smiled before she could see my camera and make the " I hate your camera face"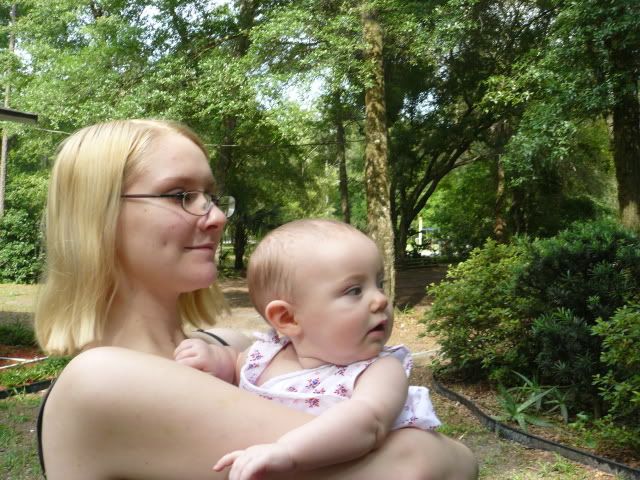 ... I don't know what was over there.
Steph came over and we planned, and thought out all sorts of crazy things.
...and we laughed .
A lot. me and Lissy were running on about 2 hours of sleep so it probably contributed to the gigglefits
Lissy had Dr.pepper ice cream floats- that I sucked down while trying my hardest to stay awake
Boo & Wes picked up Nico and he hung out for a little bit being a sweetie pie with his cousin Allura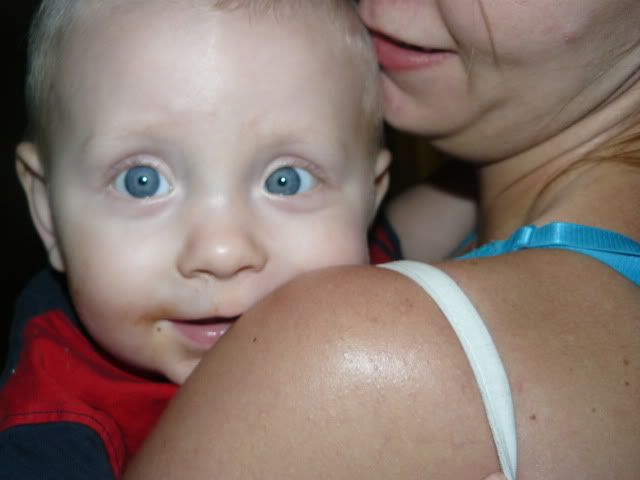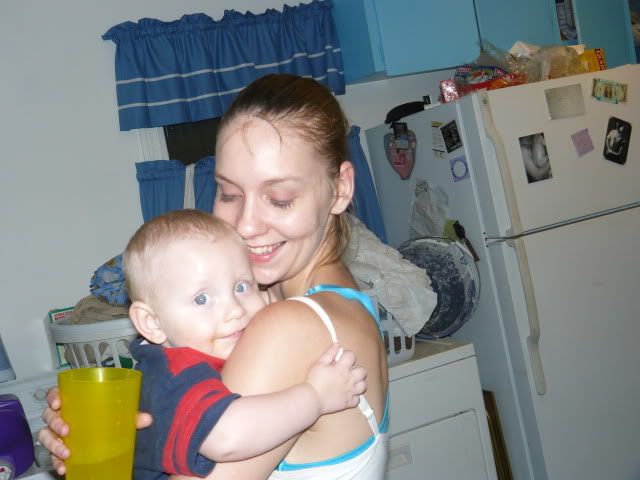 - I managed to get rid of a big box of toys giving them to Lissy when she brought me home..
I hoped Nico would go through them and they could give the ones he didn't want to Allura,but Lissy says to their dismay he is in love with all of them.
I still have LOADS to go through and pack. I have started reorganizing things and tossing junk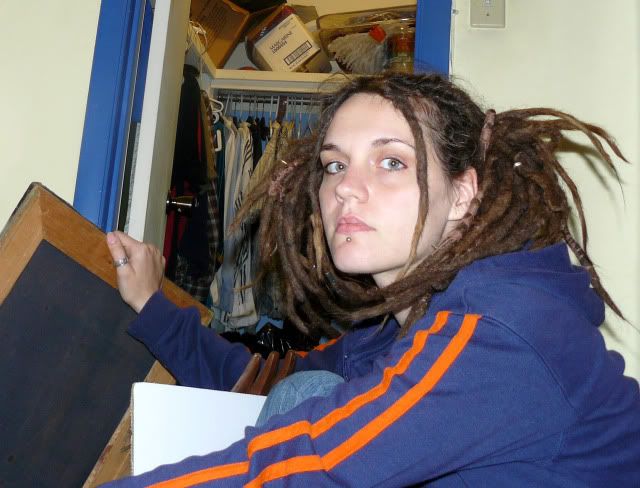 I even boxed up some knickknacks, and decorations- but there is soo much.
Soo much junk accumulates in 5 yrs.
I figured out if I can get up, and get going- workout, and start moving I am much better about keeping moving .
I at least tackled the bathroom organization yesterday.. I am still not ready to do Rory's room though.
Last night I quit while I was ahead and made veggieloaf , with broccoli and mashed potatoes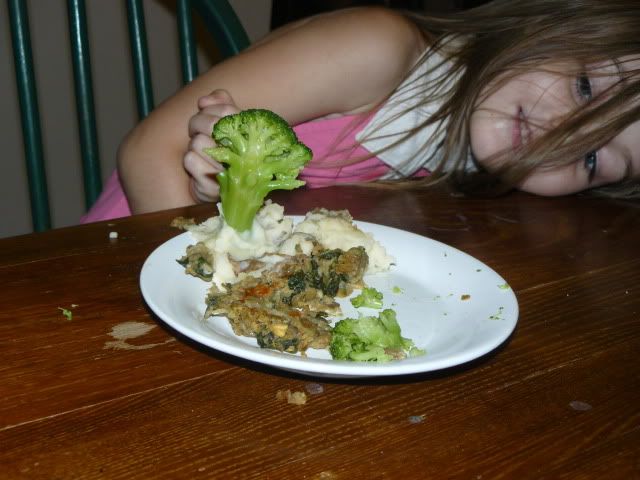 Rory took some convincing to get her to eat her broccoli trees, planting them in her potatoes seemed to help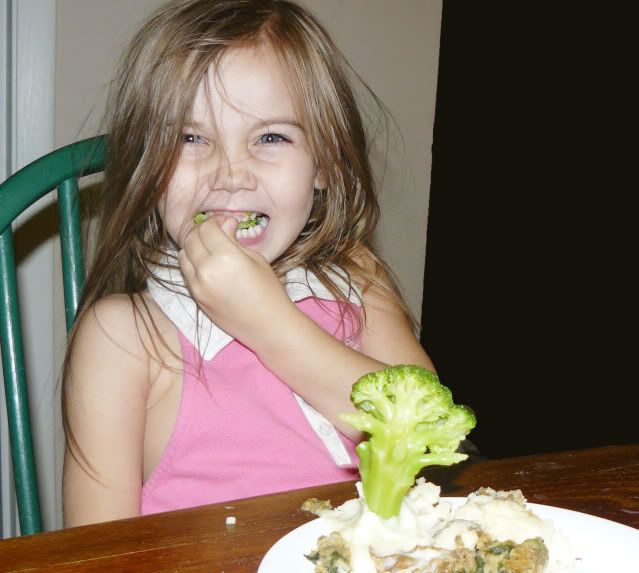 Lissy & Amy 's wedding planning got a bit stressful for them- two different ideas for style and weddings started to clash..
Dad has friends offering to do the reception, or the whole thing, at their establishments-
There was talk of beach theme, and luau , and more..something about Amy wanting to wear black, and Dad wanting to wear his biker gear(chaps and all)
and of course a hog roast- get it, Hogg roast...maybe its an inside joke.
- I think Lissy has decided to scrap the double wedding, and go ahead with planning a small sunrise wedding on the beach,
Amy will move forward with a later in the day larger Goth wedding at the place they hold the reception
and all to share a reception party at the campground Dad's buddy owns- I heard he does amazing fireworks so it should work out really well...hopefully.
The rest of month looks to be packed full of planning and preparation for everyone. stressful,nerve racking,crazy and exciting.
Just my style.
sigh.
Well- I think I have an ear infection and the wooshing noise is enough for me..
plus I'm feeling all too blabbery and tangenty for a coherent post tonight- I'll end here before it gets out of hand.
PEACE AND TOFU CHICKEN GREASE,
BABYHELLFIRE