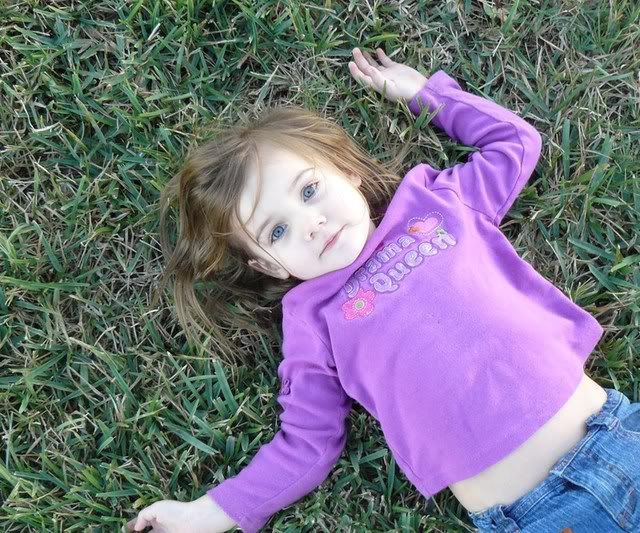 HI there!!!!
Sorry it took me so long to blog.Politics get in the way of a lot of things, as I have learned-but I have never been good at keeping my mouth shut for too long.
We have still been ,damn near, completely nocturnal . Rory has been SUPER, super crafty-
but unfortunately cranky, too.
The crafty part led to some neat ideas- like a diorama style puppet show(,this picture does it no justice).Rory had shown a flashlight in an empty blue storage box-and decided she needed help making a under sea enviro in it. I cut out pics from a tattered old "Little Mermaid" book and tied them to strings.
We ALSO - got a visitor this week(besides my evil aunt flo,with her hemorrhoid and headache problems)
FLAT STANLEY!!!
A project from the message boards I am on- we are passing this little flat dude state to state sharing pics,and stories.
I had hoped to meet up with Amber- and get pics of the kids and Stan together- hectic schedules and just poor planning we never did.
Flat Stanley is perfect for Rory's crafty mood- she couldn't wait to take him out and show him the neighborhood.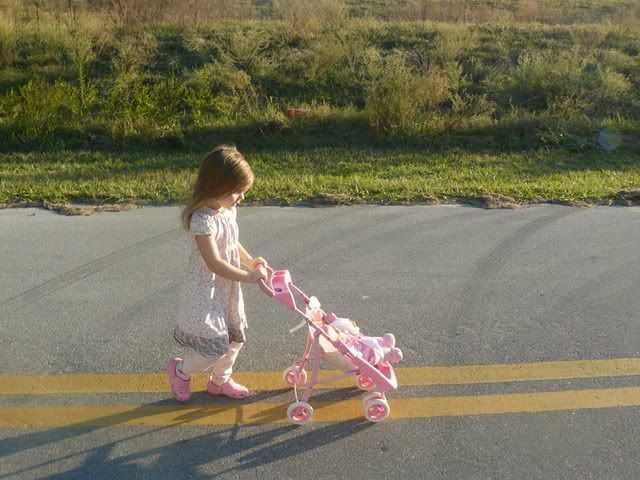 I think he enjoyed the tour-and the sweet ride with Rory's doll.
I was walking the dog ,as well- Rory led us around the whole neighborhood- and yes,I ended up carrying them,dog pulling- stroller and all on the way back home :/
We offered Stan loads of homemade veggie food- on homemade bread(Ri has been making all our bread lately...Sooo good!)
...but he didn't eat very much ;)
Rory has him spending time getting acquainted with her little pet shop toys.
Monday we woke up a little early (for us) got together a picnic, and packed up Flat Stanley to show him around St.auggy.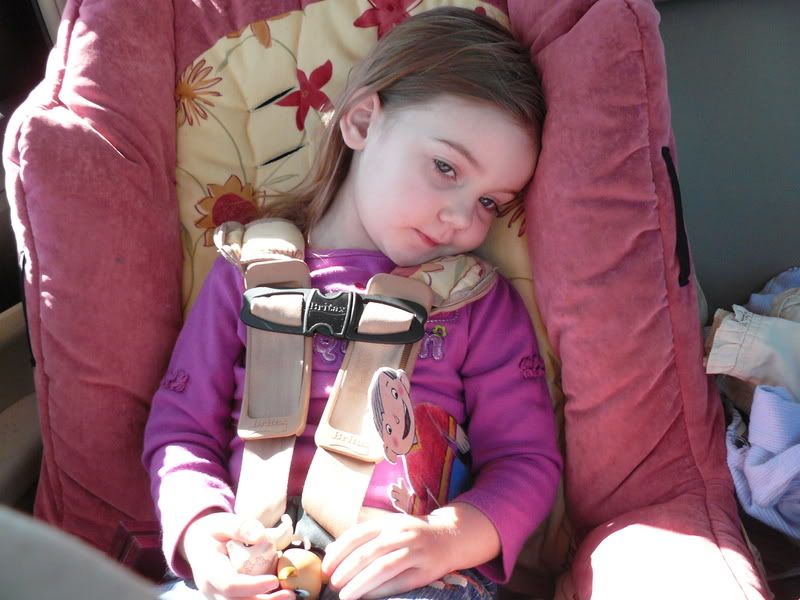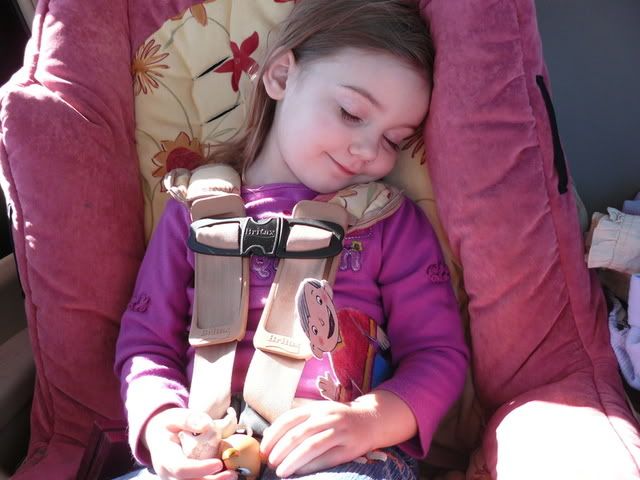 Flat Stanley checked out the Salt Marsh..
We wanted to go on the ferry ride- and fort tour of
Fort Matanzas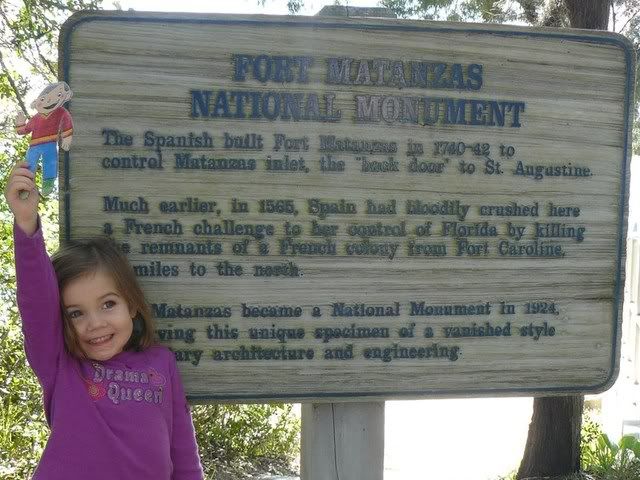 Checking out the inlets scenery
..We wondered around the park while we waited on the next departing ferry to the fort.
Went on the nature walk
I know, kind of a downer picture for Flat Stanley... the dune where there was a bloody massacre but, it is a good history lesson,right?
Nature walk pics
OR nature RUN? - we got a pretty good workout.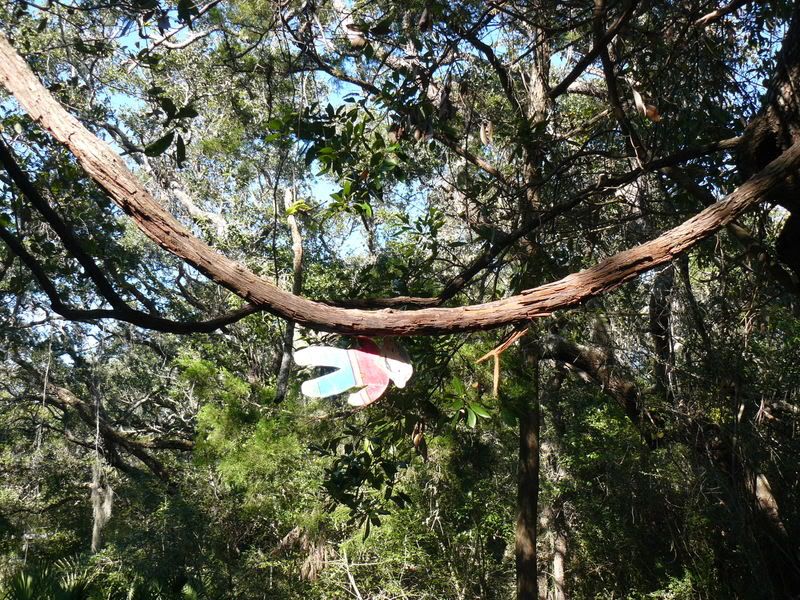 I think Stanley enjoyed hanging out with us.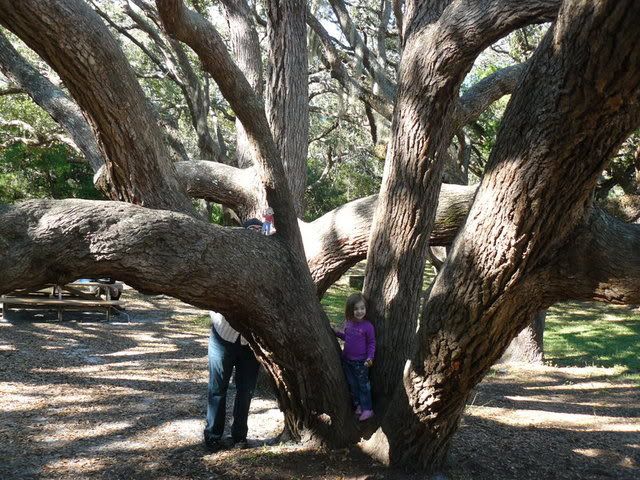 Then we climbed the Live oaks
We rode the ferry to the fort..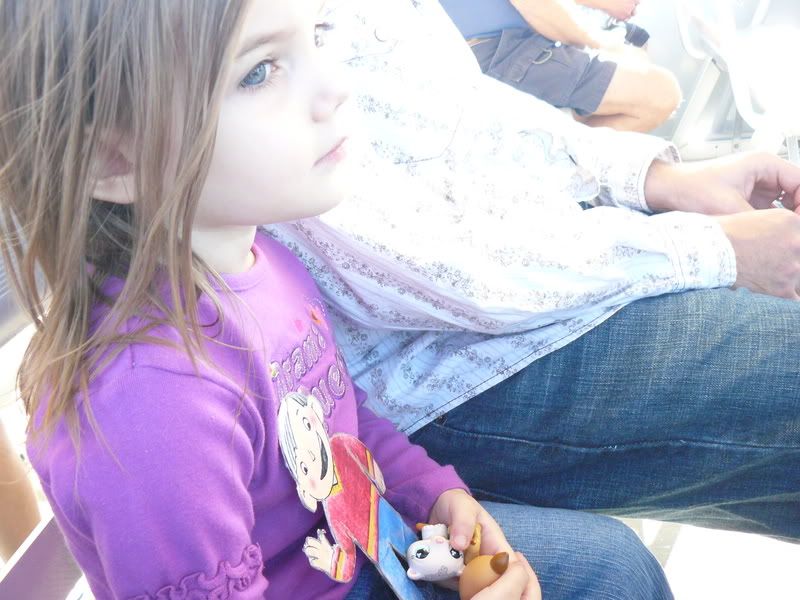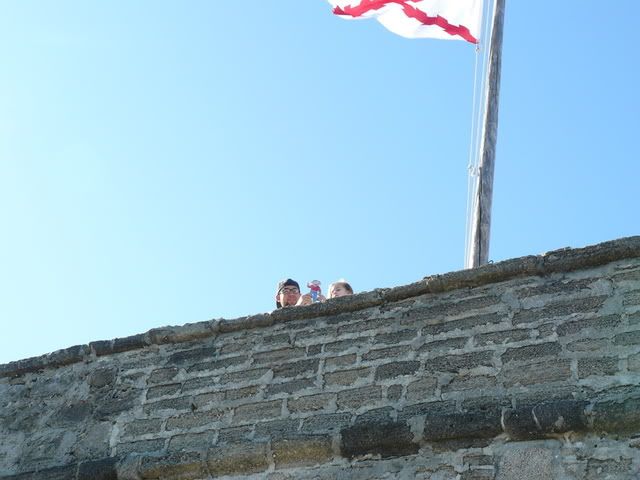 Flat Stanley even braved the vertical ladder to the top of the Fort with Ri&Rory. It was hard to get Rory down from there-she was too scared to help- So Ri ended up lowering her down the hole to where I could grab her,scaring the crap out of me.
Down stairs-Flat Stanley tried out a bed, it didn't seem very comfortable
Rory peeks out of the watch tower.
"Check out the view flat stanley!"
Ohhh noes!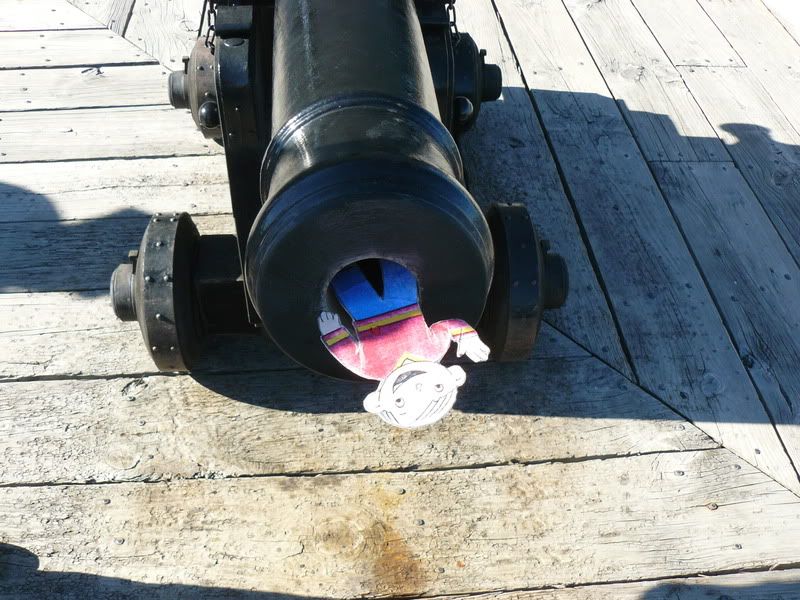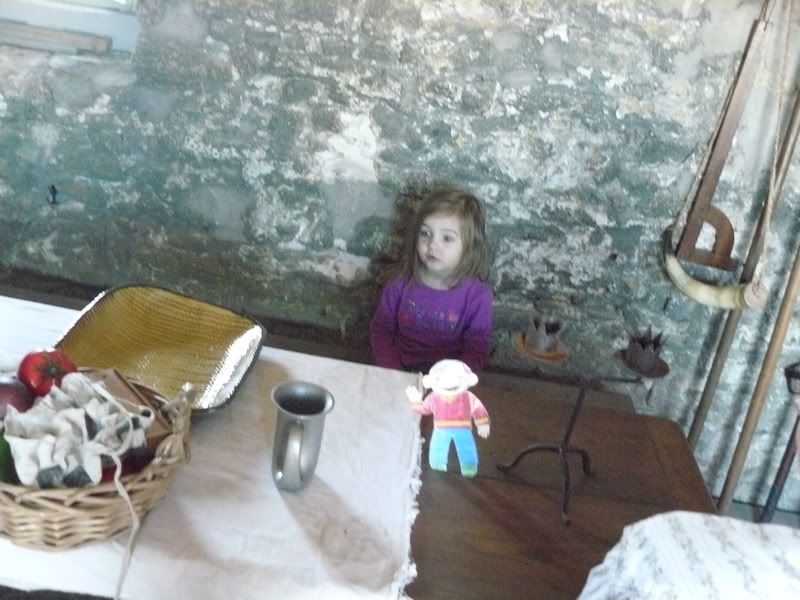 Rory remembered the checker set was there from our last visit,thats all she wanted to do -and actually sat down and played completely content playing checkers while the tour continued around them.
View from the top
Cap'tn quarters up stairs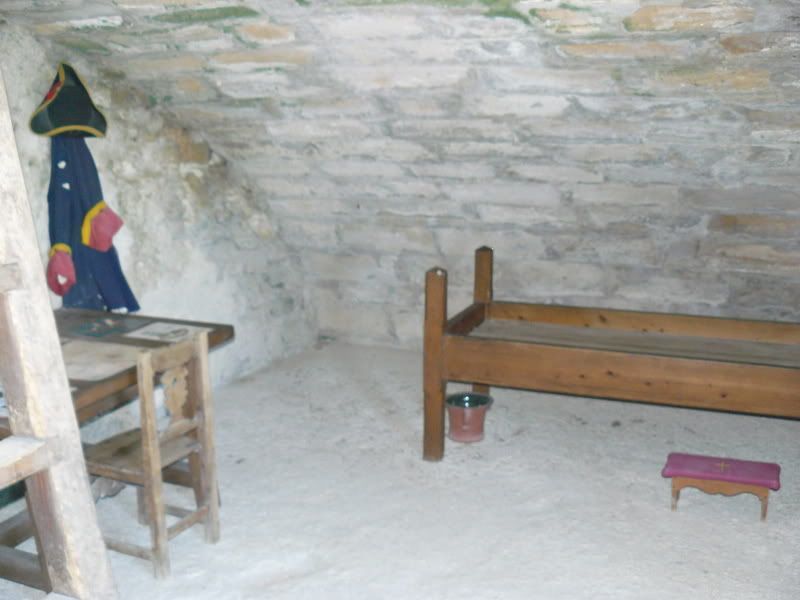 I was how many people had heard all about Flat Stanley- this guy new all about him...even told us a few fun facts :)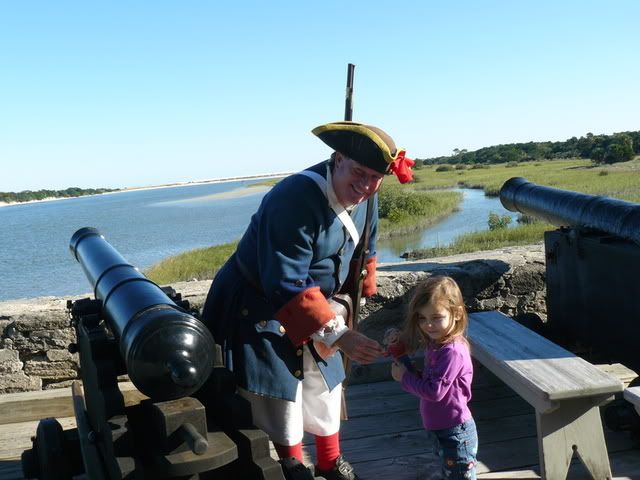 We rode the ferry back. And sat down for a picnic,PB sandwiches and fresh veggies.
It was a really nice day- all Rory wanted to do was climb the trees...getting her to eat is such a battle...as is sleepy hungry toddler. grr
We stopped by the beach. It was much too windy.Rory wanted to swim and stuff until she realized how windy it was- it would have been warm but the breeze was cool.
-She was irritated at the wind blowing her hair,and ears and sand on her.
Next we headed downtown- Checked out some more cannons. Rory shows Flat Stanley how they worked.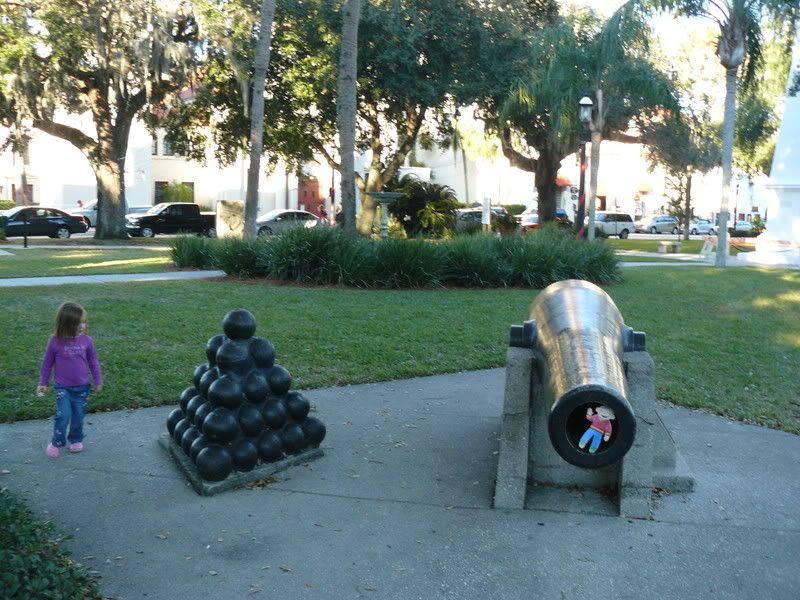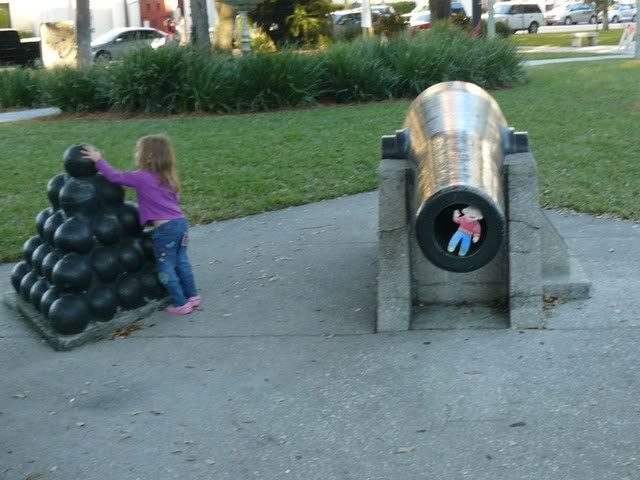 She was having soo much fun just walking around,and showing Flat Stanley the sights.
We went window shopping on St.George street.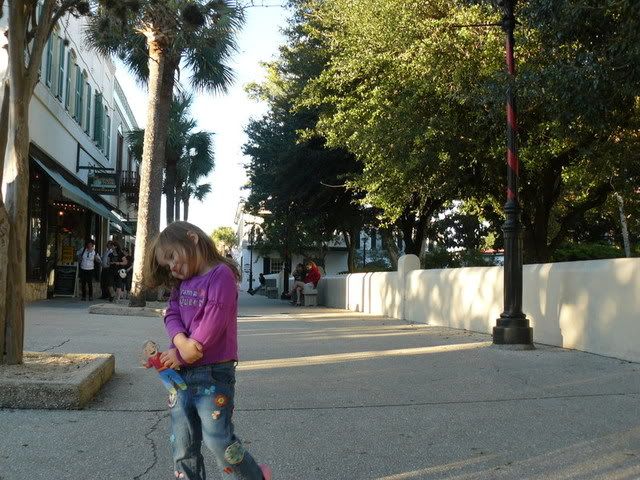 The Oldest Wooden Schoolhouse
-yeah, i look gross.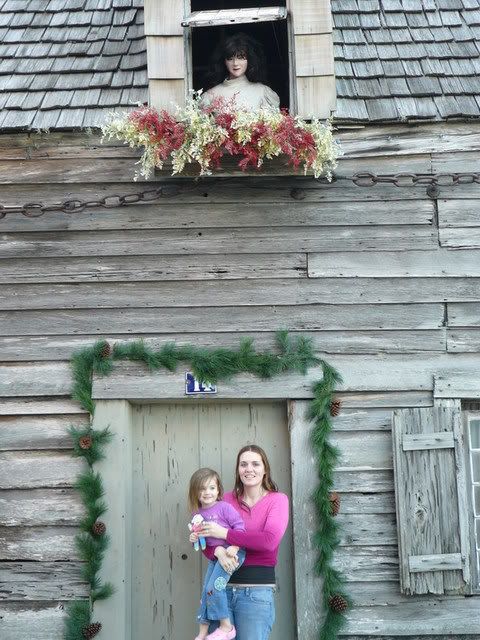 The automated "teacher" at the school was stuck out, usually she pops out sporadically to ring the bell and announces "time for school". I said she was creepy- but Rory told me she was very pretty. I wonder what Stan thinks.
I tried to get Ri to take a pic of me and Rory in front of the milltop taverns wheel..but he failed.
We told Rory we could go to the grass outside
Castillo de San Marcos
-and as soon as we got there ,she could go run around like crazy... So she did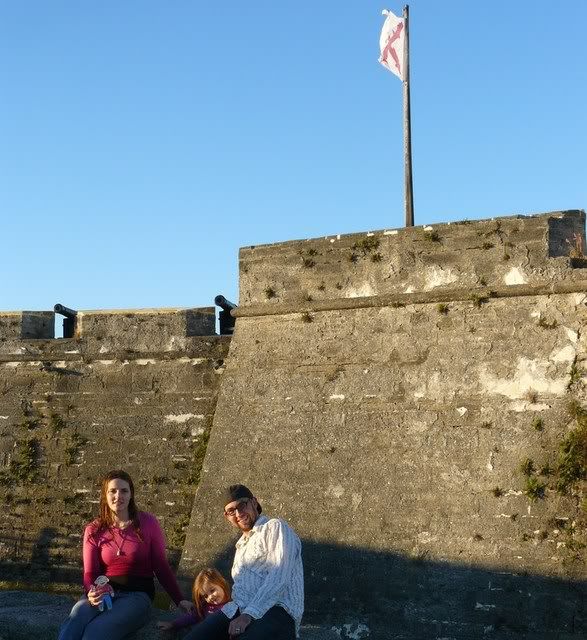 -worst pic I have seen of me :( ..but its all of us in front of the Fort, the park employee there recognized flat Stanley ,too! he's FAMOUS!
Last time
,
I had read to Rory and explained how the hot shot -incinerator,thingy for heating cannon balls worked- and she remembered exactly and explained it to Ri.
Rory BEGGED to take her shoes off and run through the grass.. i guess it felt good because before long she was laying in it.-She had to show Flat Stanley how nice it was
Then Rory and Ri tried to teach Flat Stanley how to roll down the hill....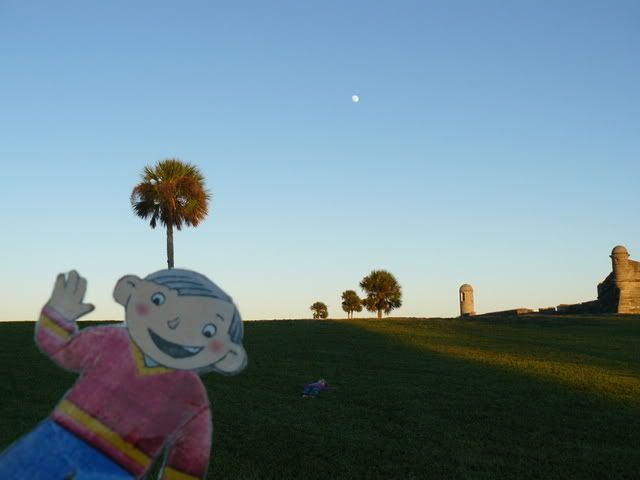 They are great at rolling down the hill- but Flat Stanley didn't have much luck.
Once we managed to pry Rory out of the grass we headed back towards the car- passing a bunch of commotion at the park- We had stumbled upon a protest.
There was a lot of music and shouting 'we don't want a handout, we just want a job"
and 'who WANTS to be homeless?" As they gave out food to the homeless.
When we got home Ri started making a huge heaping batch of vegetarian chili for dinner. A friend of his had gave him a new xbox -that was buggy.Tristan came over to play- but they ended up grubbing and chatting all night instead. ...the game ended up not working AT ALL anyway.
Noobie doesn't really seem to car for flat Stanley one way or the other.
Tonight, Ri took Rory to the store to buy veggie dogs- while I cleaned the kitchen.He came home and made hot dog buns from scratch- and we had chili cheese dogs.
Rory had her hot dogs sliced- and made little toppings on them of cheese and avocados.
So,I guess I will be sending Flat Stanley on his journey tomorrow, I am a little sad we didn't get to do more with him- and didn't quite meet up with people as I had planned...but I don't think I will be up to much of anything in the next few day worth keeping him over for. I am also eager to see what he does next.So happy travels Flat Stanley.
Tristan(Ri's friend from school) came back over-he's playing video game(on the old xbox) with Ri.
Unfortunately, I feel as though I am getting sicky. With stomach pains and migraines,which Ri also seems to have.
...and great,As I typed the last sentence the net quit on me- and Ri ended up spending the last hour on the phone with the phone company.Fun stuff.
PEACE AND TOFU CHICKEN GREASE,
BABYHELLFIRE
....ps-
I came back to edit with pics this evening...but wanted to add. The sick has in fact landed. :( Rory woke pale and saying her stomach hurts too.