...psssst.
added some vids Lissy took
Spring showers bring May flowers , isn't that how that goes?
I
am
excited about spring -it has been a harsh winter..but I forgot about allergies. I am coughing up a lung, and my eyes itch.ugh. Was the winter sick not enough? really mother nature.. really??!!!
Maybe, I am not so excited about that May pollen... er,March pollen.I also think Aunt Flo joined forces with Mother Nature to attempt to destroy my remaining sanity.Some sort of ill intentioned painful reminder of my unwanted fertility perhaps??
whine whine whine...
That really isn't important tho. I have far more interesting Spring things to celebrate.
Like my insanely cute nephew Nico , born Mar 22
Holy Crap! That means he is ONE YEAR OLD!!!
Oh noes! That happened too fast
I'm getting ahead of myself though.
Before the spring showers we had some remaining bit of cold with -SURPRISE- hot days.
My central heat&air unit is very confused.
Noobie digs it
Look at that sunshine
Took the opportunity to get some 10 month shots of my unbrushed hair for those interested
and the braid I added in , when I FINALLY found that tiny braid we kept- that Ri had cut before he went on Maury... way back when he had the LONGEST hair.
I also need to update you on our schedule adjustment.
We are still working on it. We wake Rory up every day at least before noon.
We try to keep her from napping.
Does she go to bed earlier??
Not usually. There were a few blessed days of a PM bedtime. loverly.
Maybe we will get there.. but I feel we are backsliding.. as it is 1am and she is still up.
Oh-
& St.Pattys day
it was green and glorious. We went to the park. Rory even found something fitting
( I am sad I couldn't get her to wear more green.. she has greener things... I sort of like green clothing)
She spent the whole afternoon enjoying the crazy slide,
while I had to reteach Noobs leash manners after being soo pent up.
Rory didn't want to go home.
We don't have a Silly Slide at home.
The sun turned to rain after that though. The power went out-but only because the power guys had to turn ours off to fix the neighbors transformer.LOL We got lucky and had the only power on the street most the night.
Rory has been very good. A little too independent and determined to do too much on her own.
She made up for it by making me be "Inky " more lately.
I don't know if I have ever told you about Inky. Every now and then Rory will tell me to pretend to be Inky, and "talk like this"- and be not very nice. She bosses Inky around. I think perhaps more of asserting her grownupness.
She wants to be the rule maker.
She says even Noobie bosses her around...Noobie can be pretty needy. lol.
It is different though that her imaginary friend is me. Is that weird, should I worry.
When I can clear the Village of Littlest Pet Shop from the floor: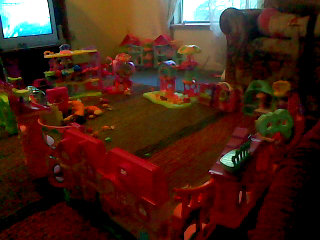 ....I've been working out loads on the wiifit. Love that thing... hate it too. It isn't always very nice.
We took it to Val's to play some- the kids had fun. Ri saw one at walmart and Val got herself one too YAY! I am hoping to figure out a way to import Miis and compete with each other more :)
I did finally work a bit on my
other blog
project ,feeling all productive and stuff... but I had intended to be done with the new post BEFORE march and I failed miserably.
Ri has decided to put the house on the market. With every house on the street for sale it seems unlikely. He has been working on at least getting the curb appeal up. We hired a new yard guy but it has been too nasty out for him to do anything. He has also been looking around for little places in St.auggy. As Fall looms closer we know we need to move Rory into that district.
ugh.
I finally got a pic of GraceFolly for you:
It seems Grace is a girl. We heard the unmistakable sound of a cat in heat the other night. We don't know how we can catch her to get her fixed. Something must be done .soon.
At least Rory got to wear that awesomely cheestastic 80s rainslicker I found in Mom's storage barn
..It has to be the most handed down item in history. It was once my cuz Jessica's, then Becca's,
then mine, then Lissy's- Amy may have even worn it..
I may even pass it though the nieces when Rory is done with it. LOL
The rain attempted to foil Lissy's plans for Nico's party. It was sposed to be at a park with BBQ and all..
:(
She decided to move it to the indoor playarea at BK instead
- So mom picked us up- then picked up Amy , Aaron and Allura
Awwww baby cheeks!!!
Allura is the most awesome baby. She smiles and laughs at EVERYONE. She sleeps through EVERYTHING.
She hardly ever fusses. WTH.
No fair.
Mom says I was like that as a baby. Rory was a divababy- and so was Amy
seriously.
unfair.
Amy is so lucky.
--long ride to St.Auggy
Last time we went to one of those playplaces Rory was too afraid to climb very much into it..
not the case this time.
Rory was climbing up in it like a super hero - jumping through the tunnels with crazy parkour moves!
It frigtened me a little... it was soo high and I was too tall - I feared she would get stuck in the top or something and I wouldn't be able to get her down-paranoid-
Look an even more awesome Silly Slide!
The acoustics were the best part- Lissy stood Nico at the bottom and they called to each other as she slide. Adorable.
Nico tried soooo hard to be soo big.
Boo's niece took him in the low part so he could feel big
and
"Hey Gram, didya see this baby ova here?
..Yup , she's pretty cute.
Rory was proud to make it to the top-
I am glad she made friends with Boo's niece .. at least I knew I could send someone in after her
Nico might have been a bit jealous
So Boo found a way to get him into one
You can see how proud of himself he is
He is sooo big!!!
look theres me
Nico is 'sposed to be a bittie baby!
Why isn't he??
I thought he was just a fuzzy headed infant, like
well like Allura
Cute-off, GO:
Oh dear.
no,I don't entirely know how it is possible for us to not only have the cutest kids on the planet- but for them to also look so different
Allura he this huge amazing smile at everyone and everything,
except that stupid black flashy box
you and your flashybox. cut it out.
Aww super milkchin-this child was not even fussy with being hungry and too distracted for the boob.
We got some food.Rory barely grubbed on a kids meal the little while I could keep her out of the tube of mommy torture.I ordered a veggie burger , but got a bread and soggy lettuce sammich when they were out.ick. Thank goodness for giant cups of dr.pepper.
At least there is cake.
"whoa-everyone is singing"
I love his face.
Blanket baby. She just snuggles her blankys it is soo cute. I tried to force Rora to be a blanky baby. She mostly just used them for warmth tho.psh.
I love this face too! She is growing too fast too.
There is too much cuteness in this post.
and I didn't even get to the rest of the cake pictures.
he was doing just fine pokeing it and taking little tastes
Then ,Lissy fed him an actual bite of cake, and Boo smeared icing on his face
"GOD, Dad ,why are you trying to make a fool of me!"
Oh . he was not pleased
He didn't even want to be wiped off.
Hurry bubble distraction!
With the bubbles and the balloon animals I think we entertained most of kids that came into BK that day.Probably some of the parents too.
Also.
Balloon swords do not look like the swords, at least not one girls would wield .
We stayed until Rory turned so red she was almost purple from playing. I think everyone had a pretty good time. Ri had picked out Nico's present and Rory wants one now- its a little hammer shape sorter thingy. Lissy says he LOVES it. Ri has this present thing down.
Then we went to mom's for some cereal and giant tv.
I napped on the couch for a bit while Rory made friends with Thomas
When we got home I took a benadryl..maybe too much and passed out so hard I don't really remember Ri coming home :(
I tried to catch up on cleaning the house today.yesterday at this hour...
but I was busy.
...and I love television.
Hey. I made dinner.
Well. Everyone is passed out and this longness took me far to long to write.
At least i put some pics in here this time. :)
So ,
like
leave a comment
PEACE AND TOFU CHICKEN GREASE,
BABYHELLFIRE