...Ok- I left off saying we worried we would be late with Amy(baby sister's flower girl.
I thought we had to be there at 6 thirty! Instead when I am already RUSHING knowing I am late on my way to get the dog to the old house, and change clothes- Dad calls to tell me they are about to start! Ahh! I had tried to get out of the house earlier, and Ri discouraged me , saying we had time - he just didn't wanna be early hanging out.. plus we split time in the middle of the day to sign the lease and pay our new landlord.
RUN! I changed clothes so fast Ri had barely patted the dog on the head "goodbye"
- and we ran to the river:
Lissy said our late arrival gave her time to put out her table decorations- we both thought Amy's wedding was scheduled later!
- I guess it originally was, but Aaron's folks had to get home early and they had moved it up.
I was rushed in to the cabin Amy was waiting at to redo Rory's hair and get her ready- as they ushered guests towards the river under a huge oak tree-
So- Lissy and I led the way for the wedding procession- with Ri stuck on the brides side once again ,snapping pictures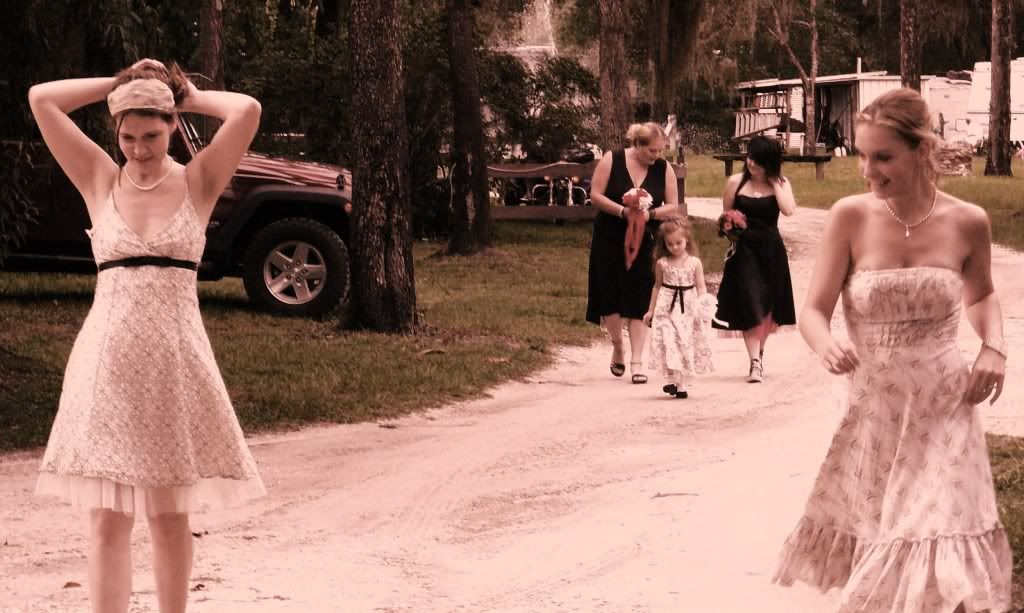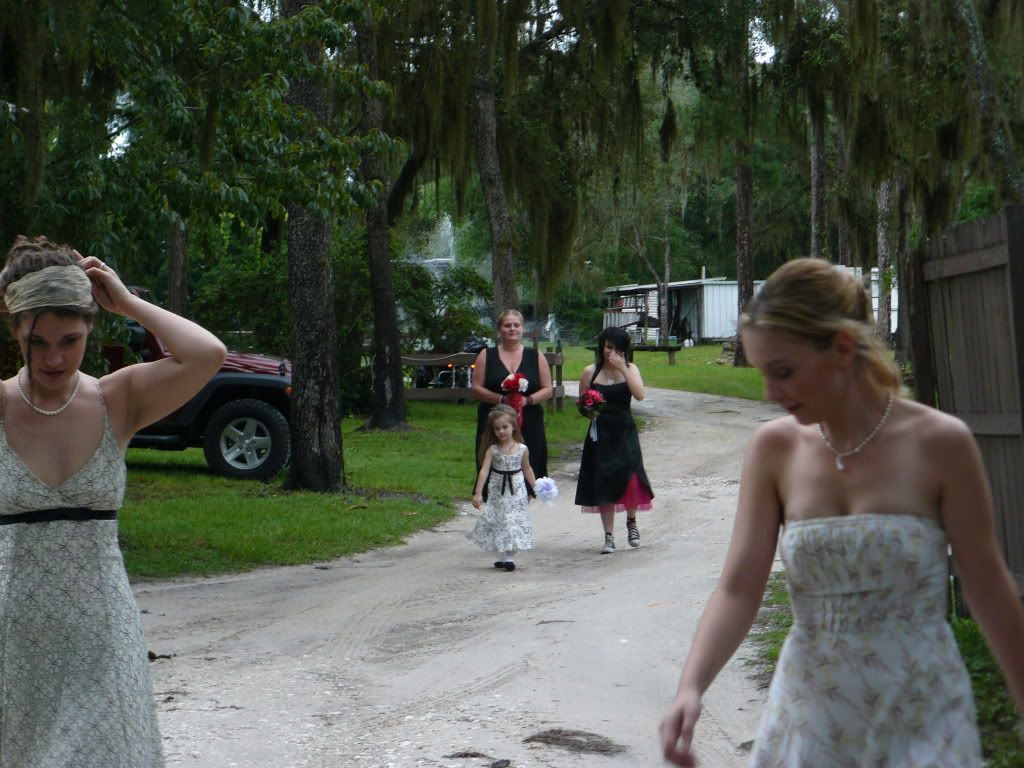 I am sad more pics didn't turn out at the Amy&Aarons wedding-
Our cam was acting weird and focusing on the moss hanging from the old oaks-but we got some great ones.
...or Ri did as I rushed to find my place in the audience-
-sidenote-the next day, my calves were sooo sore-those heels were much too high.
I stole Allura from my Mom to cuddle-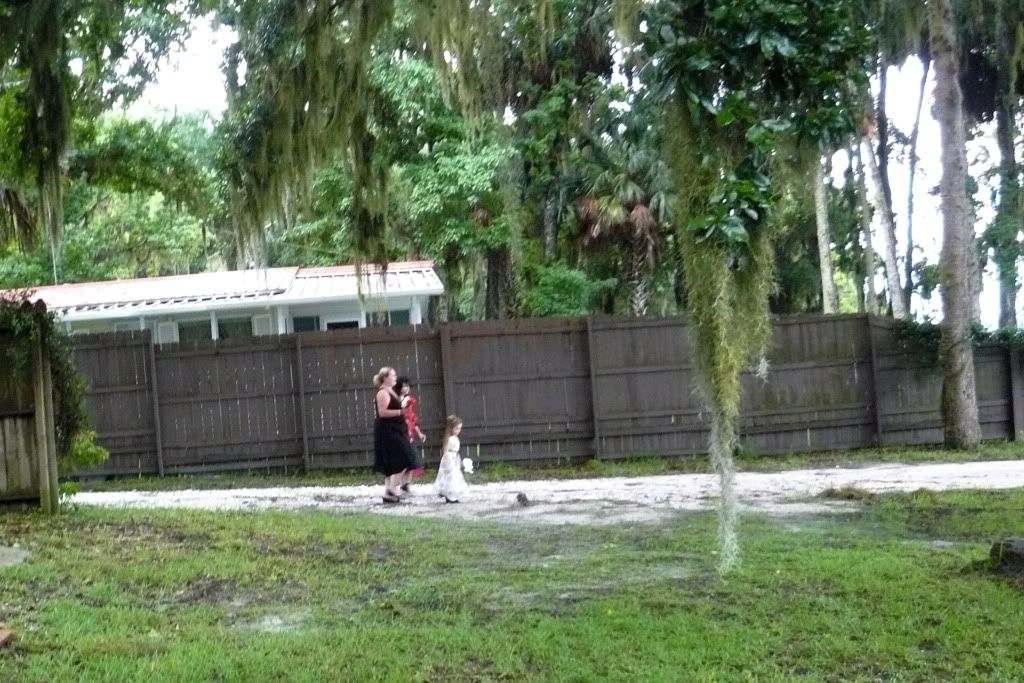 Rory did soo good- she looked nervous the whole time just smiling
The boys waiting

...and Dad bringing her down the aisle...or road.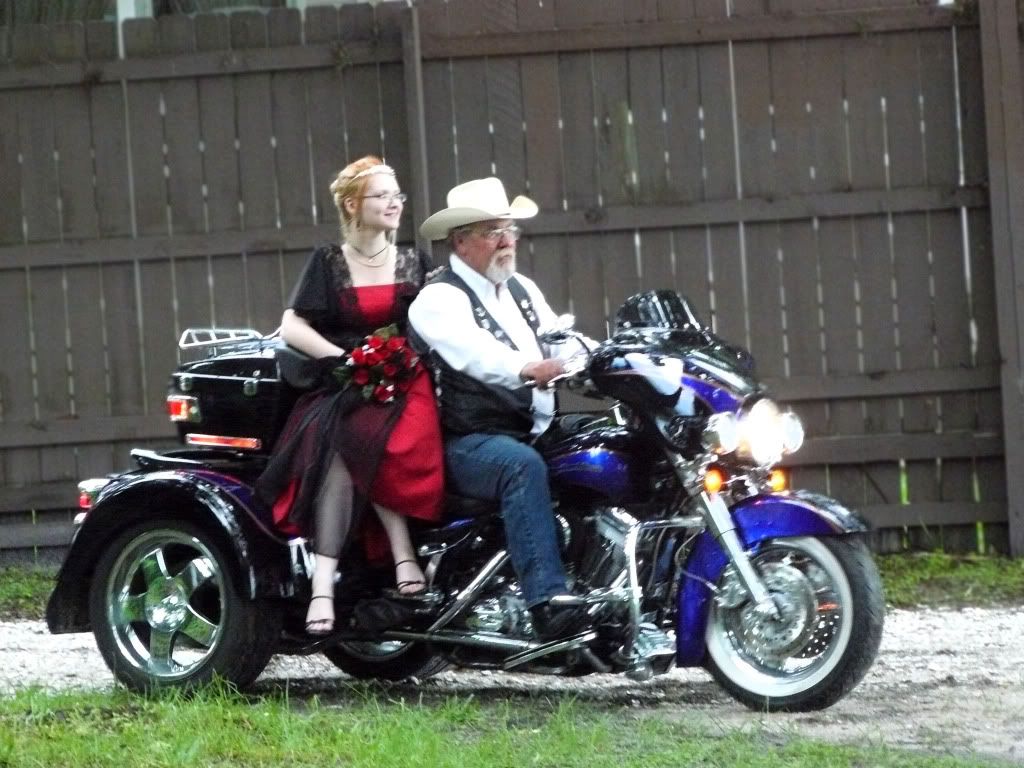 I played with this one a bit , Don't you love it??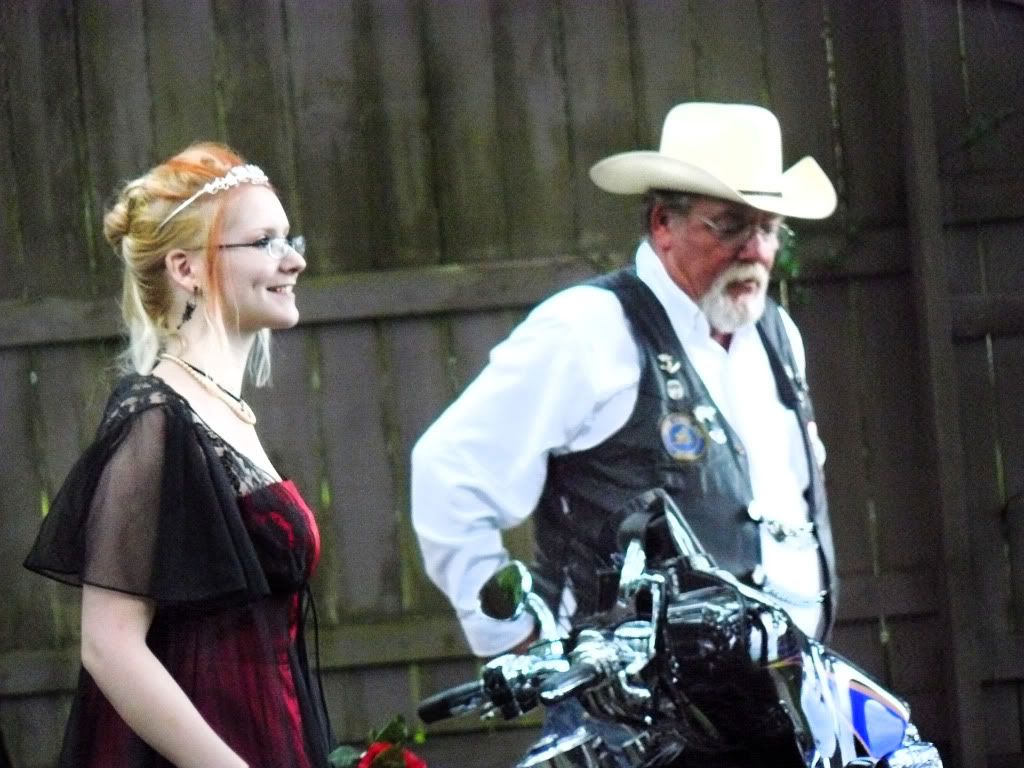 Sooo sweet! I think Dad was pretty happy to bring Amy to the altar/tree that way
- Did Aaron just tear up??
Don't you LOVE the colors!! I admit thinking Amy&Aaron having such a dark wedding seemed a bit...weird, but so did the idea of them in traditional wedding garb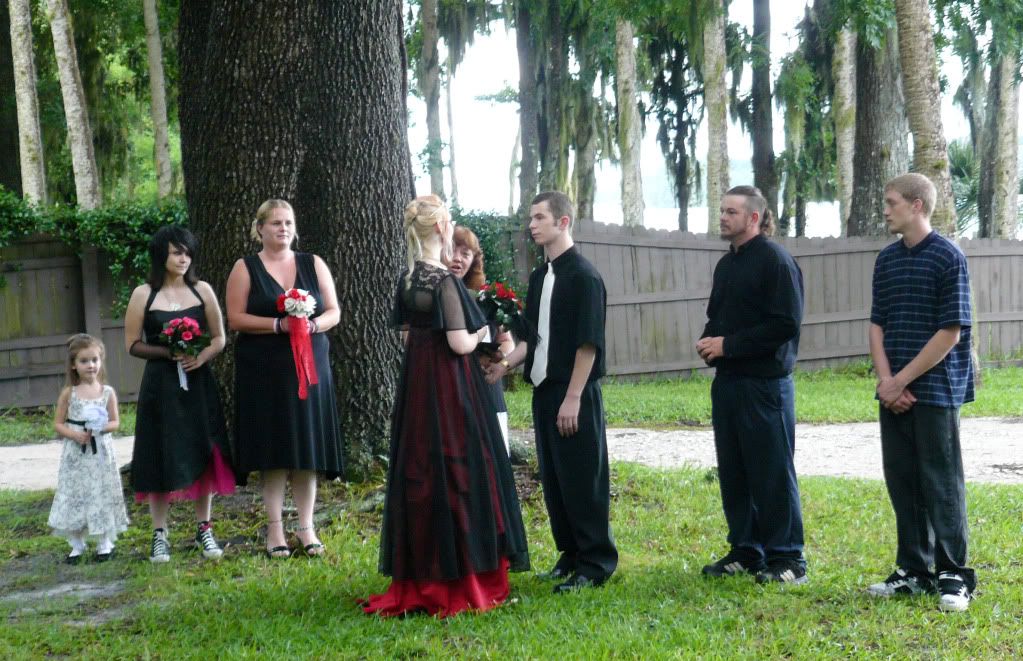 ..and Taylor- in the Chuck's and pink - love it!


I admit,safe in the knowledge Ri was running around snapping up pictures-
and holding babbley baby Allura - I didn't hear all of the ceremony- for every word Allura heard of her parents vows she grunted and responded and chatting with her was too fun.

I did see the kiss
Ri says that was one of the best wedding kisses ever-Aaron was so shaky and nervous we all thought he would pass right out-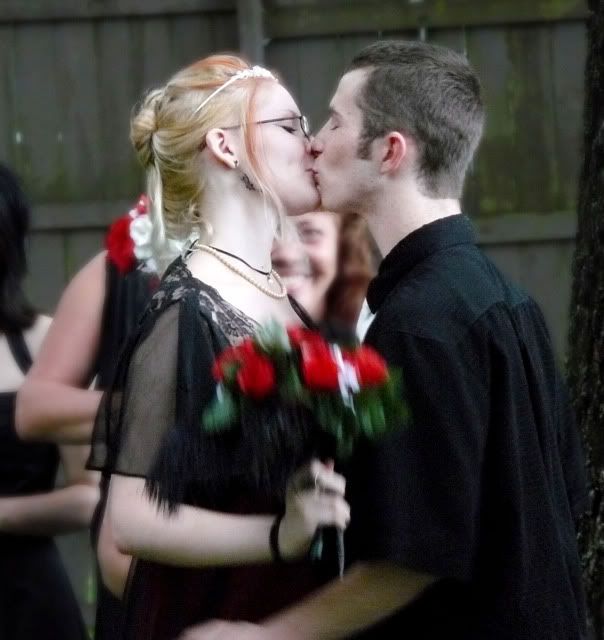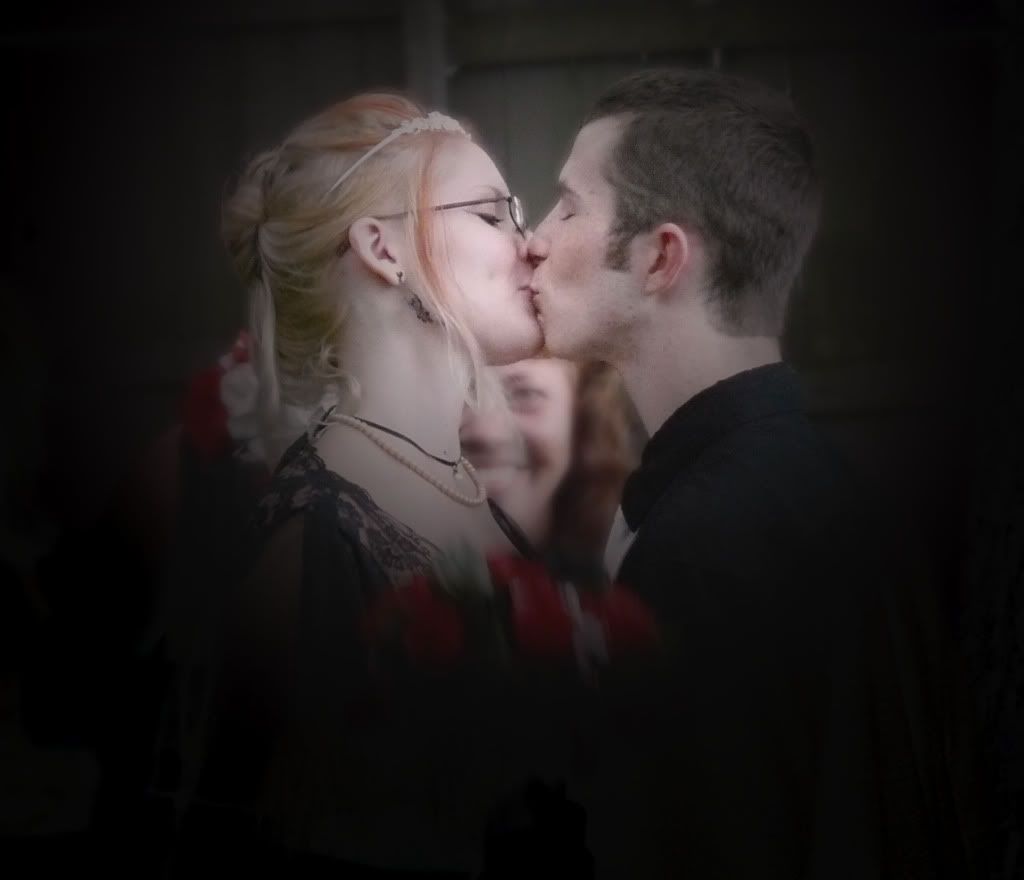 instead- after kissing her - he lifted her up and hugged her
There were few dry eyes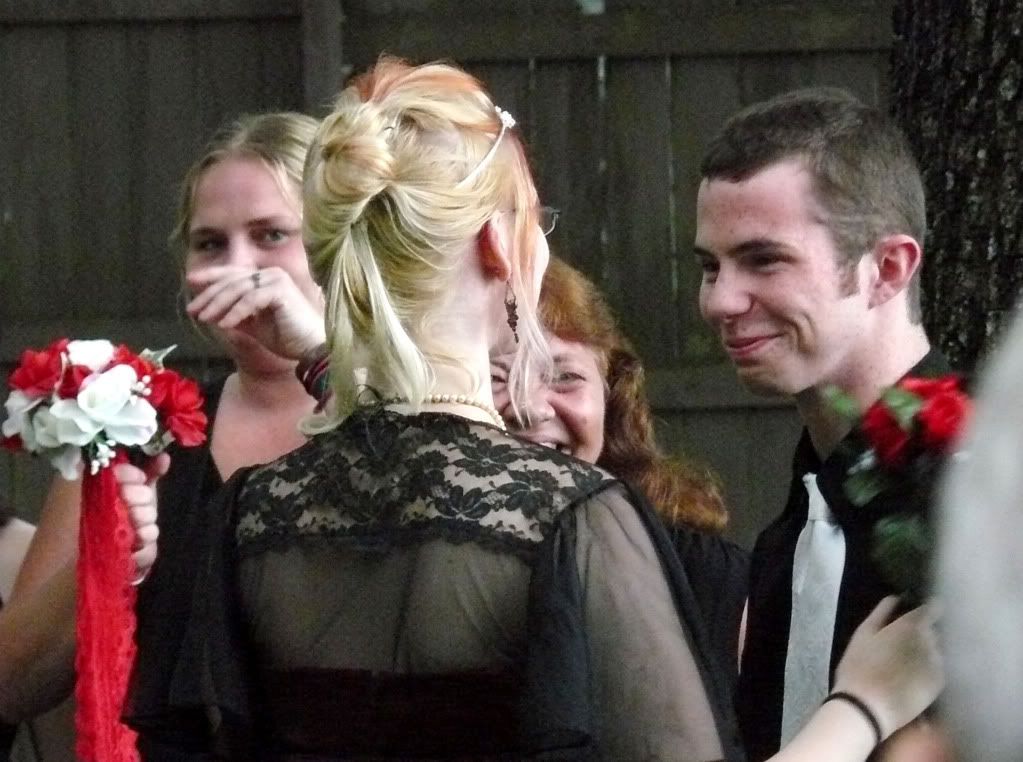 I brought Allura to her parents
But she was more intersted in flowers and drooly kisses
She is soo cute fixing her lil dress.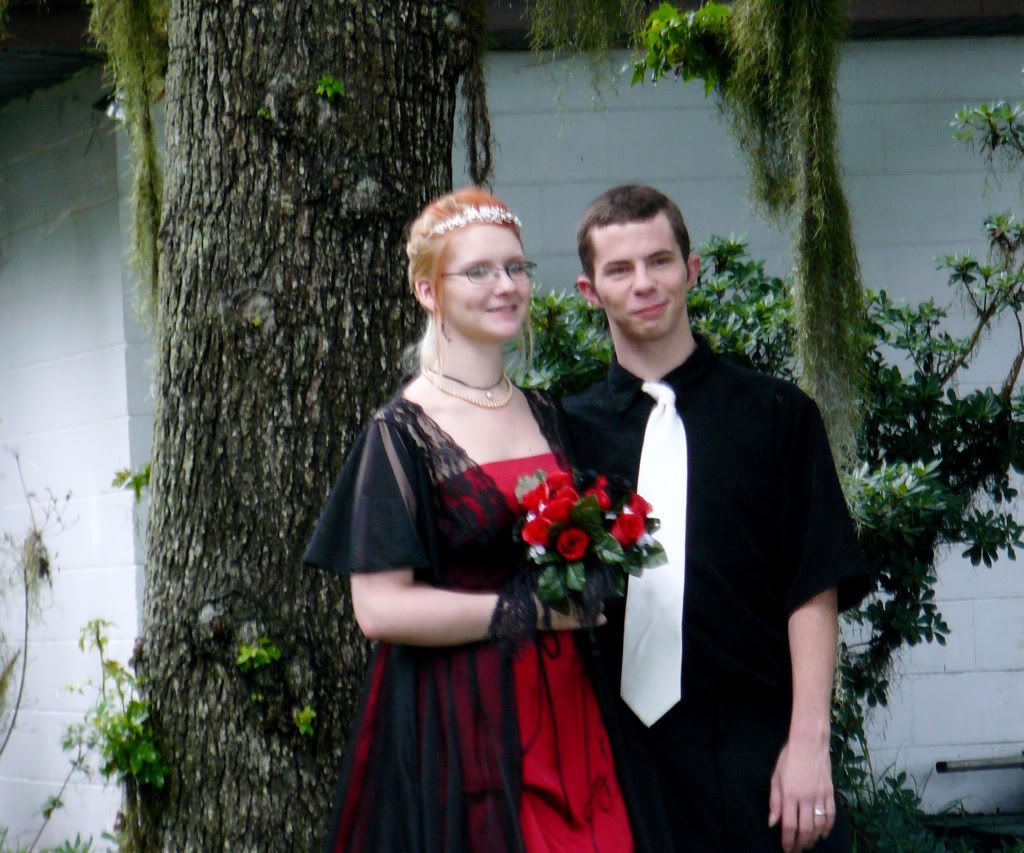 I wish we would have got more wedding party pics to come out- soo cute :)
Now...
Finally, time to party..
and take more Pics.
I am tempted to do ANOTHER continuation, but how annoying would
that
be?
I will just put some dots here
.......
If you need time to settle in for a long double wedding reception post start at the dots
....................................................................................................................................................
and make a wish,
and forward this to five people,
and your phone will ring,
and Bill Gates will send you money,
or not.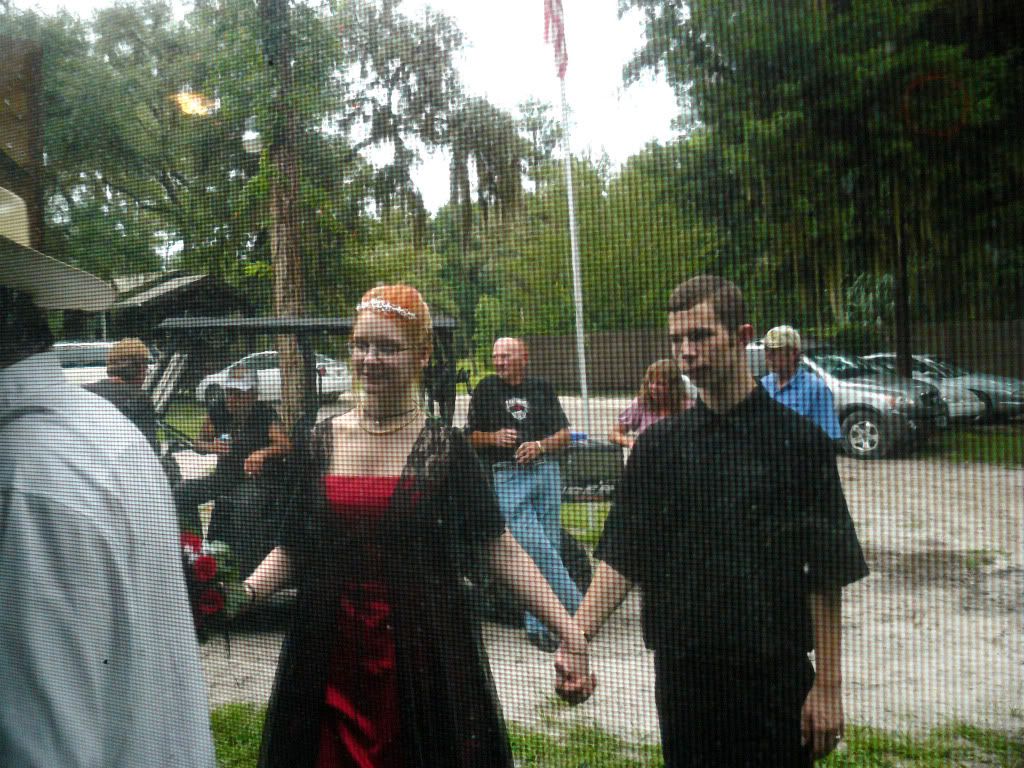 Rory found herself a seat next to GrammyGrape and talked her ear off.Leaving Ri an i to wonder around taking pics and making small talk.
Aaron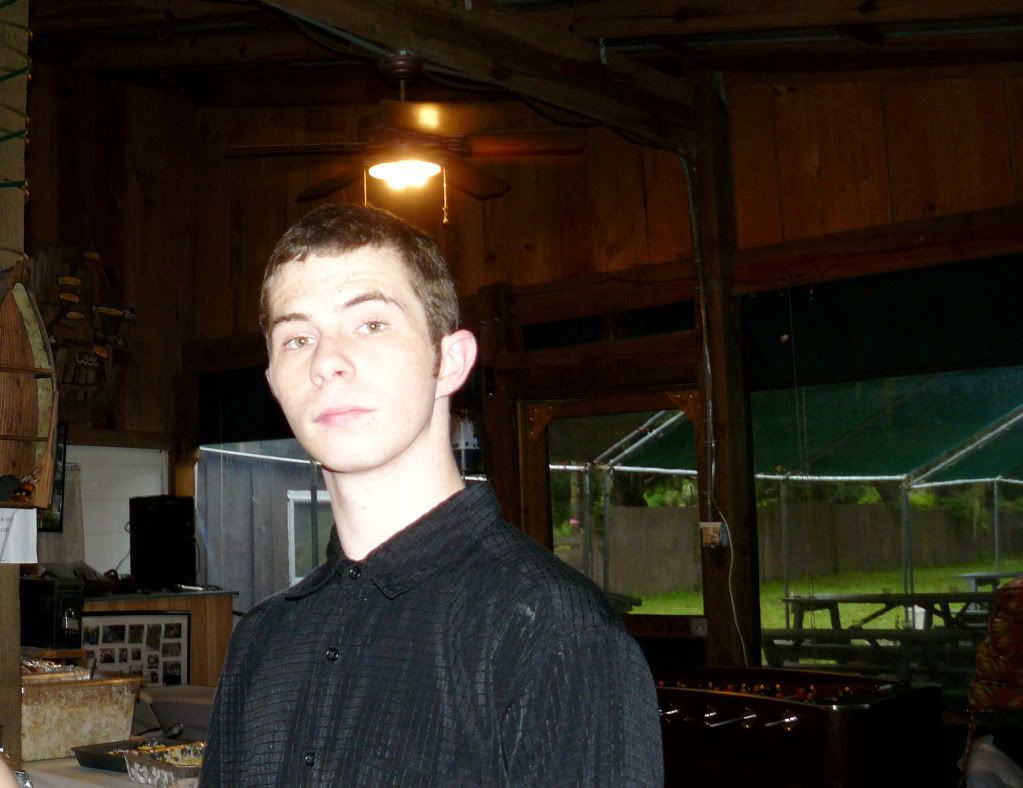 Dad was jumping into all Ri's pictures all day..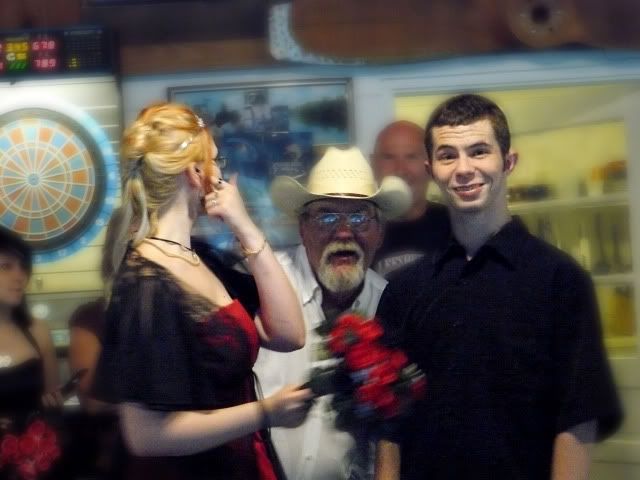 a>
Lissy went and put her dress on for the double bride reception moment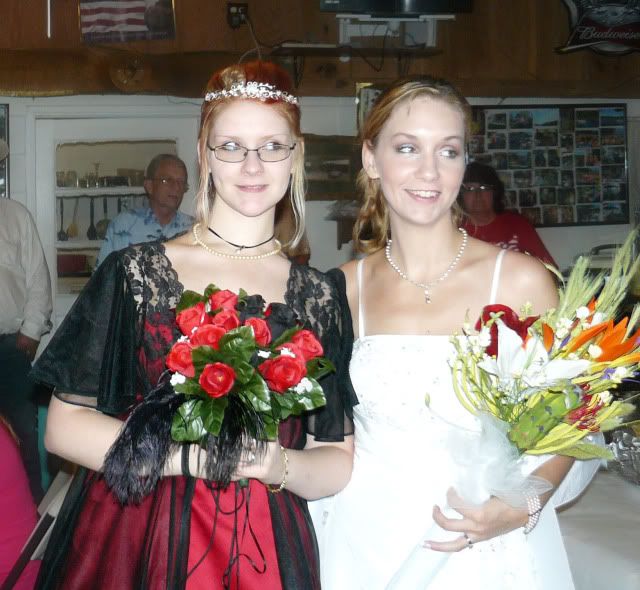 Ri and I had trouble getting great pictures in the little room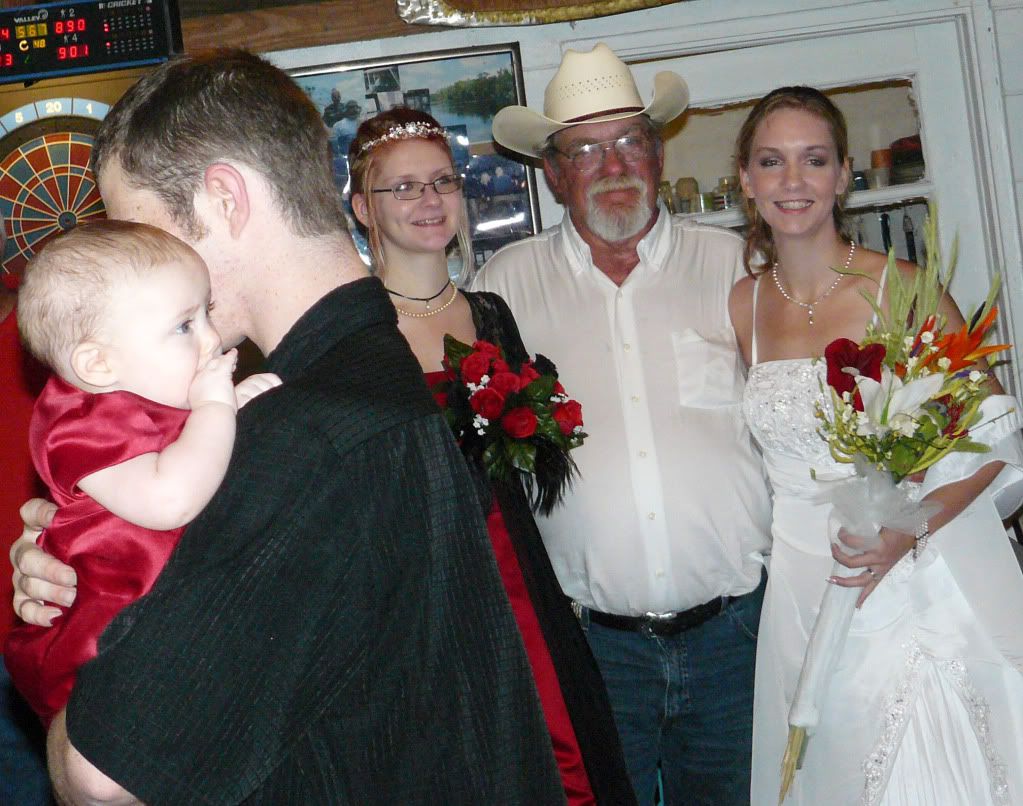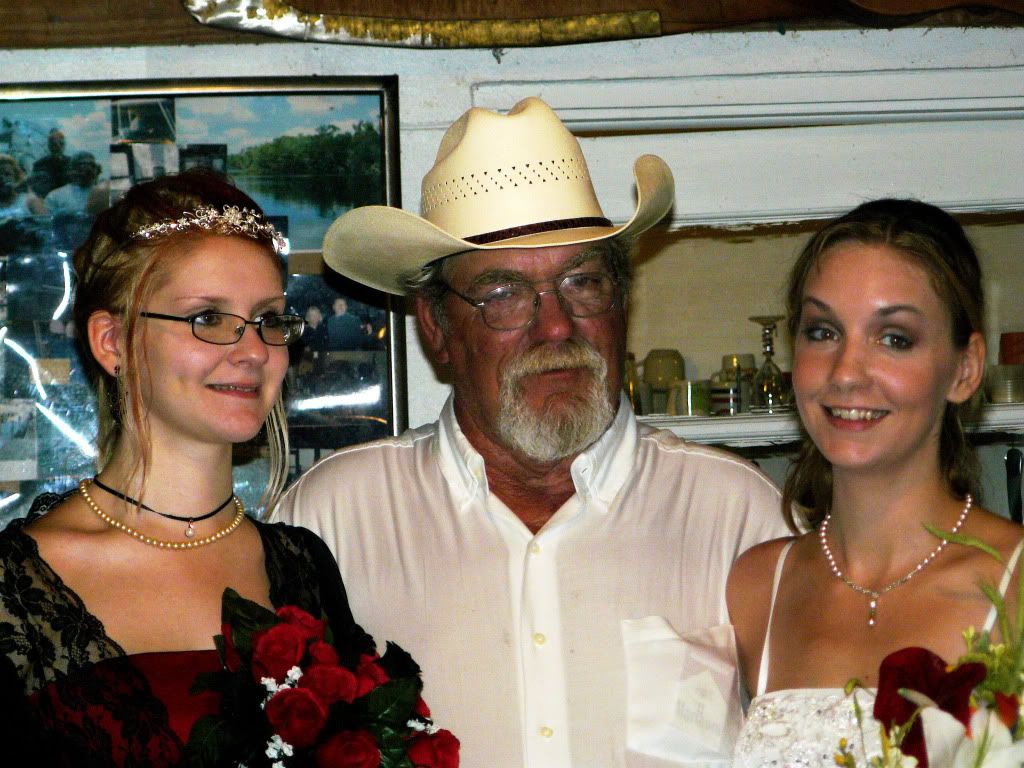 This was the best I got of Dad with his two no longer Hogg daughters.
...
Luckily Lissy's photog/friend was there for the reception and got some more great pictures: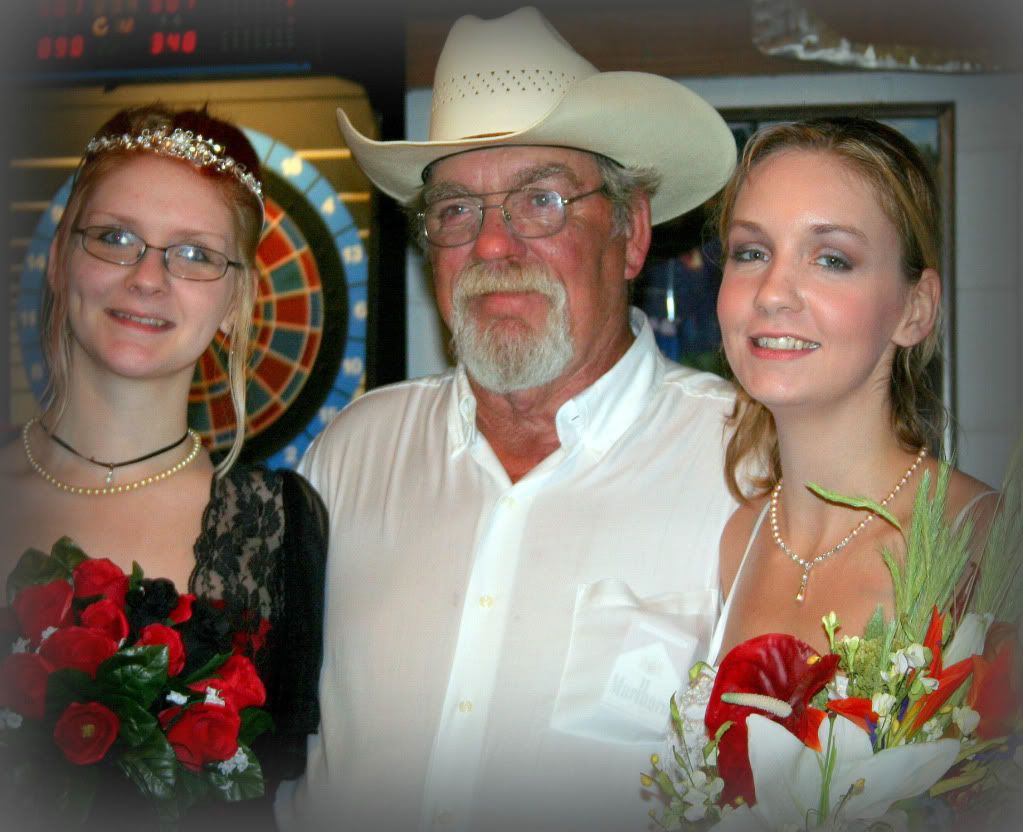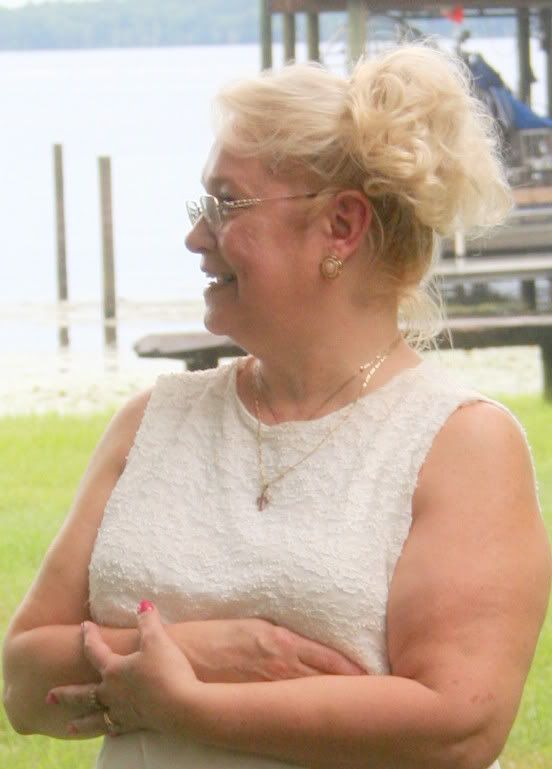 Mom said she did feel a little pang when she heard someone say "
No more Hogg girls!"
after Amy's wedding.
With me moving away- and Lissy & Amy getting married it would seem like we are moving farther from Mom and Dad as we take care of our own families
.. But if anything the past year(at least) has shown that far from the truth.I am closer with Lissy , Amy and JJ than I have been in years, and I consider my parents my close freinds,and advisors ,always the 1st number I dial....and it is
because
of our little families, having children and getting married - and just being a grown up , that we are closer. So back to the Hogg Roast party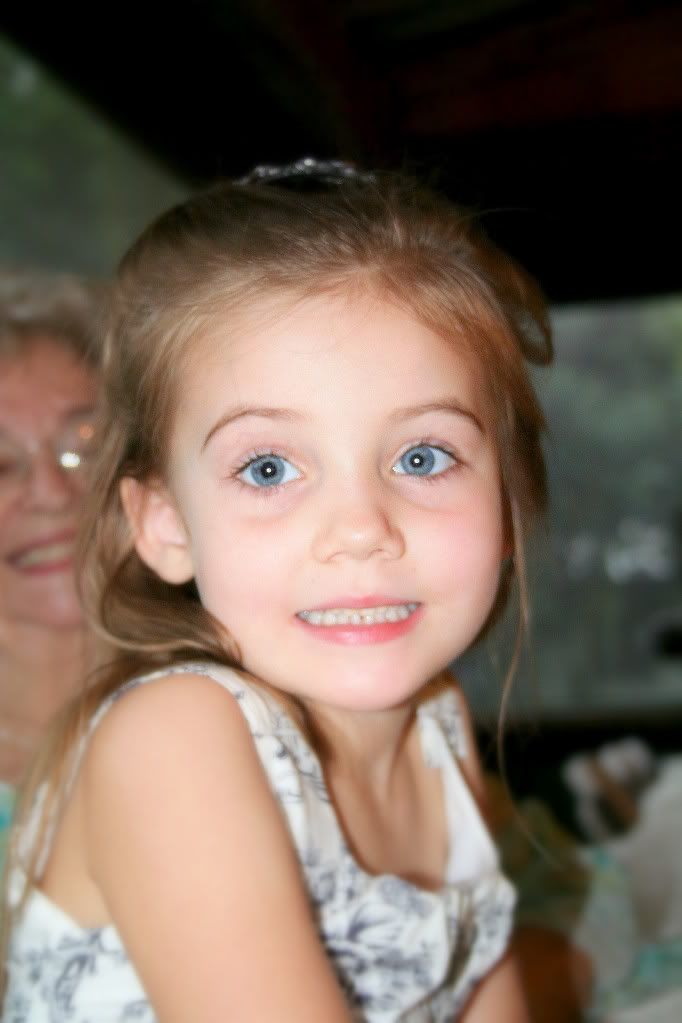 Rory just love chatting with GrammyGrape- and always poses for the camera.
I love this one I got of Gram and my sisters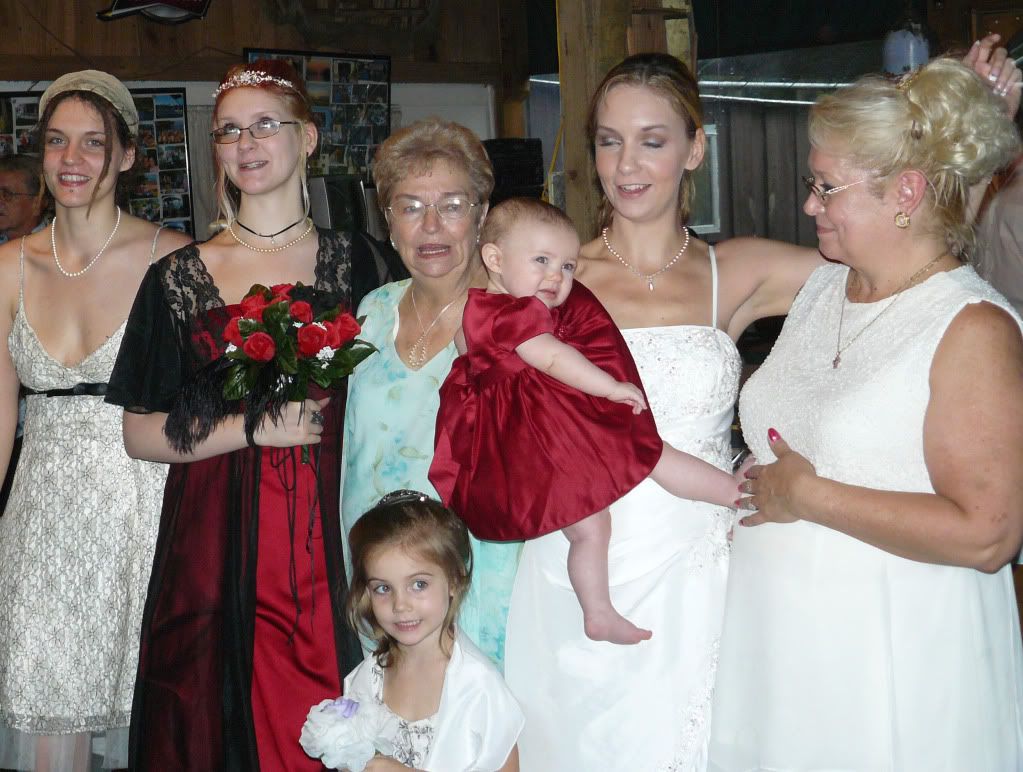 I teased Lissy as she ate chicken in her dress- this was a straight to facebook quality moment, she is lucky I didn't get online sooner.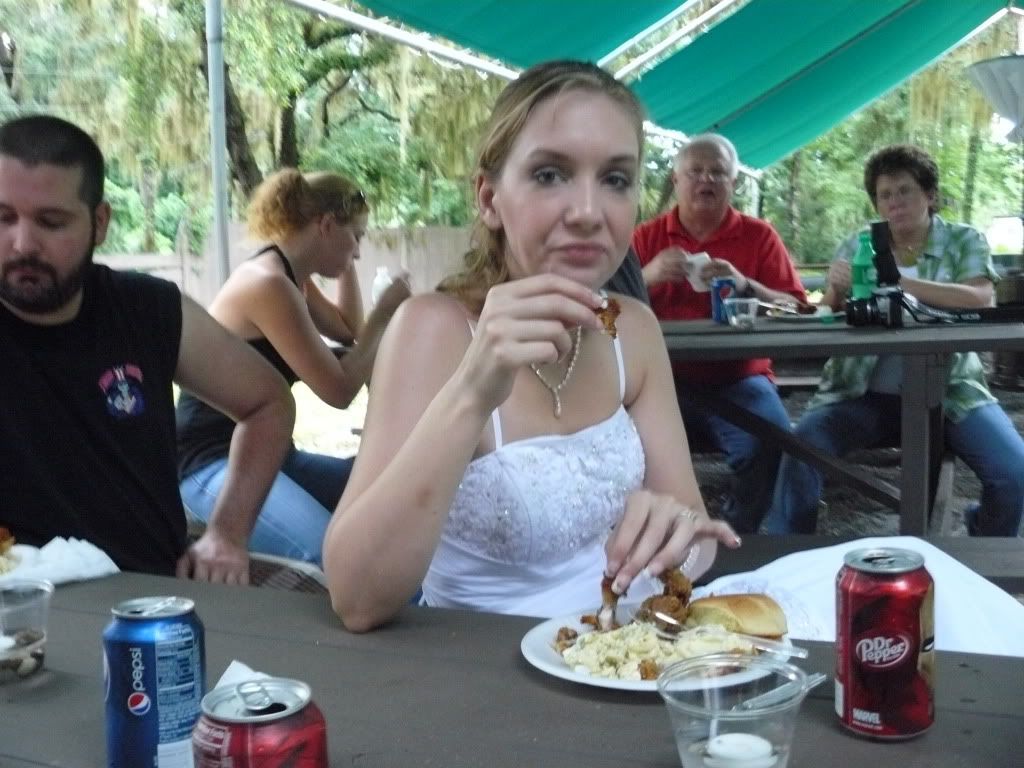 Amy nursed Allura and sent her home for the night with her Grammy(Aaron's mom)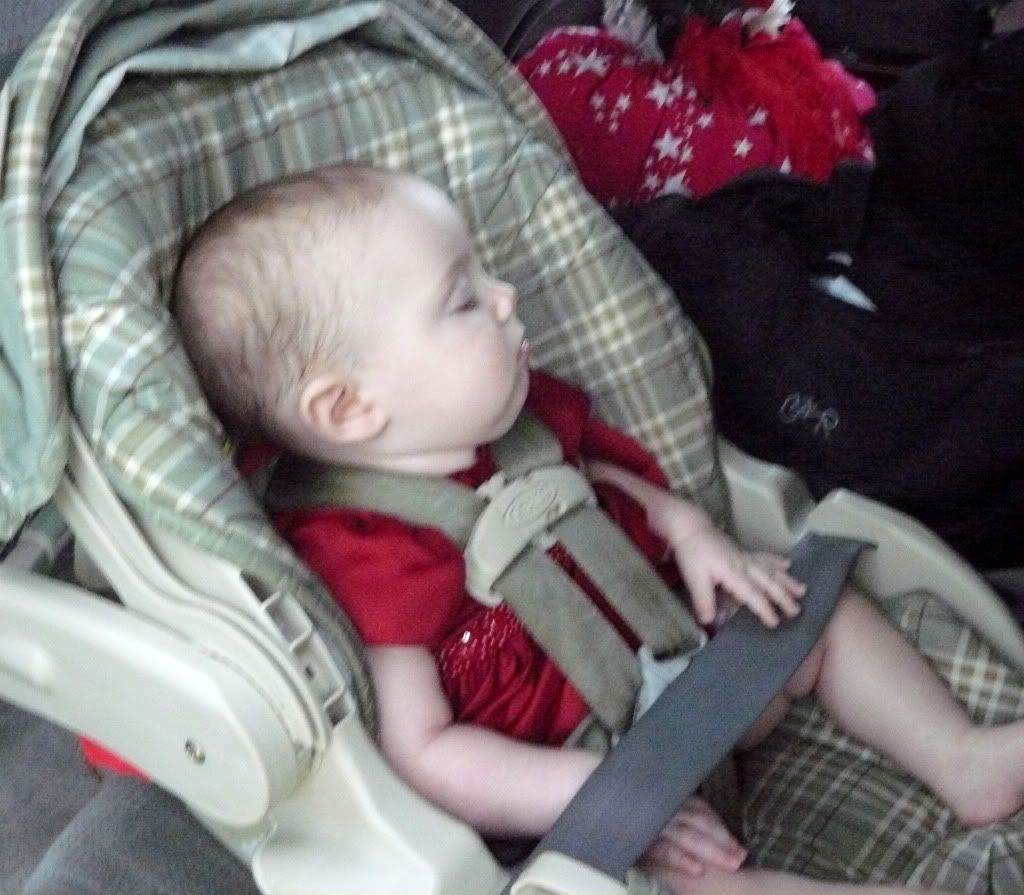 Lissy's MomInLaw was already watching Nico-I almost felt like I needed a sitter, but Rory was an angel.
Lissy told me this moment: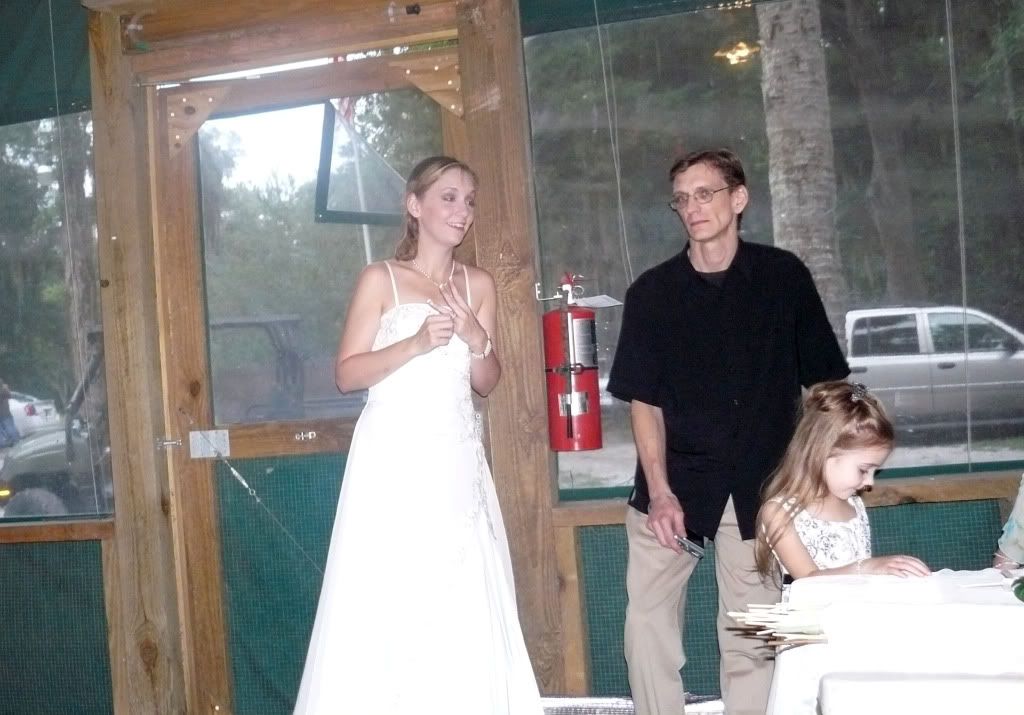 Was when she walked to the quiet corner our bro was hiding in and told JJ- that THAT should be her spot, and how it felt soo weird for it to be HER wedding.
Time to cut the cake!
Cakes...something.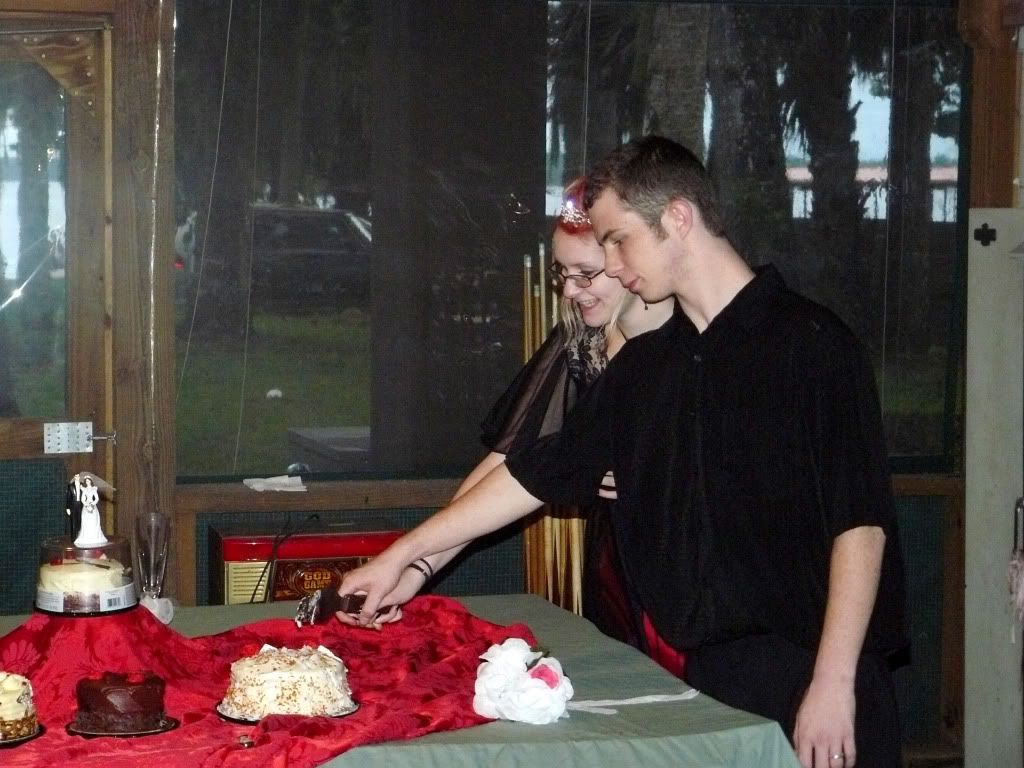 Amy and Aaron were soo sweet about it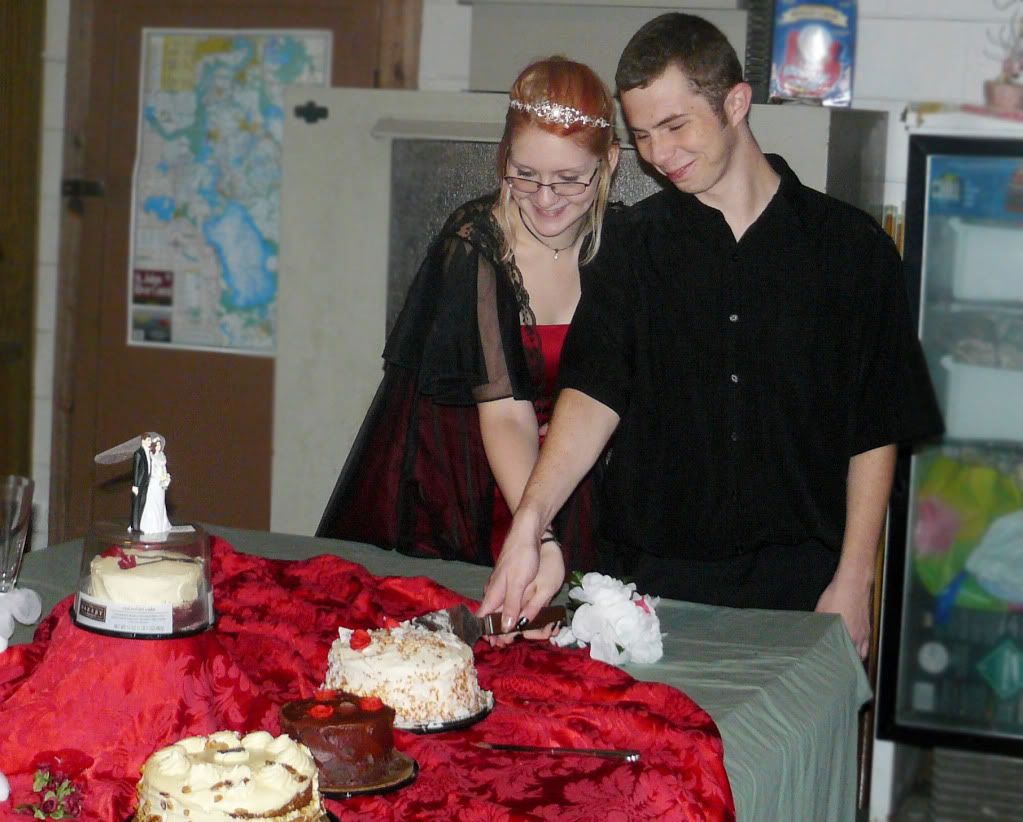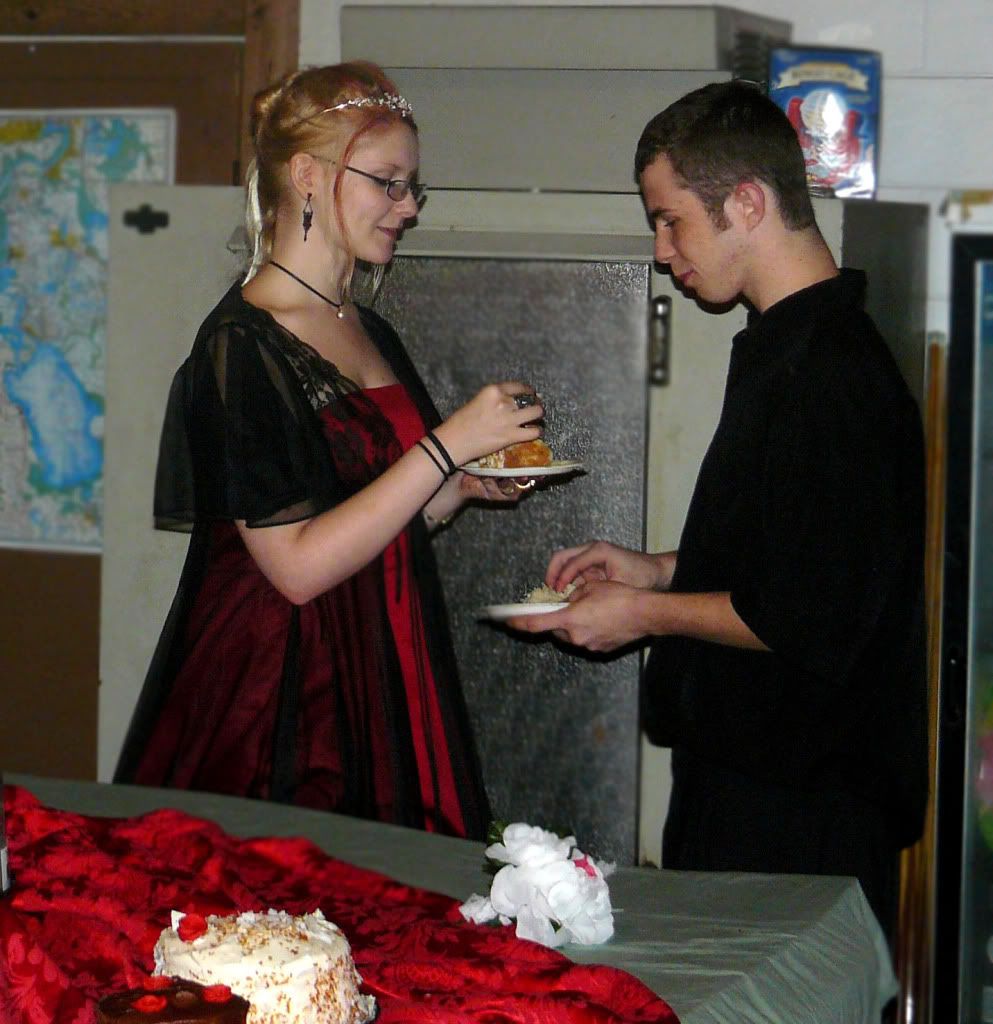 Awwww!!the teeniest bite of cake very gently...
Lissy and Boo posed beautifully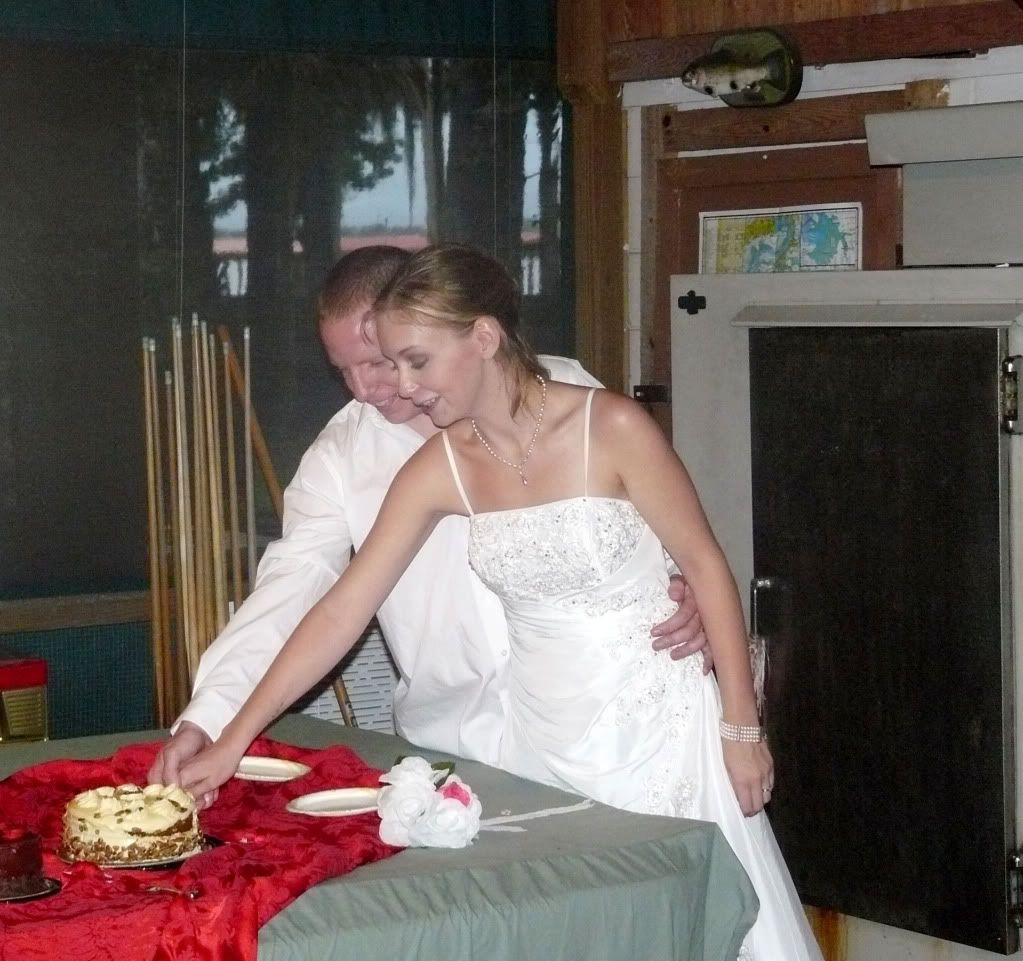 .....but- when Lissy grabbed the frosted top of the cake like a ball- with no regard for a plate ,and Boo followed suit we knew things would go down differently than they had with Amy and Aaron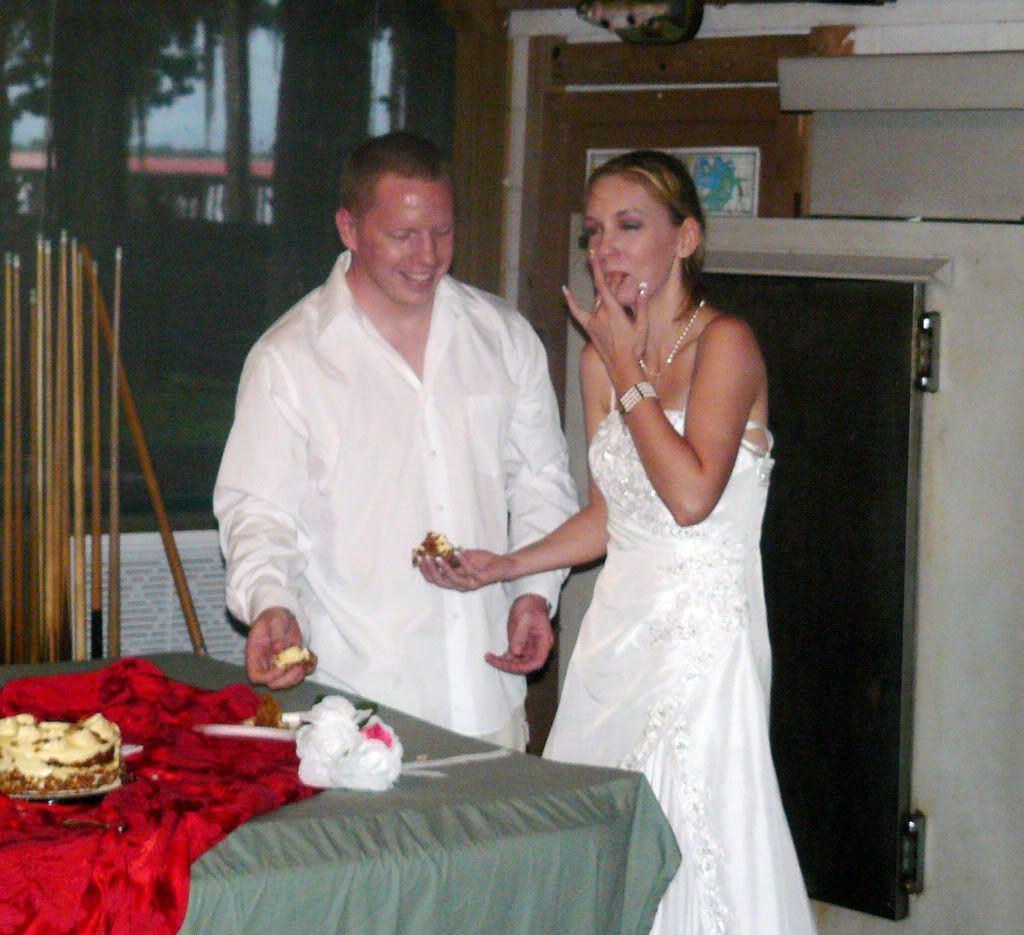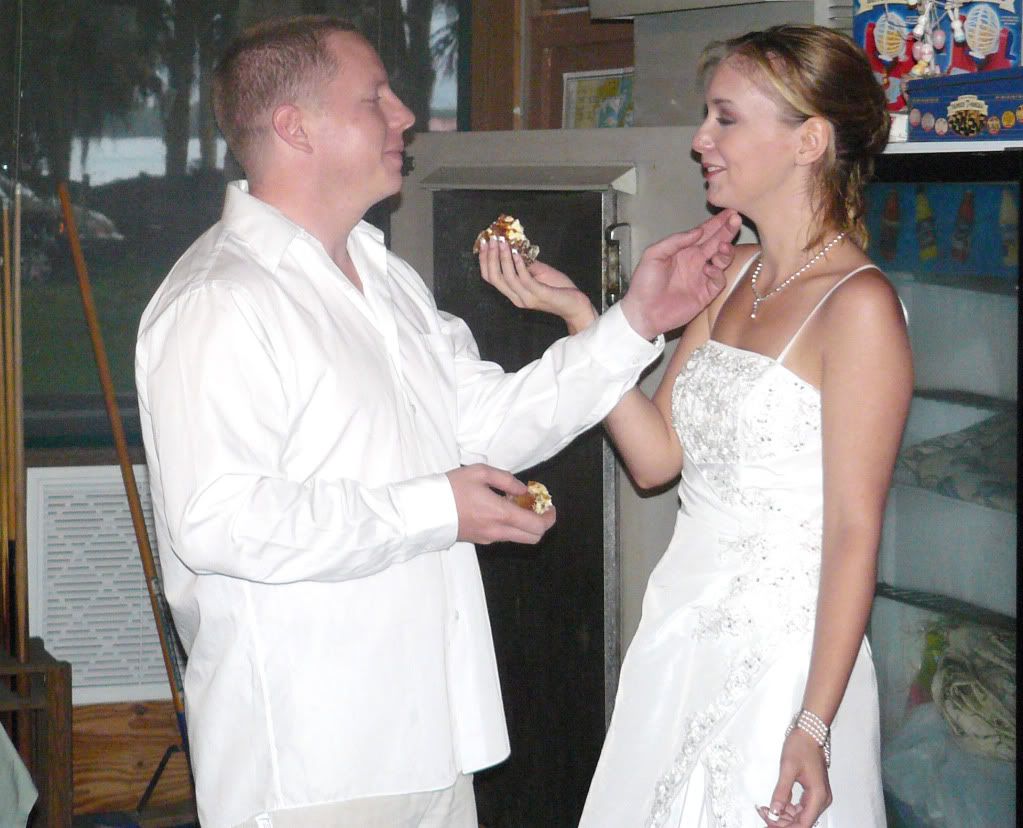 ...and then,
My camera jammed!
Luckily for you the photog was still there: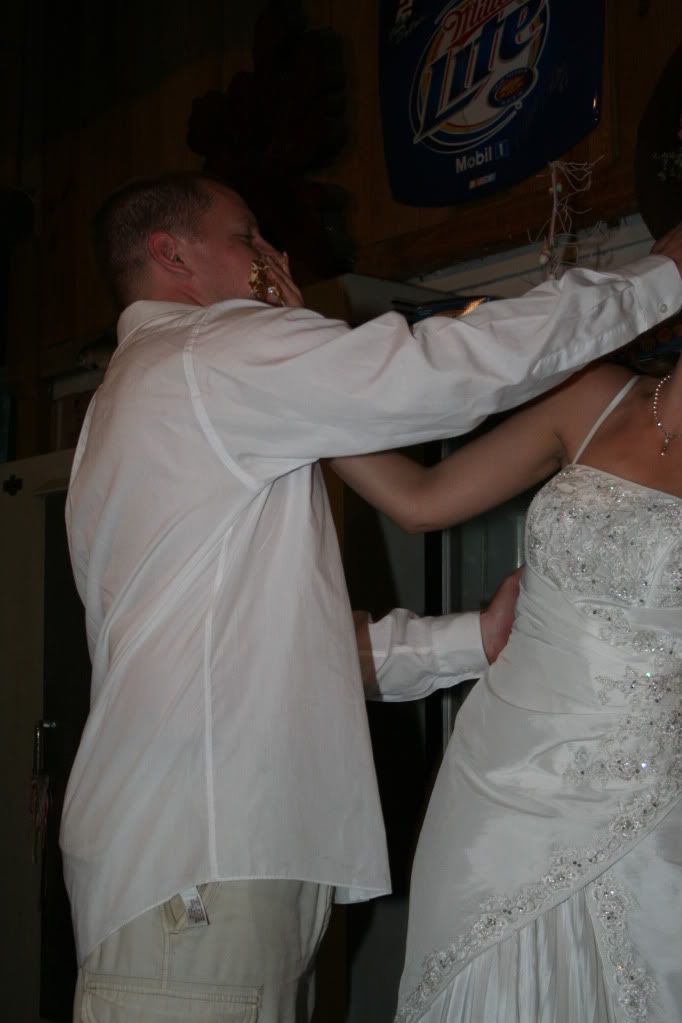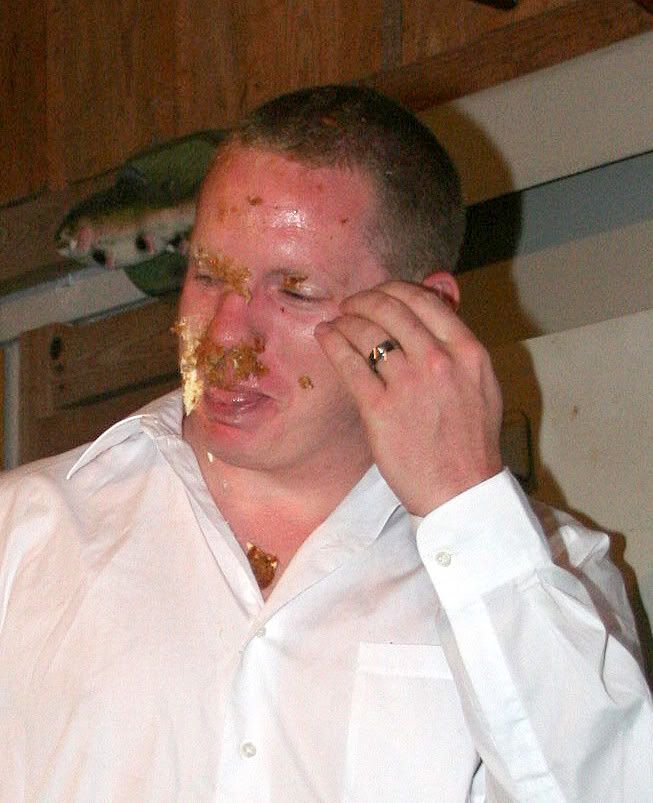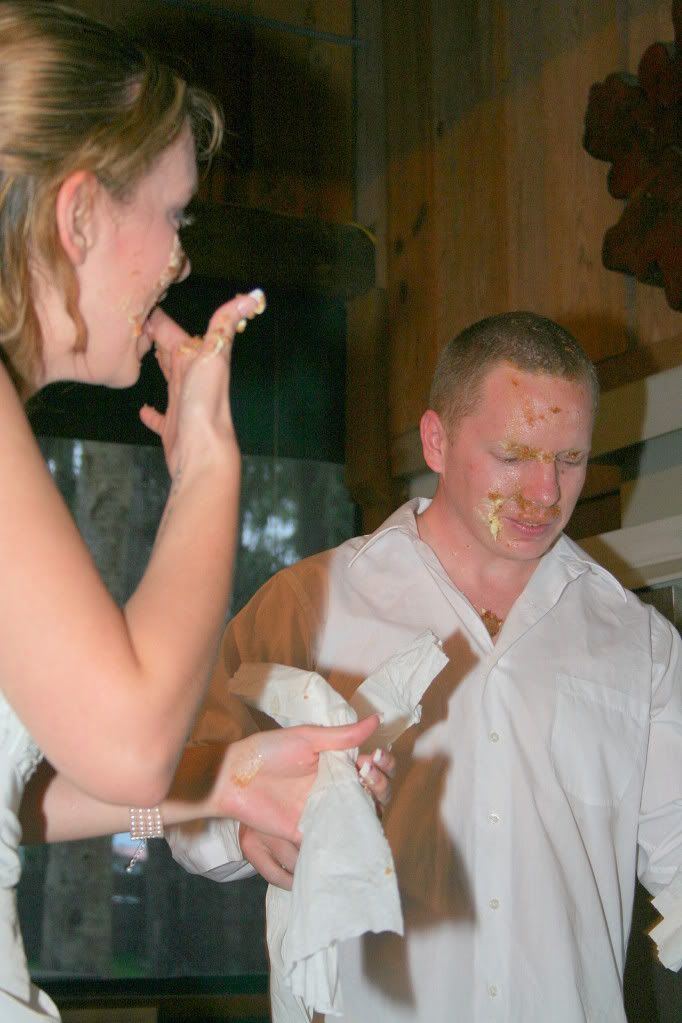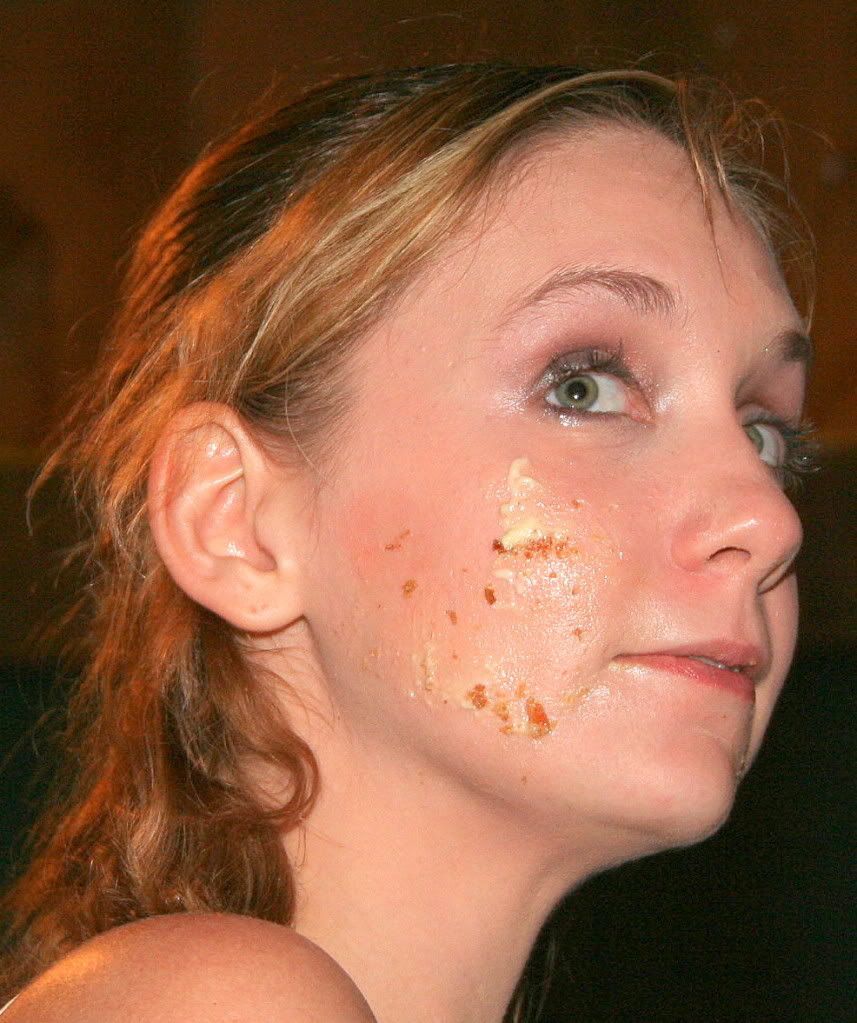 the crowd hooted and hollered - and made jokes.
How's the cake smell there Boo?
Is that what they call Booger sugar..
Typical 5 yr old style humor, Rory almost busted a gut
Then went back to model poses, and cake with GrammyGrape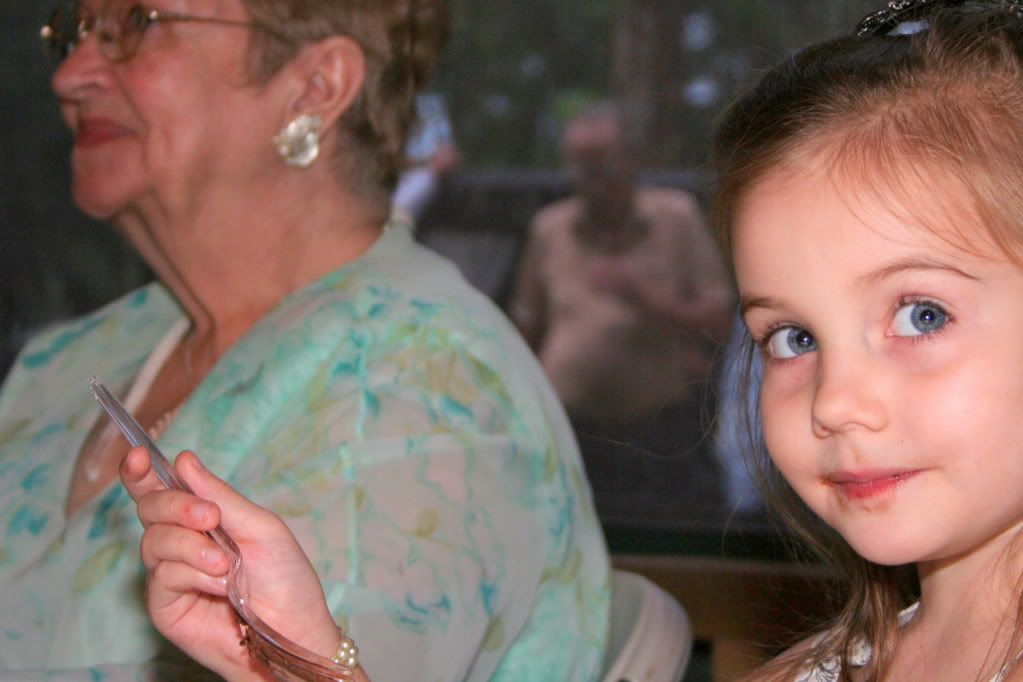 Rory was pleased when she learned wedding cake was REAL cake, not that "cheesecake stuff" I called cake at my birthday.
drinks!
Lissy liked the champagne, she ran off with the bottle !

We headed towards the river, for some fireworks.
Lissy put me to work taking pictures for them though.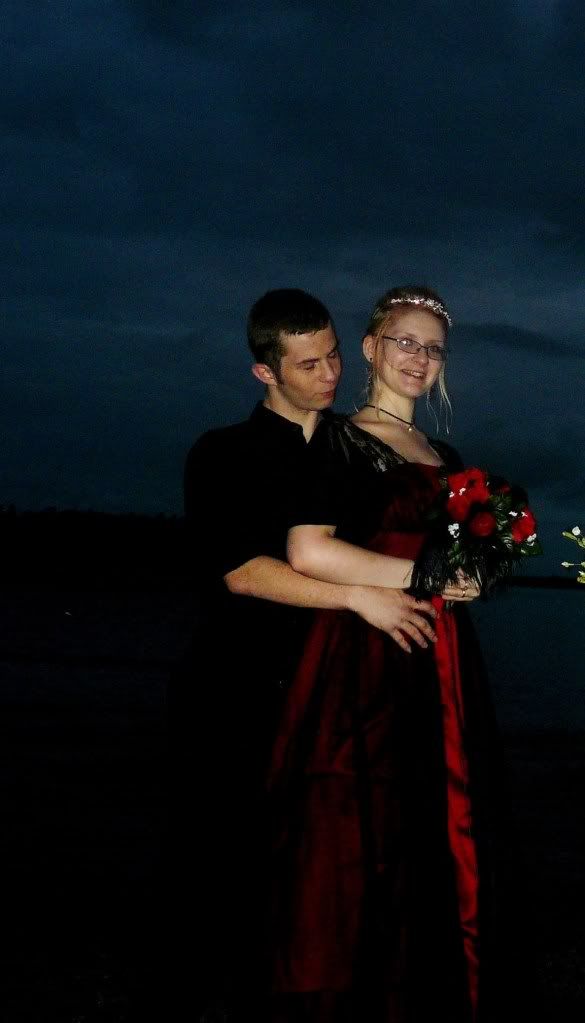 look Sunset & Sunrise!
...it's really hard to take a pic of two different couples, in the moonlight, with your hubby shooting off roman candles next to you..and.Lissy wouldn't let them aim them behind them, sigh, I coulda had the coolest pictures!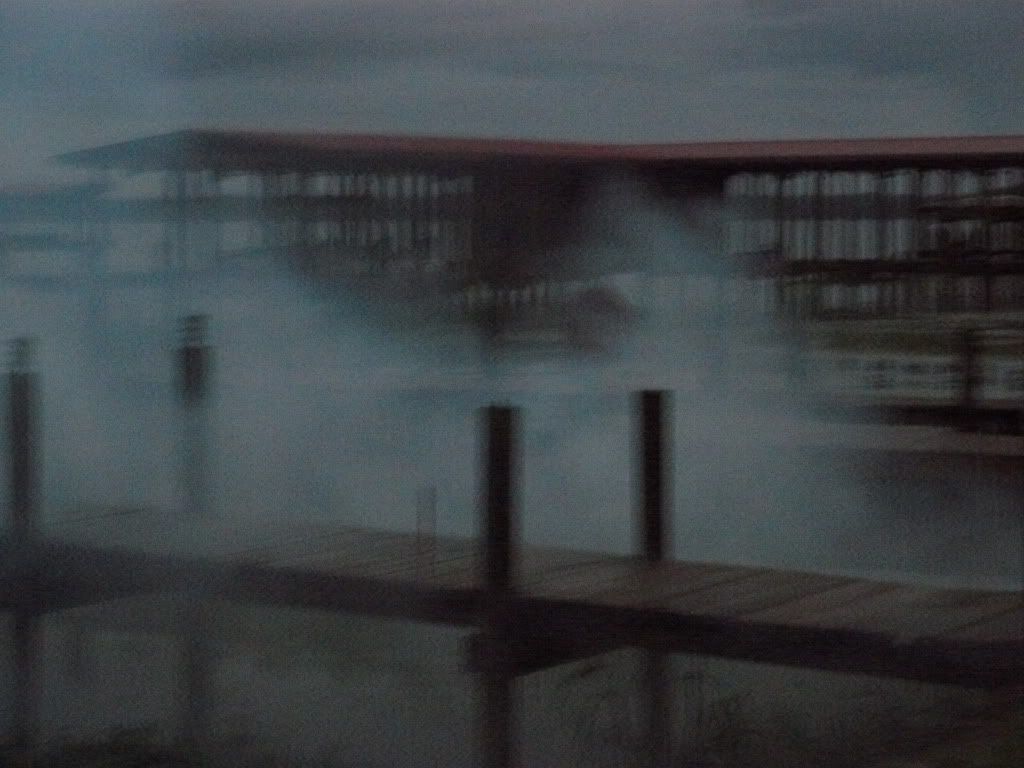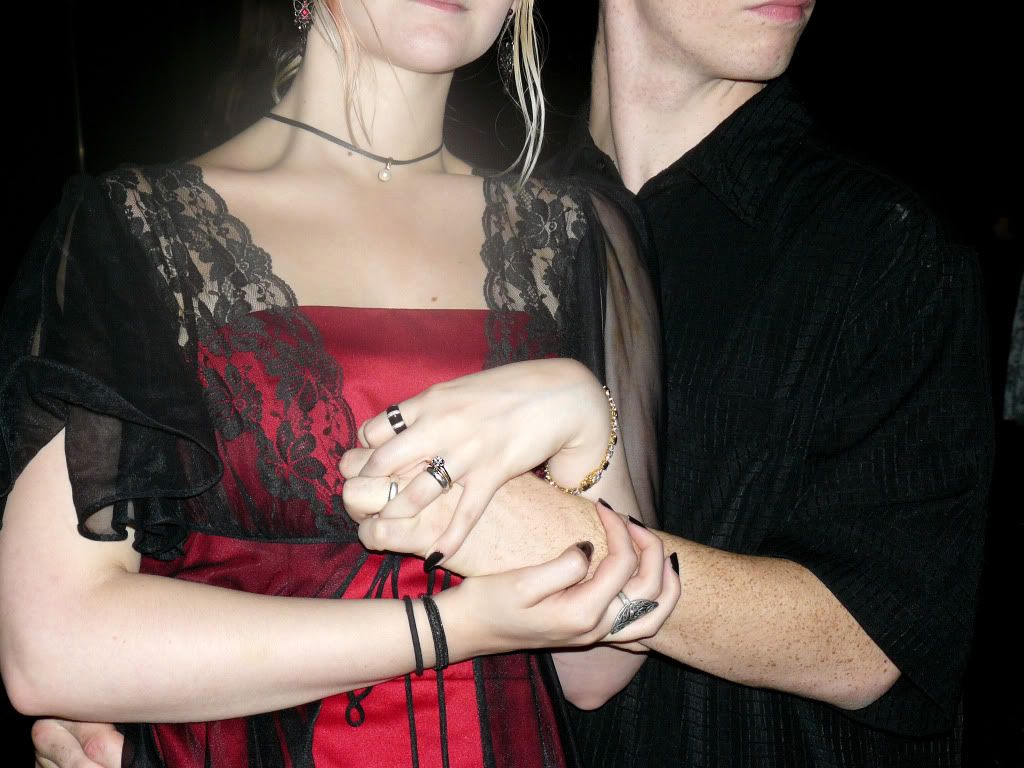 Amy& Aaron's rings
Lissy&Boo's Rings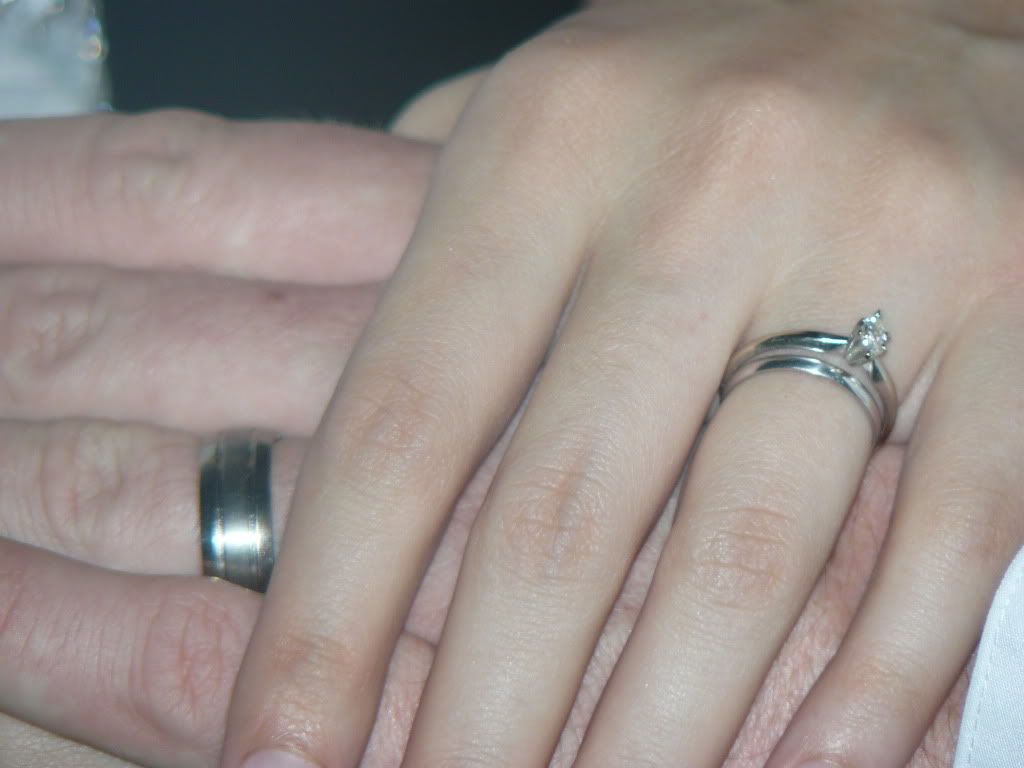 ...and Some pictures I played with in my epic internet boredom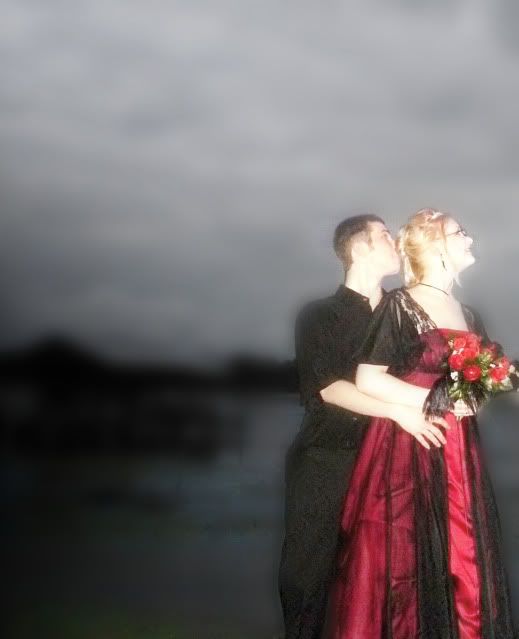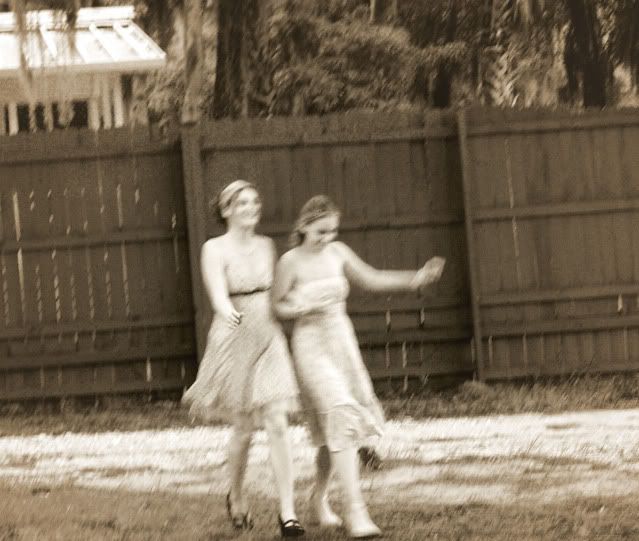 I am sort of heart broken this picture is blurry,and no one else got one- but I love it soo much
randomness-tugboat-
Cutest freaking thing ever!
We left as it started clearing out with fears of drunken firework night traffic. - but- JJ, and Boo and his buddies started the firepit and stayed until 3am!
Ri and I had to head back to the old house- get another car load, and the dog, and make our way through scary traffic. To pass out on our floor again :P.
It was a long awesome 4th of July .
Anyways-
....
back to the life of a St.Auggy mom, who needs to unpack.
We went to the beach a few times- a few times too many with me ending up stuck on the beach with a child that didn't listen and a dog that whined everytime the child didn't.... I told Ri I won't do it again- if he wants to bring the dog,child AND surf.. he better bring someone else to be their keeper.
Lissy hung out one morning - too early one morning leaving us all to find a bed - while Ri and Boo where out surfing.
Ri also took Seth and Brad out surfing while I hung the beach with Val.
OH. and we did get our mattresses- Ri got his buddy to help him pick them up- in exchange for spending one of his days off in his garden, AND reconstituting my Bender (Bending Rodreguiz ) costume as the most kickass scarecrow... I eagerly await pictures.
Ri got a way nice bike with the help of his coworker
- he is super excited and rode it in to work ,and all over town.
Now I just need one with the tandem attactment for me & rory.
A dog escaped our yard in the middle of the night- but it wasn't ours it was Kalani's.after hours of chase he just walked back in.
Otherwise- with soo much built up to blog I have tried to keep anything else entertaining from happening LOL.
I still have a bit to unpack- but it is mostly stuff that ISN'T HERE to unpack, and I need to start figuring out how to decorate and organize as I go. Hopefully there will be more pictures of that soon :)
I will have to leave you looking forward to my St.Auggy exploits, and new place pictures for next post(hopefully by the time i get around to it through loads of catchup tv- I will be closer to decorating.
PEACE AND TOFU CHICkEN GREASE,
BABYHELLFIRE