Or,
Money don't mean a thing ,
or Same shit, just colder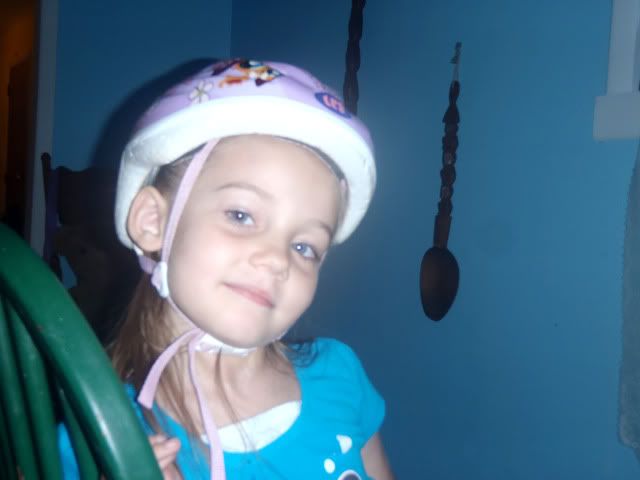 I have a confession.
I have never paid for a photography session.I have never sat Rory up at walmart, or picture people or any of those cheesy chain stores.
I have never made an expensive appointment with a pro photog .
BUT, I know a few photographers- and Rory has been to events and had her picture taken.Plus, I take more pictures than I can even keep track of.
So,I didn't pay for school picture day either. We are not in a place financially that I could justify spending 50 dollars on a handful of walletsize , with a plain background and a cheesy pose.
(I do hope they will have some sort of yearbook or class picture , and if they do I would probably shell out for that. )
Sometimes, In cases like the above - I get a twinge of guilt over it.
Shortly after, I get a unique snapshot of Rory- free , unposed, natural-and I remember I have the magic of photoshop AND a photoprinter(which I SHOULD use, so the ink doesn't go to waste)
I'm over it.
What pro would take this pic of Rory and Ri having an afternoon nap: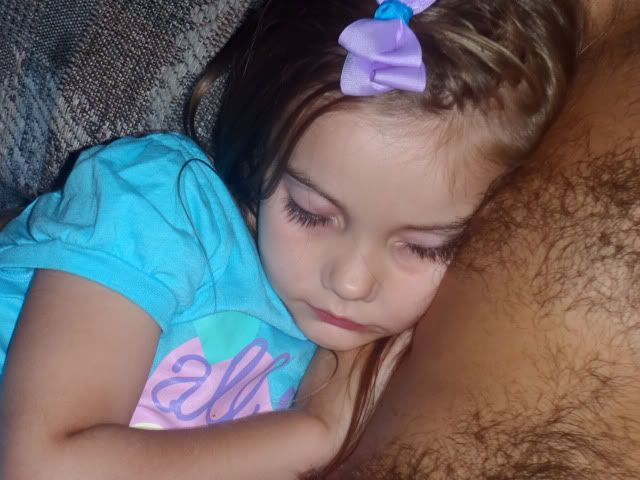 Only me.Money can't buy pictures like this.
It can only buy wax, and Ri would never wax
Sorry.
Money is tight right now and we don't have a lot..- but we have so much support,we have been given so much help and love,that the concern has become so secondary.
We are fed.We are healthy(besides Ri's broken CollarBone which is still SLOWLY SLOWLY healing) . We are loved.
Well anyways.
Not much has changed since my last post, except the weird fall chill in the air.
Florida doesn't have fall,wth is this? I don't trust it. It will probably be 90degrees the minute I mention it.
Supposedly, It's that weird Canadian air again - I'd rather Canadian healthcare, or something if we must trade things.
It is nice in the afternoons- but those early morning bike rides have become sort of crazy. I tend to dress the kid warmly, THEN pile one of my big jackets OVER her
- and then we both peddle SO FAST to stay warm, That ,I swear, we made it the one mile to the school in ONE MINUTE the other day.
We need to get a car.Not that I can drive, but things have come up.and grocery shopping with the pick up truck is hard for Ri.
Mostly I fear what I would do if I needed to take Rory somewhere. What if it storms? What if she is sick?- what about that birthday party on the other side of the island next week??
Amazingly, we might get a car soon. Ri's friend Jay (and his family) are trying to GIVE us a van! A member of their congregation passed away and the church decided we needed it. -sniffle-.
We are not religious people- but this is at least the 3rd person (if not the 10th) that so selflessly decided to help us this month, and followed it with "god bless you". I do feel really blessed.
Whatever great Flying Spaghetti Monster, or Grilled Cheesus ,or Karmic Energy(or anything else) is guiding the people in my lives I AM truly grateful.and I love their big mushy hearts for making this trying,stressful time a little easier.I can't imagine how hard this month would have been without so many amazing people in our lives to lean on.
The van will need some work and we will have to get a backseat installed- but Rory will be able to ride in it should we get it, and THEN I will breathe a humongous sigh of relief.
We did have a ride to the grocery store this weekend- Lissy and Nico came to take us-
and to go to the BookFair with us Sunday.
Our kids were fussy and crazy that morn. Fighting over everything,needy, whiny...
I was certain she would be an angel just because she was at the school. HA.
Plus.Explain to me WHY they even have toys for sale at the book fair??
I explained even BEFORE we went, we were going for books not junk.
It was sort of a madhouse there. Crowded room filled with adults and kids, books and toys-
it took me a minute to find what I was looking for. A
Skippy Jon Jones
book for Nico, and a
Littlest Pet shop
book for Rory.
And Lissy ended up buying them pencils (one for each of Nico's grabby wanting expensive books baby hands)
-Then we ran out of there! I had only scraped up a couple bucks for the book fair, and I really would buy up soo much. Soo many cheap wonderful books there. I am going to have to do online shopping through there over the next few months (especially holidays!). I need more books!
Outside they had a police car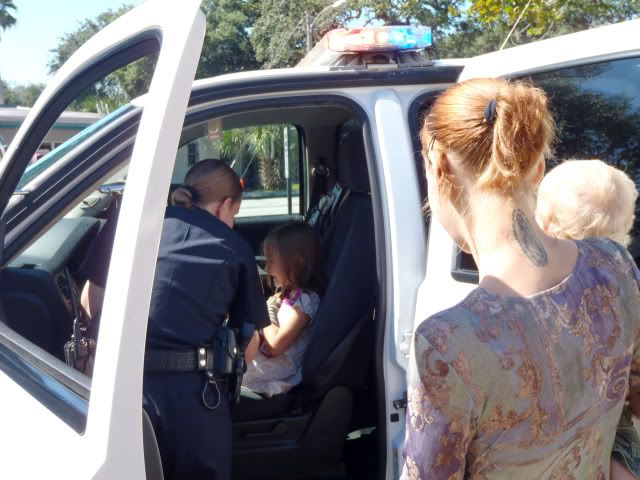 Rory got to turn on the siren and talk yell "Put your hands up" through the intercom thingy. She was super nervous though...and Nico didn't even want to be around the loud noise.
He DID love the fire truck though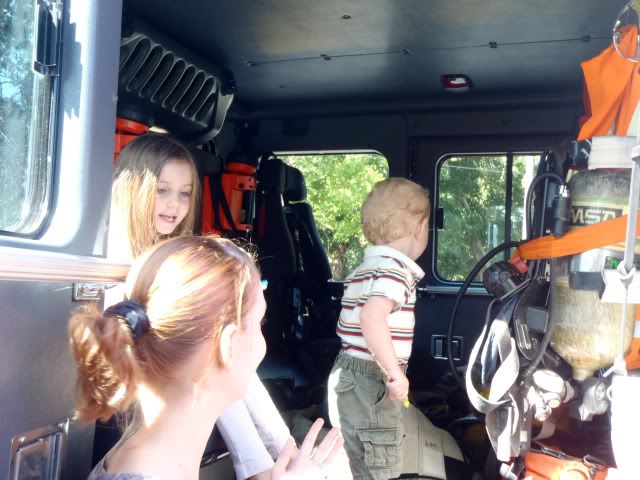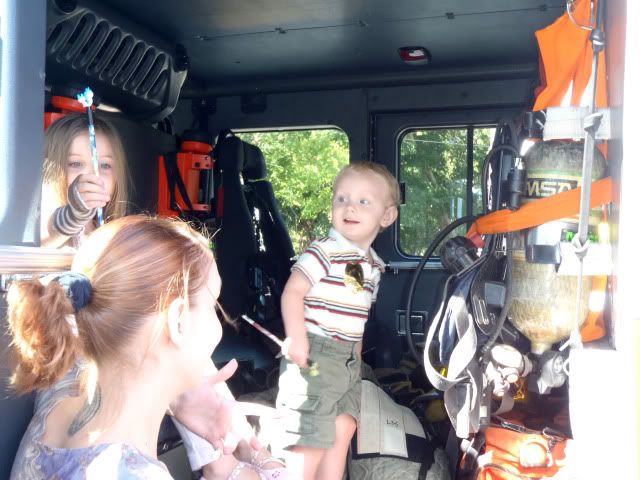 he thought he was soo big getting allowed in there with the big kids and the cool equipment.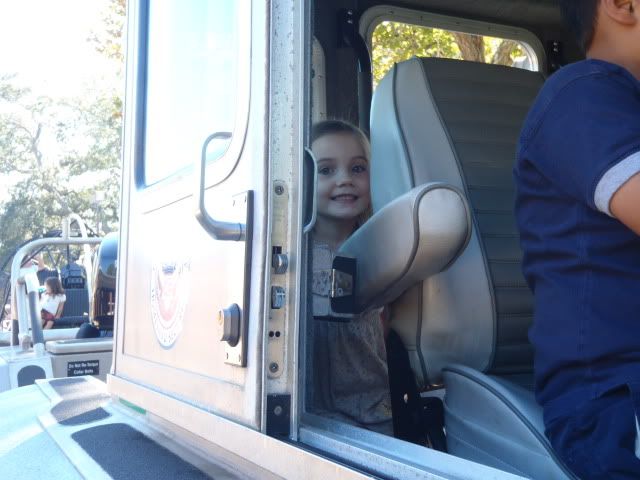 and they had a border patrol boat.
It was really cute. However, Lissy and I were parenting our children so interchangeably, we soon realized a few people mistook us for partners instead of sisters. One of Rory's classmate's mom , even saw me(recognized me) as I filled out the raffle info then said to Lissy "You can sign up for the raffle for your daughter Too!"
We giggled about it later.
I guess we don't look that alike.
I have still been doing gelled up braids for Rory's hair to avoid bugs and such-
her fav so far seems to be the doublebraid pigtail.
aka the quadrabraid:
She also has been picking out her own attire for the weather:
..at the book fair another mom told me she had said to her daughter "
Rory is dressed soo cool today
", and her daughter said "
Rory Always dresses cool
!"
Awwww.
She has been doing REALLY well in school. I am so proud of her!! She had her 1st homework this week, she had the whole eek to do it- and took her time but she did it all, on time.
She is super sweet and has tons of friends.
Last Friday though,they had had a Sub- and I guess some of the kids took advantage and there was some bad behavior. Rory was upset a girl called her "
baby
" and "
you can NEVER come over to my house to play
" - more upset when she told the sub and the Sub called her a "
tattletale
"- She didn't understand why "
everyone was calling her names
"..it was hard to disagree with the sentiment, but I do understand that you don't want the kids to come running telling on EVERY little thing that happens. I tried to explain that to Rory.
MY bigger concern was that this wasn't the 1st time Rory had had an incident with this particular child. I know the kid has had a very troubled home life - and I have shaken a lot of it off, but I feared Rory was being singled out ,bullied by her.. Which worried me, Rory has been super big about it- poo-pooing it as Madeline does and simply finding it laughable anyone would call her an infant when she obviously isn't.
I had the concern BEFORE, but was pretty certain the teacher was aware of issues they might have..now I feared it was escalating.
By Tuesday (when I helped in the classroom) I was ready to address the teacher about it- even before I got the chance I noticed that this little girl didn't have issue with JUST Rory, and somehow that made me feel better. ( I think the fear that Rory was being singled out and bullied made it worse).Plus, like little girls do, they were great friends again by Tuesday LOL
When I did discuss it with the teacher she made me feel much better, I just wanted to make sure she was aware they were having trouble getting along....and if anything the teacher was more aware of it than I was! She pointed out they are polar opposites AND to top it off they normally sit next to each other (alphabetically I think). They come from completely different backgrounds, and socially are just on opposite levels.
Rory IS very sheltered-she hadn't even went to daycare before kindy, where this girl has been exposed to A LOT in her few years.
The teacher said Rory's ONLY problem is being TOO sweet,to the point she doesn't understand WHY another kid would misbehave, or not want to share, or do things how she does.
I have still been struggling with a lot of the pressure lately. It really sucks not to have an actual car ( theoretically we COULD legally put Rory in a cheap booster in the truck- but it isn't the safest). Not having Ri at work,
and the fear of how bad he is STILL hurting and that he is adamant he won't go to the dr again(any more visits and we would have to pay anyone we have found even with medicaid-plus, there really isn't much they can do besides toss him more pain killers which he doesn't want- and it all effects HIS mood- begin cycle again.)
AND not having any wiggle room in our budget.
One minute I am good with it- we have SOO much support we really can't ask for more-
I just need Ri to be better, I need some rest.
This is too hard .
..and you know when you feel that way dumb stuff starts going wrong to top it off. Like the crockpot lid falling off the tall shelf and almost breaking your nose-
I didn't even want the stupid thing, Ri wanted to make stupid pot roast, in the stupid kitchen with stupid real cow, and beef stock.
Sorry. I mope like a 5yr old.
Not that Rory get's it from me.
...................I have no idea what you are talking about.
The dog loved him for making real meat in the house, and almost couldn't control herself about it.
Speaking of,
I need to go scrub that crockpot now.
I also need to make Rory's lunch she has been wanting this fresh veg mix for lunch- it is SO healthy the other mom's were joking about it with me today. "I don't know how you get her to eat veggies!" and "I feel guilty letting my kid trade with her".. Oh belive me kid trades,, or at least gets a chip or cracker from everyone at the table, whilst sharing her cheddar bunnies.
Oh- when I was mentioning to another mom I didn't think i would make it to her child's party Saturday another mom (Rory's BEST friend) Offered to pick us up- I am soo relieved. I had planned for Lissy to take me but Boo comes back this weekend , and anyone else who could take her works. I was starting to plan for not going.
Of course the dishes still fill my sink ..and everyone has stopped in,
Ri's older sis Mel and her two younger kids,
and Mom,JJ, Lissy and Nico. Mel finally FINALLY got her much awaited laptop from dell delivered here,
-but Mom and Jj discovered our deep freeze was too big to fit in her car and will have to send Dad out in the bigger truck.They forgot to bring me the drill to hang my mirror and medicine cabinet.
run run run.
I am sure there is more- but this has already taken me soo long , and dishes await.
bleh.
PEACE AND TOFU CHICKEN GREASE,
BABYHELLFIRE