I have been gone for awhile..the holidays kinda swept me away.Plus,I feared the amount I would need to post just to share my holidays with my blog.
Be prepared for MANY pics ;MANY MANY MANY-In fact I have soo many pics i will try to keep the commentary short :
before late night xmas shopping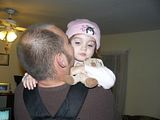 Before xmas eve :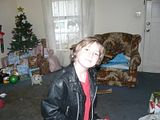 we exchanged presents with Val and Seth(I LOVE what we got them-and they got us JCP gift cards -woohoo!!
We had early xmas at Ri's moms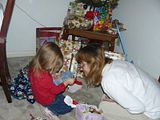 Ri's mom got Rory loads of presents and an" art studio" game for v-smile Very kewl gifts,and she LOVES the digital Pics keychain we got her.I wish I woulda taken more pics
----------------------------------------------
XMAS EVE!! at grandmas. With my extended fam: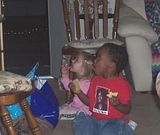 Rory and JB watching some tv together :)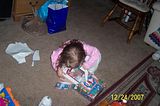 Rory getting the dolly again,she has twins now :)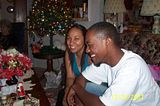 Mandy and Derringer
-
Some pics Daddy took while we ate:RUDE~!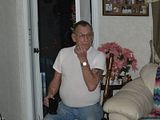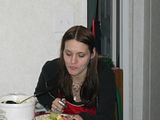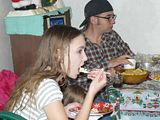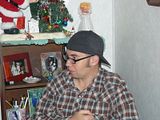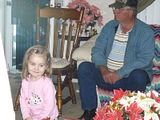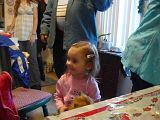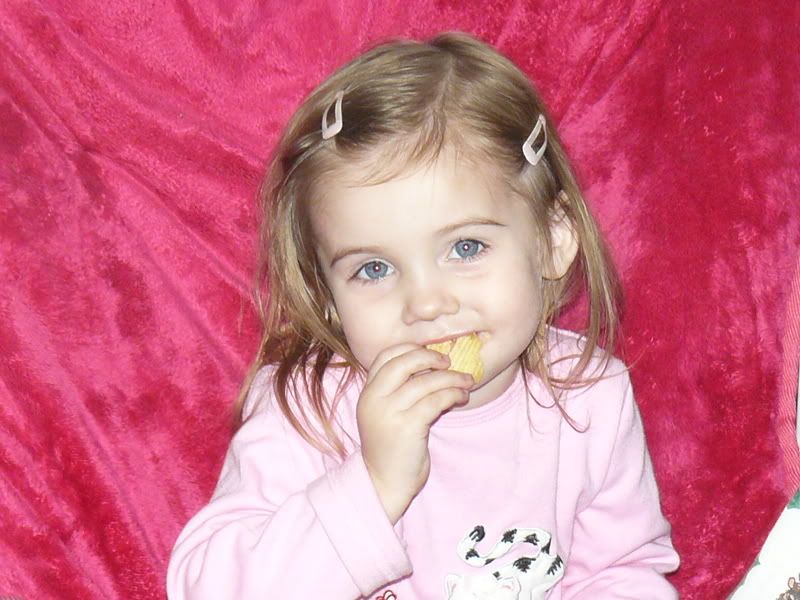 I LOVE this one though-as Rory stuffed her face full of chips
Rory fell in love with Malik Missy's squishy cheeked baby
chatting-snackin & presents: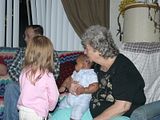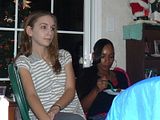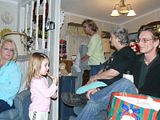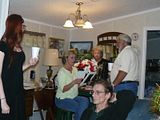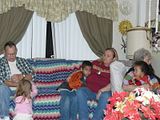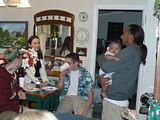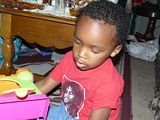 Loving his shape sorter-ad ignoring my flash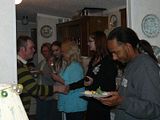 BUBBA"S HERE!!! yelled everyone,and Rory yelled "IT'S BUBBATIME!!" lol!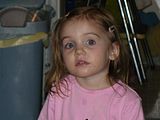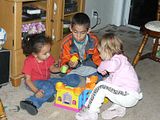 they liked J's sorter too
Cheese!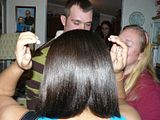 "Ruined my hair""Ruined the moment"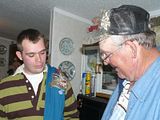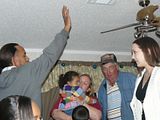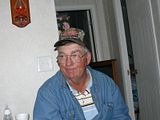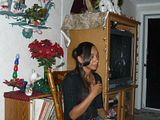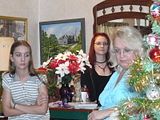 Rory Holding tight to her candy cane-Her and lil J stripped that tree of them
~~~~~~~~~~~~~~~~~~~~~~~
**************************************************
XMAS MORNING:
The tree:
Rory wakes up :)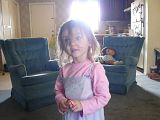 Noobies present:she hid it somewhere-and we aren't sure where
Rory was kinda hard to get to move on to the next present-and I think she still liked the little trinket toys in her stocking best lol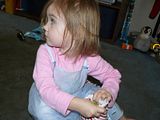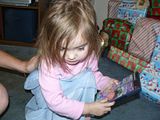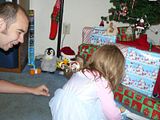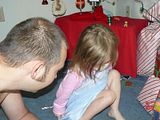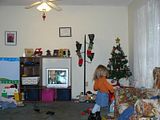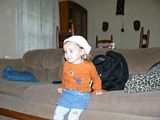 All dressed up to go on a treasure hunt!
++++
Xmas at my Mom and Dad's: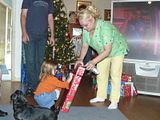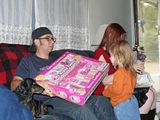 She shoulda opened the doll house last we had trouble prying her away from it!
Time to the treasure hunt: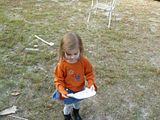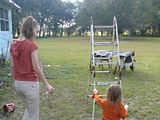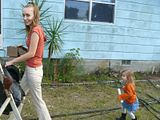 Aunt Lissy is soo kewl!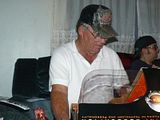 Noobie found a quiet place to hide on Amy's bed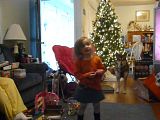 Rory figured out how to fly Grandada's helicopter LOL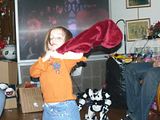 stealing grandadas "sock"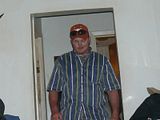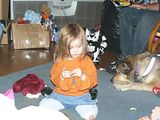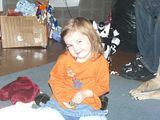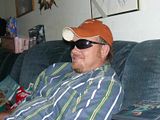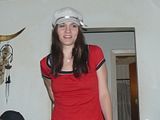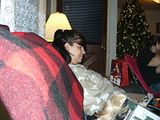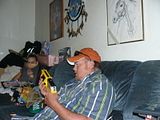 oops caught me playing with her toys!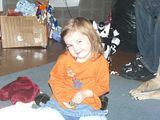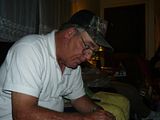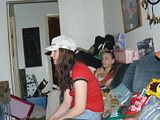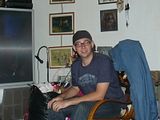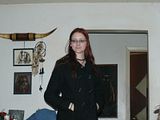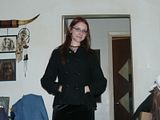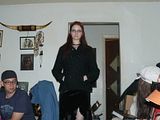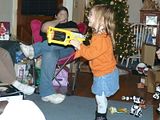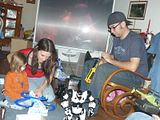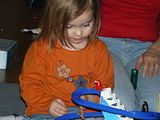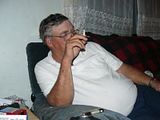 She LOVE the penguin march toy and just wanted to sit and watch it all night: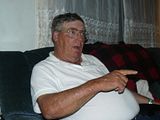 I have no explaination for these: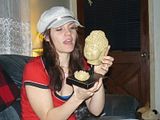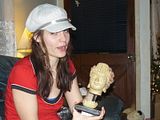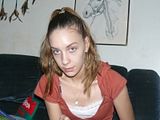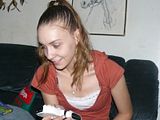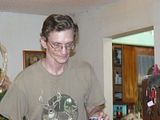 It's ok JJ,its over now: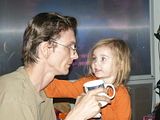 Rory had soo much fun playing with all the toys-everyones toys.
LOVE my new hat,
Got SOME AWESOME things,all of us LOL.
NOW-
Some post xmas fun: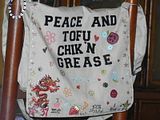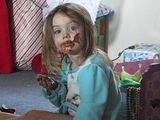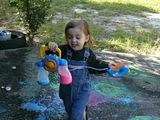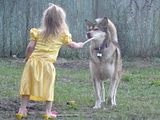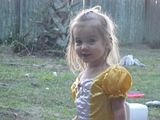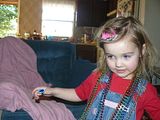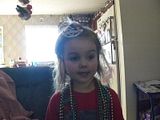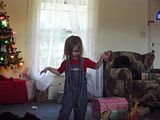 ____--------------------------
NOW: NEW YEAR!!!!
Harvey and Hether came over-They all drank a lil-Rory stayed up long enough to ring in the new year..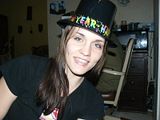 Then she crashed out HARD.
and I had some DRINKS.
mmm baby Guinness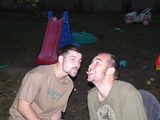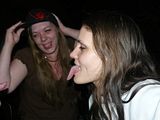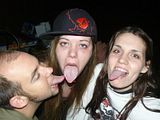 One more :)