Procrastination Is my favorite word, and my favorite past time.
No time for that now.
Really the only thing I have put off the past few days IS my blog. I have done a lot.
Seriously.
If you don't keep up with me on various other social media- You may not be caught up.. so, I'll do what I can to catch you up.
Starting with Friday night when we went to the school's Family Movie Night.
Rory's closest friends from "The Good Girl Group™" didn't come ,but her other friends/classmates were there. -(even one girl Rory told me she was trying to get included in "The Good Girl Group™" LOL)We tried to watch the movie- and filled them with popcorn and drinks.
LOL As though, a group of kindy kids are going to sit quietly and watch a movie with their classmates.
On our way to a bathroom break I noticed loads of other kids on the playground. "we can go on the playground?!"
..Um,Yes.please!
Watching her on the playground may not have been as socially uncomfortable, but I was reeling thinking of how rough she climbs this huge equipment,runs and plays with the other kids. Well, it is no wonder she comes home soo beat up!
We rode to Ri's work (it was weird riding in the dark without him, at least I had on our obnoxious bike lights)- we were a little early, so waited for him to close up. Rory loves just hanging out there(she is always trying to beg him to take her to work).
He gave her blueberries to munch on while she waited,and turned on some music to clean to- so she was even more thrilled.
I was beyond exhausted that night-Mel was in town talking about having me come over to the hotel and go for a swim the next day too..
Usually, I stay up when Ri goes on a bike ride with Jay..but I cuddled in bed.
....until my phone rang at 1am.
Jay was taking Ri to the hospital. Ri had wreaked his bicycle coming off the Bridge Of Lions - he tried to go into a driveway where they are doing all that construction ,and got caught on the lip.
I was a MESS! "what?!" ... "WHAT?!" I seem to always assume people are playing a prank on me with such calls. I don't like believing things like that.
Things have been going soo well for us! I swear just when I start to think things are almost perfect SOMETHING happens. I was up all night looking for someone to distract me from the thoughts racing around my brain keeping my exhausted body from the sleep I needed. I also didn't really want to call anyone and panic them. I did find some support online people talking me through it all, and reassuring me :) . At some point I did pass out- once I finally received a text that Ri was in a room and being taken care of.
Ri didn't have good cellphone service in the hosp. He ended up in the waiting room for HOURS.Jay stayed with him the whole time.They told me later the dr thought they were a cute gay couple,lol.
They gave him a catscan ,meds, a sling , bandaging and sent him home with a cleanser for his road rash.
Jay finally brought him home at almost SEVEN AM!
Looking ROUGH.
:(
He DID break his collar bone, and got road rash down his arm, his hands, he head, and his knee.
He encouraged me to take his pic, and I posted it online- I figured it was the best way to tell everyone what happened.
He looks so pathetic. :(
On the other hand, in my panic - I had pictured casts and something much more frightening,
and ,(though we haven't really rode and checked it) other than a bent pedal his bike looks ok.
Thank goodness we had Medically Needy in place( it covers a little based on your income if you are just over the limit for receiving Medicaid).Ri still needs to make a follow up appointment for an ortho- and we haven't found one that will take that-or patients without insurance.
Saturday, we all tried to get some rest. Rory was soo careful with Ri. Noobie was being so fiercely over protective she barked at the slightest sound(and she isn't really a barker by nature).
Ri should have been at work that morn, and his boss ended up SUPER busy without him.
Ri was adamant- all pain medicated and delirious -that he would be at work in "a few days"
...and yet he could barely manage to get himself out of bed.
He was sort of hard to deal with at 1st.
Confession: I am NO nurse.Yeah, maybe a lot of people in my family have medical backgrounds
-and Rory may have ran right for her bone book to compare the xray of Ri's bone to the picture of an intact Clavicle.
but ME- I was cringing at the sight of his wounds while trying to help him unwrap them, and it took me even longer to stop averting my eyes past the bump of his collarbone.Plus, when people get TOO grumpy it is hard for me to not be grumpy back.I'm a big meaner. Poor Ri. Plus, I have had to help him shower and wash his road rash with the stinging stuff called
HIBICLENS
that burns and hurts- on top of the pain of his broken bone while he has his sling off...the 1st night I seriously thought he might have a random "HULK SMASH!" reaction to the pain of it all, and just blindly toss me across the room.. not that he could, he was having trouble just getting himself across the room. It is getting better, and he smells a bit less of pus. eww.
Soo much support poured through when people found out about Ri . When I finally got ahold of my mom she told me Dad had spent the night in the ER too. He had an allergic reaction to something...they think the antibiotic he was on.Too many people were in the hospital or ER this weekend. I could list all day. Lots of people need Healing Vibes.I don't know seems a bad vibe going around.I just feel blessed most are as well off as they are.
Ri's older sis stopped in to see him- Rory was thrilled to get to play with Haley and Eli
- she was bored silly playing in her bathingsuit with her makeup:
With no car AND Ri one armed and not very mobile- I have had to take on more than I EVER have. Honestly, From dinner to errands Ri does tons around here.
I just sorta watch bad tv, play with the kid and clean. I also realized when I do do things I rely on him for advice. Even things I COULD probably do on my own, I am so used to him right there overseeing, it is weird to not be like: "Hey, give me a hand with this"-or "how do I do that?"
Jerry(Ri's boss) even stopped in to bring us lunch!
And Steve and Jess stopped in to visit.
Tons of phone calls and well wishes. :)
Much needed,I think Ri is going a little stir crazy. All he can really do is prop himself up on his iphone. He has become the facebook advice guru stalking peoples updates. I should make him go use twitter or plurk.
Monday morn started well all things considered- we had a rough nights sleep, Ri was in so much pain I ended up surrendering our bed and sleeping with Rory...
But,I got Rory to school and started cleaning the house even managing to clean Rory's room while helping Ri around the house...
Then the school called-
One of Rory's classmates was out of school with lice! They checked them all and found some eggs in Rory's hair. GAH! Can things not just go well for a second!?
PANIC!
NNNOOOOOOOOOOOOOOOOOOOOOOOOOOOOOOOOOOOOOOOOO!
I have dreads! I have been treating her hair every day with teatreeoil! She cannot.What will we do?!
It isn't even noon and I have to pick her up from school. I call my mom panicked,begging her to come bring me treatment. By the time I made it to the office I could hear poor Rory tantruming.
"WHY ME! I Don't want to go home! Noo! It's not fair!!"
and I can't say the voice in me was feeling the same way.
Rory hasn't missed a day yet ,I knew she would be heartbroken.It was hard to get her to even agree to leave. I told her Eggy was coming over, and we would get rid of it and she could come in tomorrow after a check from the nurse.
I felt soo selfish! as upset as I was for her, I was more panicked about the thought of possibly having to cut my hair off.
Also really fearing that other parents will instantly blame me. I could just hear the
"You know that gross mom with dreads must have brought the lice to the classroom".
When actually, Just a week or two ago- I had started getting heat rashes under my dreads- and feared them,panicked and checked us all thoroughly and found nothing!(AND starting using tea tree oil more diligently!
The nurse and secratary were very reassuring though. Telling me she ONLY has eggs, and it happens all the time.No biggie.
I came home and covered our heads with oliveoil mixed with tea tree oil. - then rinsed and washed Rory's hair with dishsoap, and combed Rory's hair until mom came with more supplies.
She even brought the baby, and Amy-
and sammich fixings(including cheetos and chips), AND ice cream. My mom is soo awesome. I don't know what I would have done.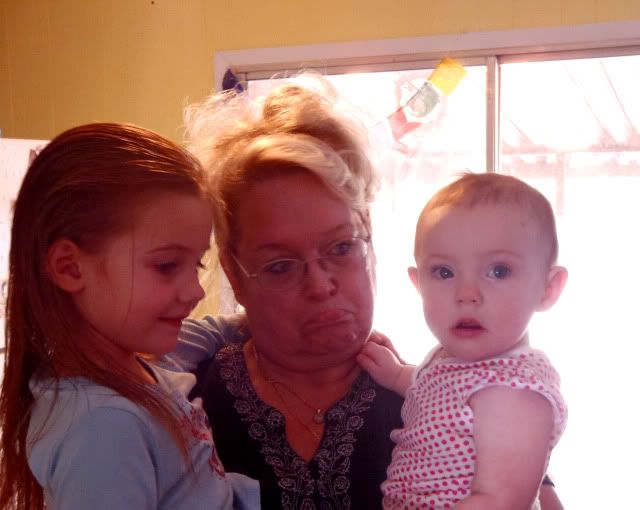 Allura isn't a big fan of me. :( I used to think she hated me for my annoying flashy thing..but really she just isn't fond. She does seem to recognize my voice from the phone.
I started in on washing everything- boiling EVERYTHING treating EVERYTHING.
Jay came over to hang with Ri and check on him. Ri also called a lawyer to consult about the construction there ,and it's safety. There just needs to be a safe place to go for bike riders- everyone out here rides a bike and yet around the bridge- on both sides are completely unsafe intersections with no bikelane and no shoulder.
I discouraged Ri from calling a lawyer.. I am not a complainer,but everyone else told him he should.
Allura thought she was big spying on Jay, and using the glass door to stand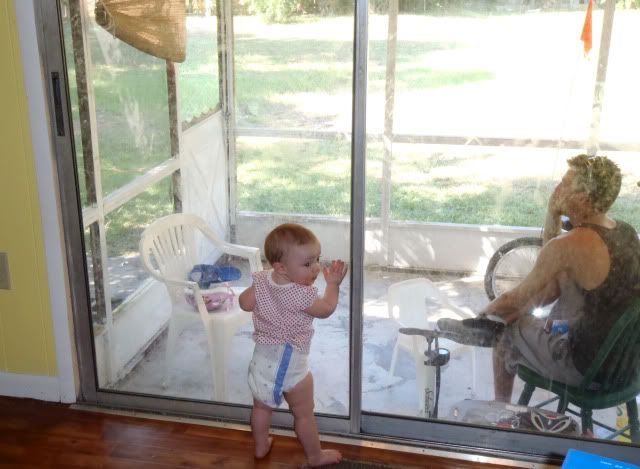 ...I need to wash that door...
The rest of my night was spent frantically, washing , cleaning, combing, boiling, vacuuming, washing.Damn- it is a good thing I had cleaned the house BEFORE that happened.ugh.
I used shampoo on all of us(despite not finding anything in Ri's hair or mine) - then let dry and combed Rory's hair AGAIN. Then we washed our hair again with selson blue mixed with tea tree oil, and THEN we went to bed with a helmet of conditioner to top it off. I am taking NO chances.
By the end of the night I was SO TIRED I passed out cold leaving Ri up by himself- and unable to get anything for himself. I felt Soo bad-but I woke up with a little rest at least.
Rory said she actually enjoyed me combing her hair. I inspected every strand. I would have been insane, and was as a child when I went through it,She thought it was like a salon.
Plus she got to eat crap, and I packed her lunchbox with cheetos to cheer her up.
We rode to school- and the nurse went over every strand and Rory got the all clear !ALL CLEAR! Woooo! She was SOO thrilled. :)
-Today, before school I coated her hair in mint scented aloe gel (to discourage the bugs from wanting her hair) , and braided it.
At least the gel makes it easier to give her flyaway hair cool hairdos-
My hair has some crazy poofiness going on from being over conditioned..but the dreadlocks ,THEY LIVE!!!MWHAHA!
In a few days we will inspect everything AND treat us all again to make SURE of it.
Hell,Maybe I will just make it a monthly thing to do the coat our hair in oil/dish soap rinse-followed by TTO shampoo and deep condition- I DO NOT want a scare like that AGAIN. My body won't survive.My dryer wont survive.
I'll never find the bottom of that laundry basket now. House is pretty clean though.
Ri's Mom &Baby Sis(and Lily) stopped in to make him feel better Tuesday. Ri somehow talked his Mom into coming over to make him Fried Chicken and Rice and Cream Gravy. He has been craving meat soo much.
Rory was thrilled to come home to see them
She had soo much fun playing with Lily.
They played dress up- and seemed to enjoy the food.
Ri's mom even made me some not quite gravy-cream sauce for my rice and veggies. Ri finally ate a full plate of food.Then we had brownies and ice cream.
Maybe, Ri will even gain a little of the weight he lost too much of.
Soo Awesome. And made Ri feel a lot better.
Later he sent me off on a booze run with Jess... he was hoping having a few drinks instead of the yucky pills would be better for a little while- but then he got scared he would be in too much pain and not be able to have a pill,and didn't drink. Oh well,We also needed some cheap beer to make boiled peanuts.
Really,I think maybe Ri was a trying to force me out of the stressful house if only for a second.
I mentioned to mom he has been craving her mini meatloaf -
So she made a point to bring those AND come drive me to the store today(Wednesday).
My fridge has never been so full of things I had no part in making.Shopping was fun they had a deal on everything I needed!
, and I left Aaron here with Ri so I wasn't worried about him either..
I did get a bit of a sensory overload by the time were waiting in line though. I am just soo beat down.. I need some dark, and quiet .Rest.My brain wants me to slow the hell down for a second.
The past few days Rory's best friend in class has been on vacation, and her other friend has been out sick(lice). It's cool though,She has started making new friends in class. She even says some of the boys are nice/funny and knows some of the boys names(she had nothing to say about the boys in class before LOL).I am eager to see what her teacher says on teacher/parent night. Jess says she will hang here with Rory if Ri can get up on his feet to go with me,AWESOMENESS.
I figured out how to wiggle the old loveseat into reclining position and he is doing much better sleeping there.
Ri really wants to go back to work.How crazy is that? I think if he could somehow cover his drippy skinless arm(dr said it was better for it to let it breathe)- he would be hobbling around over there one handed, no lie.
Some of his regulars have asked about him and sent well wishes as well. .They have been struggling to fill the gap of Ri gone ,then they had some schedule issues with the new guy and ended up letting him go.
They have been SUPER great about it. Asking for lots of good wishes for him and offering to help out in anyway they can.
Jerry&Bobbie have become family and been amazing to us in soo many ways, I think I even mentioned that in my last blogpost before any of this happened.
AND THEN to top if off they post this on their facebook:
I don't even know what to say. I teared up.I have no idea how to respond.We are so so blessed to have them in our lives.
-
I'm getting a little verklempt. Talk amongst yourselves.

I'll give you a topic: Rhode Island is neither a rhode nor an island.
When he heals, and life returns to normal and I am complaining of petty things, will you remind me of this? Our circle of friends and family came together so much to be here for him/us in whatever way that could.
It seems like the clouds suddenly got so dark and gray, but for once all I can see is the silver linings:
Ri WILL be ok. lol- Now that he is is past the grumpy bear part of pain I am enjoying having more of his company. Even if I am spoiling him.
Rory loves riding her bike to and from school and hasn't had any other trouble
Lice is the fastest way to get a sparkling clean house- and I needed that deep condition,
I probably won't need to make dinner for a week.
The support we have from other people in times of trouble is simple AMAZING
We might not have everything-but we have A LOT of love, in the end that's worth more.
That was so cheesy it was painful to type. True though.
It is late...right now I need sleep.I think this post is a mess..
and ALL OVER the place,Sorry.
welcome to my frazzled brain and emotional state.
PEACE AND TOFU CHICKEN GREASE,
BABYHELLFIRE