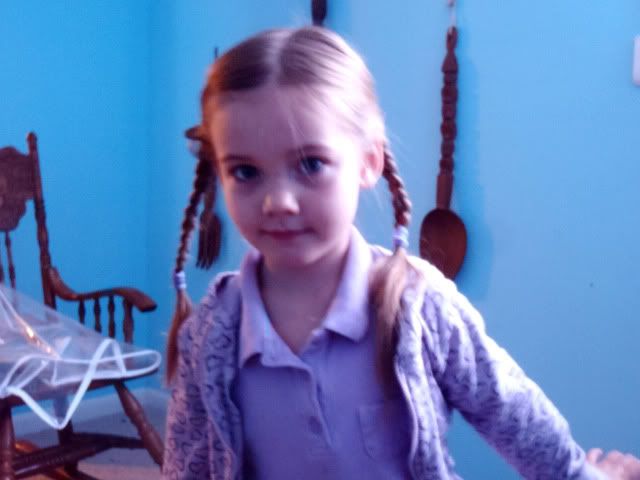 HEY!!! I'm still buried in this whole back -to-school grind,but I have some stuff to share.. before I pass out cold on the floor.
The above picture is of Rory on Purple day. I am digging the color days, I will be sad when they finish the color days, and have to worry about clothing battles.
Tomorrow is pink day though- Considering her closet is 90% pink and she didn't lay out an outfit tonight ,I fear the outcome.
Rory has kept on with her good behavior in school, she is now 1 BlueBestBehaviorBears away from getting to go in the treasure box.
I have been working on picture frames and hanging them while she is at school. I have some OLD, OLD- terribly outdated children's encyclopedias Mom gave me. I was going to toss them, but the covers are so fun,colorful, and neat- I decided to fire up the photoprinter and make frames of them.Turned out awesomely shabby sheik- I also made some with these craft sticks and sea shells we'd collected. Now I just have to figure out how to arrange them- and tidy this place up ..
hopefully my next post I will be able to share that.
I have started chatting with/ meeting a few of the other mom's in the parent-pick up area. One Mom invited us to the pool after school one day( I still haven't set a date to for sure do that-I'm still flying by the seat of my pants to get used to this whole schedule).
- Her daughter isn't adjusting well to being away from home- but Rory has been super nice and tried to get her friends in the "goodgirlgroup" to include her , and cheer her up. The teacher still says Rory is the class sweetheart :) .
Rory finally started eating some of the foods I shove into her lunch box...and now she is talking about getting the school lunch Friday, if she MUST. I also finally asked if/when I could come into lunch with her. I thought we had to wait until they cleared our volunteer app, and discouraged it at the beginning of the school year, but apparently not- and just about every parent has been in.
Monday was Labor day- and Ri was off work. We pretty much just hid out. The tourist town thing - it was packed around here, but the locals don't go out in that.
Ri did talk me into putting the bike trailer on his bike and going for an evening ride downtown-
which means going OVER the Bridge of Lions!
I was pretty mortified behind them. Rory loved every second of it. We rode all over after dark- Rory was SOO big.
She was good and exhausted to start her short school week.me.freaking.too.
Plus, I have been riding Noobs around the block after dropping Rory off each morning.
All together I get in at least 5 miles a day on the bike.
.... which I guess is great.
Since the car got towed while I was picking Rory up from school today.
:( .
Sorta surprised they came today with all the waterpipe construction and our road closed to outside traffic.
but not, For MONTHS we have called begging them to tell us when/where to drop it off for voluntary repo.So that THAT wouldn't happen. We knew moving here the huge car payment would have to go.. I just feel bad it probably made a scene- there was no reason for it...
, car alarm and all. Our sweet landlord even called us to tell us. :( . So while things look abismal in our credit dept, they are looking great in other aspects-sigh-
I am loving that Wednesday's Ri gets off work early, and Rory gets out of school early. After heading home to cool down and snack, we went on another evening bike ride downtown...well, after getting chased down the street by a loose dog- and having to run in and make sure noobie was secure.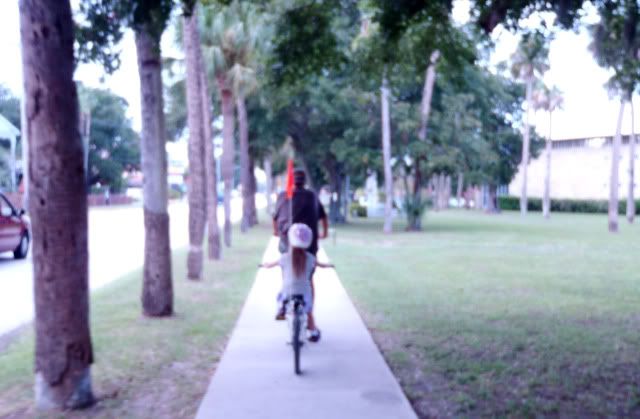 We were out early enough this time Rory got to check out the loghouse at Ripley's- She wanted to go to Ripley's- but we will have to go another time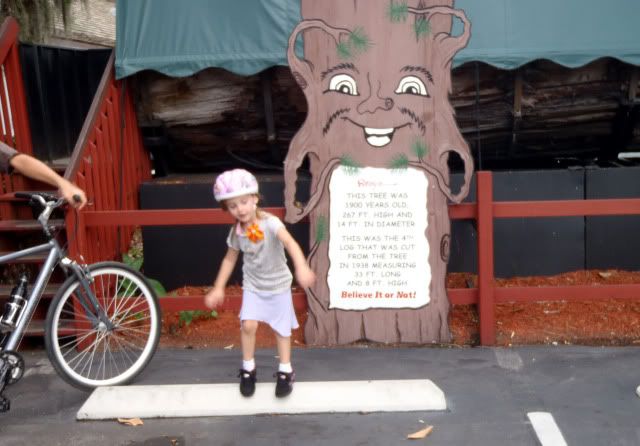 We rode around and went to Rory's fav playground with the carousel
- then headed back towards St.George ...
Not go to the olde fudge shoppe before dinner,
surely not- if that's what you are thinking....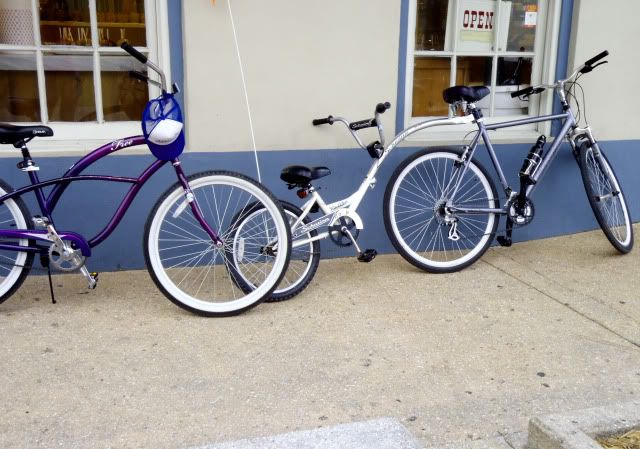 I don't know whose child this is..
Ri's DNA would head right for chocolate everything.Mine would go towards chewy or taffy or caramel if not chocolate-
This child came out with a lollypop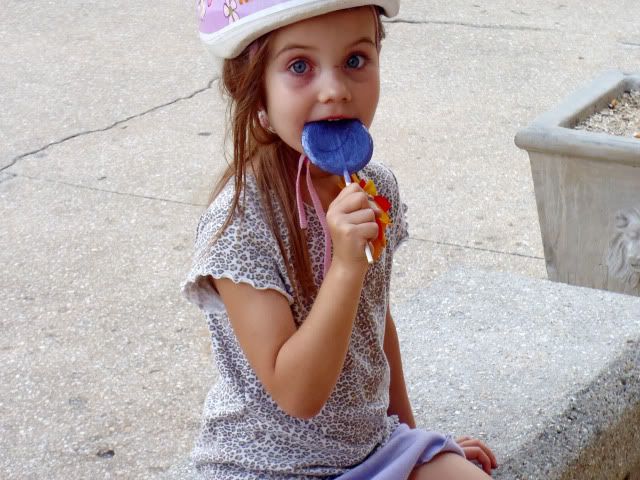 Also,
She got a black eye in school today. When I picked her up she was holding a wet cloth to her eye, and the teacher explained.
Right before dismissal when they were playing on the playground- another girl was kicking sand and kicked Rory accidentally.
I hope accidentally ,at least.Rory was more worried about the sand than the bruise. She didn't seem bothered - beyond wondering why "EVERYONE" rushed to ask if she was ok- and the girl said she was sorry "soo many times"-
..but dude. Now it is turning purple.My baby got a black eye. .
I'm not ready for this school stuff.
Anyway.
I did get a super short video of the last leg of our ride:
We have been living off frozen veg and bag rice. I have to figure out how to get on the ball about cooking within the school schedule.
There is probably more, but I really need to go pass out . At least for a bit so I can have enough energy for the pink outfit debate in the morning. My legs feel like rubber.
carry me?
-wait.brush my teeth first!
PEACE AND TOFU CHICKEN GREASE,
BABYHELLFIRE
(ps... My title was funny to me- considering Rory wears a color every day and got a black eye on black day..but I may be too tired if I find such things humorous.)