Soo ,Catching up again,forgive my slackin' .
Feb 3rd:
The current big drama is the car,when we made it into Ridgeway,the car was acting funny.Ri ,being OVERLY cautious ,about every shake ,shudder, or squeak the car makes, got extra concerned when the check engine light blinged on.-Of coarse, it was Sunday morn,and toyota couldn't do anything about it until Monday. They told us it COULD well be that ,our out-of-state car was unaccustomed to the freeze,and altitude change.,happens all the time.
So,car less we walk in the snow around the neighborhood.Such a gorgeous community.We get some groceries and are impressed with the small town "market" carrying vegan,organic,and whole foods-craziness!..and there is even a organic food store a couple blocks over! (I am LOVEING the ability to walk all over town).
We got take out from the "true grit." Ri went in to order the take out while me and Rory explored some more.She got her mitten wet ,and was done exploring-so we ducked into this kewl shop filled with so many neat things,I wanted to take it all home!They had toys for kids to play with in the changing room -and that distracted Rory well enough: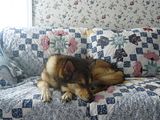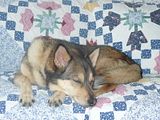 -We mostly just lazed about resting from the road..,& Sunday is THE day to call people .
----
Let me JUST say -that 3 is a TOUGH age.Rory is difficult lately,from bossiness,fussiness-just figuring out how to press people buttons,its not fun. She IS soo big ,and fun,but she more than a handful,more often lately.
--------------------------
Monday- Feb 4th:
we wake up crazy early,we are still on late waking eastern standard time-but it works here LOL.SNOW! look at all the snow!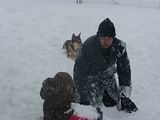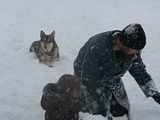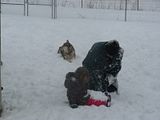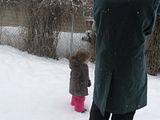 Rory LOVES- LOVES -LOVES it.she will sit out there for hours playing in it,scooping up handfuls and eating it.She says its like ice cream..
It is not NEAR as horrible and COLD as I thought it would be.We had a lot of fun covering each other with it.
Another walk downtown-this time with Noobie,to get some little things from the organic food store,take some pics,and Rory wants cookies while we are out.: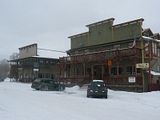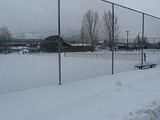 this is a tennis court!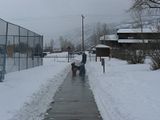 Yes,Rory is 'walking the dog"-yes that means she is somewhat on a leash :).
Both the dog and the kid were being butts. Noobie wanting to drag-and Rory wanting to be carried.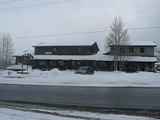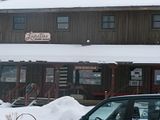 -such a CUTE town-and everyone here seems WAY friendly to match.
I thought I saw the woman we were renting from while in town,turns out I did :)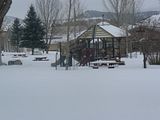 This is apperantly record setting snowfall-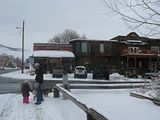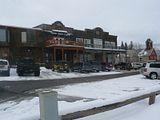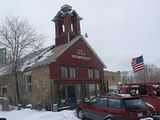 Rory and me,saw this eagle the 1st day,while Ri was getting take out.She was really excited to show him.she likes that you can only see his face from the one side-?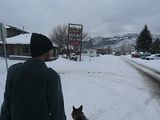 As for the car.They towed it to the dealership.They said they were putting it in a warm garage and would change the oil ,and hopefully-it'd be fine , we'd get it back good as new teusday.
Rory doesn't mind hanging out here,she loves the snow -and she has been attached to her video games like a 9 yr old,I didn't know that'd happen so soon.
~~~~~~~~~~~~~~~
Today-
Wake up and play in the snow ,of course!it was falling like glitter and SUNNY-we were out there for hours.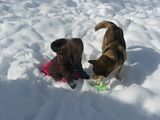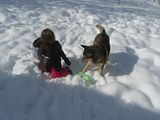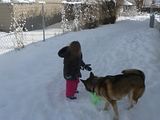 It was NICE and sunny today-but much colder than it's been,the windows are all frosted up.
Ri called toyota,Turns out- it wasn't just a simple adjustment problem,our cars oil was overfilled last change-Yeah,the change we got WHILE WE WERE IN FLORIDA! So,the engine is flooded,Ri is soo stressed ,I think he will vomit..and we are stranded! Dealer says they won't be able to get the car to us until after NOON tomorrow (check out is at 10!)
Ri calls true lube(who changed our oil), and they say if they are responsible they will pay.I sure effing HOPE so.At this point,Ri is afraid to do anything
-he doesn't wanna walk to town for fear of spending money,if we will end up paying out of pocket for a car,or repair.UGH.I was just trying to make the best of it.
So.
We call Lee,who we are renting the cabin from.She says "No.Problem you can stay another night even!" AND-
I can BARELY believe this part :
"borrow my car, you HAVE to got to see Ouray & the hot springs!"
She seriously,came over and let Ri borrow her car!I think she is an angel.Rory was in LOVE the minute she saw her.
She told Ri,her hubby is the sheriff,she knows the toyota dealer owner,she figures"you steal my car,i get a free prius".
I can't believe how much she has done for us.She owns the local pizza place, (which is closed currently) and has been insistent we see it.We should buy it,she says..I am starting to think we should. Ri has been joking its a conspiracy theory,that she has the whole town being ,crazy, freaky nice to "the Florida people" so we'll buy it LOL.
Ri's stress ball funk lifted-and he took some AWESOME pics of the blue sky,while it wasn't all grey and snowy: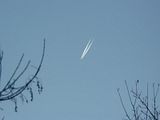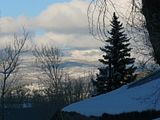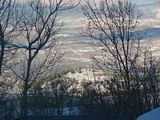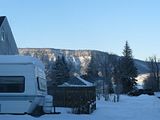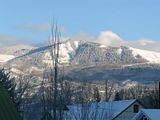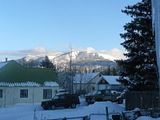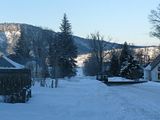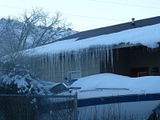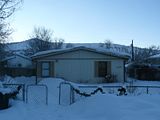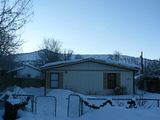 This is where we are staying-do you like the drive way?
Ri came home from Lee's with pizza to make.Papa murphys-he says its set up like subway-they just cover a dough in topping and give you an uncooked pizza to take home & make.Pretty GOOD ,too.
Then we headed for the near by hot springs(it was 8pm by this point)-
http://www.orvishotsprings.com/
No cameras allowed -so I have no pics.It was VERY VERY nice though.We got into our suits and tiptoes in the -6 cold to the 1st hot spring,freezing our feet.It was soo nice when we got there.We hopped to another pool.the steam was soo thick ! We even went in the private indoor little one(too steamy for me).and the big indoor pool. Great for Rory she could touch bottom on most of them.She was soo cute talking EVERYONES ear off.LOL -OH.
Did I mention this place is "clothing optional"..Well ,you have to wear at least a towel in the common hall-and a suit the big indoor pool.
This guy was walking down the hall in a towel and
Rory who has been asking for peoples names ALL DAY
asked "whats that guys name"
we said " we don't know ,baby"
Rory: " Is his name Hairy?he's Hairy!"
She also asked a woman changing what color her panties were-cringe-Rory was telling her what color everything in the room is..(the changing room was all open-kinda creepy actually. )
Still,VERY kewl place,and the hot springs were NICE.Ri says he prefered the outdoor ones,i'd prefer if they had a hot foot bath in between ALL of them-not just the farthest back 2.Ri went to the the hottest pool while me and Rory took our time changing( i knew we wouldn't like it,even hot tubs tend to make me queasy and light headed)..he said it was WAY HOT.
-Rory is CRASHED good now.
I should be cleaning & packing.
Please ,cross your fingers our car will be here SOME time tomorrow,So we can head to our next cabin.
I'll leave ya with a last pic of the window frozen in the minus 6 degrees: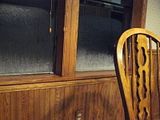 PEACE AND TOFU CHICKEN GREASE.