UGH! Stupid weak internet connections.
I feel sooo behind-soo much has happened since the night we slept atop the blanket crackhead castle(cameltoe suites according to Ri).
Jan 30th Rory's BIG girl 3rd Bday-
Driving through the rest of TX was amazing.The BIG blue sky-they completely different landscape and the tumble weeds.Ri found out about another Canyon not far from were we were.The Palo Duro Canyon.
linky:
http://www.tpwd.state.tx.us/spdest/findadest/parks/palo_duro/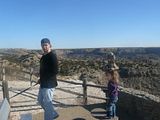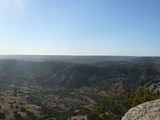 Click to see more!
It was soo amazing,they desert view,the
colors and the sky.We got a lot of running in and let Rory play in a playground for awhile too.. it was an awesome stop.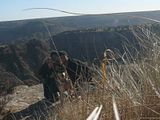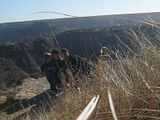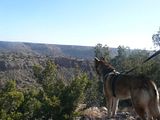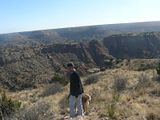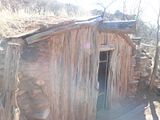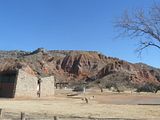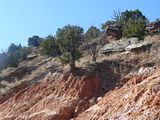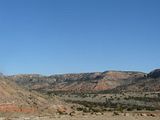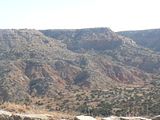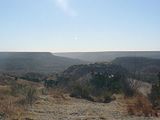 Rory was pretending to be asleep upside down."honk -shoeing"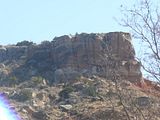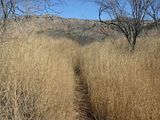 Next we headed towards New Mexico-along route 66.Oh,when Ri says they should really give more warning about that last stop for gas,even in our hybrid we almost ran out.
We stopped and got some local flavor, Mexican food.Yummy- OMG SOOO yummy! Rory even grubbed on some healthy avocado ,beans and tomatoes-much better than the fastfood we had been allowing her.
We ended up eating all that in the car as we found no place to stop.Big ass desolateness for real!
Oh,I mentioned the tumbleweeds-Well,at one point Ri ran over one blowing down the road.Later on ,at a potty stop,he found it still stuck the the front of the car.Lol.
Soo 1st stop in NM Roswell-well if you don't count food and excessive potty breaks(yeah,AF is here).
So into Roswell ,with ALL things alien ,and ufo related,-every fast food restaurant featured a reference,a sign or a pic. CUTE,cheesy,but cute.Roswell is a really neat small town ,bigger than I thought it would be. Ri took Rory out to buy some food,We promised her a little bday cake.She opted for sprinkle cupcakes instead,and we order some EXCELLENT pizza for dinner.
Me and Rory swam in the pool(ri had to stay in the room with the dog)..but it was FREEZING,not well heated ! At least we got some really good sleep there.
------------------------
JAN 31st,
On to the AWESOME Roswell UFO museum.
http://www.roswellufomuseum.com/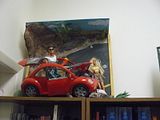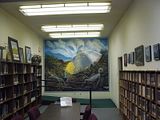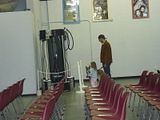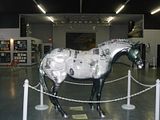 Though, Rory and Noobie weren't really impressed with it though.Rory said the whole thing was "Boooorring!" and Noobie got really irritated with Rory running off.
The "kids" did love the all things alien gift shop.The Super sweet cashier gave Rory and noobie free stuffed alien toys, which they both love-(how'd she manage that?) . And me and ri bought delightfully cheesy gifts for our siblings.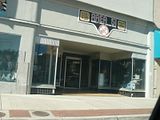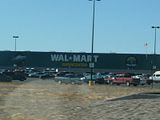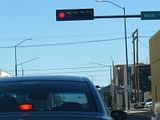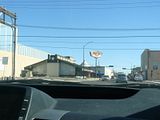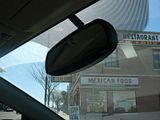 -My sisters have officially told me they don't give a shit about the rest of my trip they are mad jealous of Roswell though.
Ri even stopped and grabbed some rocks from the side of the road ,near the "crash site" for people :)
We had breakfast at sonic- weird ,there is a sonic like every block here.Tiny towns will have THREE sonics and MAYBE a mcdonalds. Rory has discovered cherry limeade and is in love.Well,at least it is caffine free.
-So,On to Santa Fe -the endless feeling fields of clay,rock,and tiny plants and BIG cloudless sky.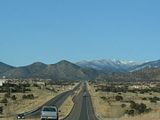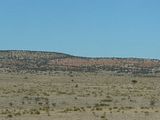 We got to our little Casita right near downtown ,with snow on the ground.Rory Really LOVED crunching the snow and was soo excited by it.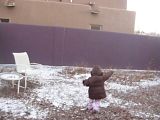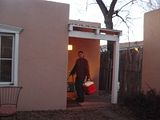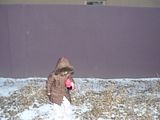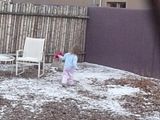 Dinner-local southwestern food was again,amazing.Ri says he is in love with green sauce and chilli relenos,,I just wish my guts didn't burn SOO bad from it.
We left Noobie in the room for a quick shopping trip to get some more snow gear,and some dinner.She seemed ok when we got back-but we were a wreck worrying she'd destroy everything!
----------------------------------------------
FEB 1st,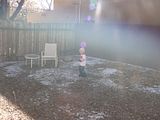 Santa Fe Adobes and Art.Wow! We are all soo in love with Santa fe! It was gorgeous there,COLD 20 degrees,but it felt more like 40s or 50s .It even SMELLED beautiful!With the fire places going inside the adobes next door.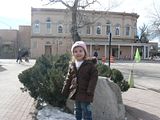 We Loved walking to the stores,the little downtown shopping area set up like a much more southwest st.george street was soo neat.Over priced of coarse but,gorgeous.Great window shopping and a perfect walk for us. We got ouvoes rancheros for breakfast and sat outside people watching. Everyone seemed really nice every where we went there.We stopped by the outlet mall with Noobie-who was allowed in most the stores(which was weird to me) and finally found Rory some snowboots in her size-we found ours on sale at a ski shop earlier.We had Thia for dinner-I had to get ri away from the chillis for my own safety. Rory had mac& cheese,oh and a cherry limeade.Ri had promised her a toy for behaving so well,but she opted for that instead. She was disappointed there was only one cherry in it though.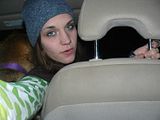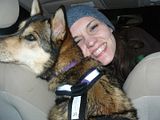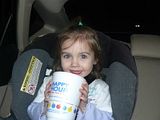 I should have bought mom some of the gorgeous turquoise jewelery from the street vendoer or stores in town-Maybe I will find something in CO.
-----------------------------------
Today:
We piled up and hoped in the car for our cabin in Ridgeway,a little nervey about the 8 hour trip in the snowy condition.The really nice woman we are renting the cabin from has been MORE than helpful with that and kept in contact with tips and alternate routes.We went through indian reservations,more gorgeous landscape than my camera was able to capture. :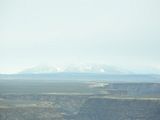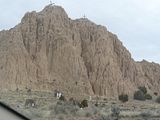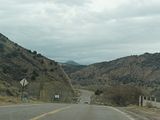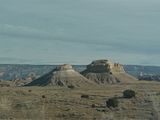 We drove through Taos,Which is an aFREAKINGdorable town-but MUCH more isolated than we had expected I half wish we woulda stayed there a night as well.: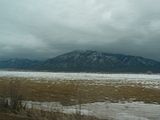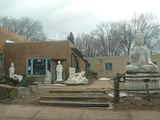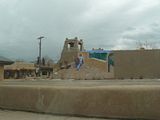 We went over the Rio Grande bridge.Again my camera wasn't able to capture the scale,colors or gorgeousness of it in real life.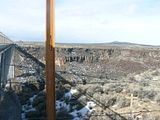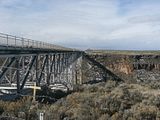 Saw the MANY MANY earthships in the desert.Ri says he would LOVE to live in an earthship outside Taos..No,not I. I need to live somewhere I can at least ride my bike to get bread.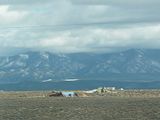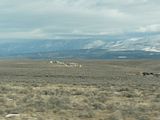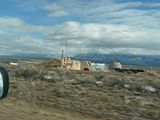 We started REALLY seeing snow.Snow flurries and snow covered EVERYTHING.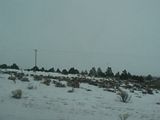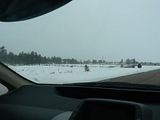 OH! And got to see the wild antelopes-which are sooo CUTE, I want one!Dude,I didn't even know we HAD critters like this roaming in US..I feel so deprived.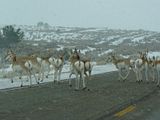 It started getting pretty SCARY there around the NM/CO border.the snow was BLINDING the road icy and I freaked ,I was in tears.Rory wanted out -to play in it!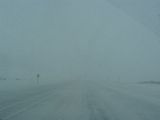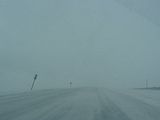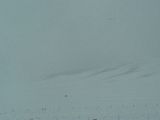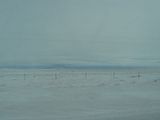 We made it safe and sound-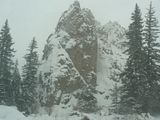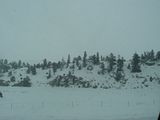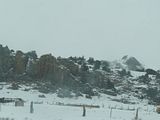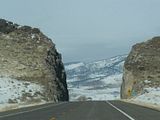 Yay!! We're in Colorado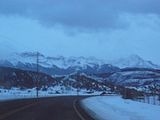 This is a lake



See the deers??




To Our "cabin"-i wouldn't call it a cabin,but its nice.-In Ridgeway(which is a CUTE little mountain town) is pretty snow covered,I told Ri,THIS is a bit more snow than I want to live in.It isn't bad though we got settled and all went to play outside,and it wasn't nasty uncomfy windy cold AT ALL.Nice ,even.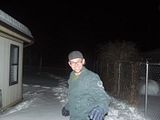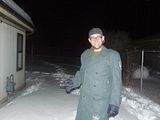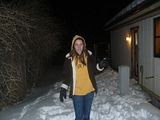 Here's were I admit Ri and I ,have started smoking the occasional black and mild again, between the cold ,stress and LONG car rides we have been wanting to a lot. I am like "ugh,how are we gonna quit again" and Ri says "We just aren't going to when we get back,and its gonna suck".