Quick Update while I wait for breakfast.feb 10th
We woke up in Estes Park to GORGEOUSNESS,the best weather it had been the whole trip and we were leaving.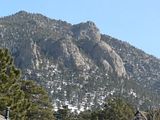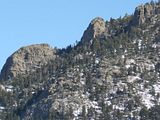 We watched Elk right outside the window!!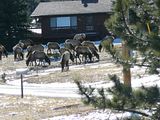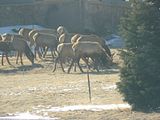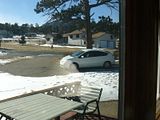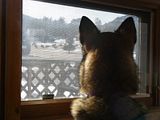 Noobie wanted to be let out with them BAD!! -we made her stay in tho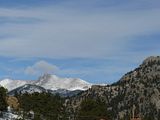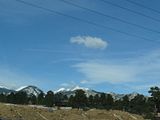 Ri,Loved the way the clouds were shaped like the mountains they passed over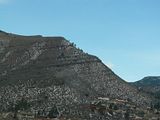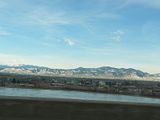 Rory is being more than trouble and really stubborn.URG!!!
We headed out for Kansas and FINALLY found a place to stay in the middle of the night.
We are headed out now for St.Louis..the weather is terrible..but we can't really wait it out(it 'sposed to be terrible ,till Wendesday- and we can't really avoid it unless we go as far south as Arkansas..so,
We are gonna try to stick through the interstate,and head through.Send us positive energy.Right now it looks like we are ok.It shouldn't get too bad till later tonight and if we keep southernly about the rain storm and below the snow storm,on the interstate,we should be ok-but we might drive right through MO to stay out of the on coming nasty...
Just pray-or send energy, good thoughts,or whatever that we avoid ,or just miss the weather.I'll update soon.
---------Feb 11
So , we made it through to St.Louis,the weather wasn't nice, but NOT as horrible as we had anticipated.We considered passing through it all and going straight into Kentucky where the weather wasn't AS bad..but when it got darker we decided to STOP.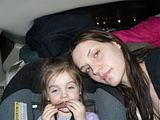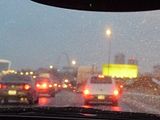 I was riding in the back with Rory(and so I could play online :) ) -She said the Arch was a GIANT slide.
We stopped in IL in a place called Fairveiw..we paid a bit extra for a hotel (the drury) with a heated pool.,and ended up VERY GLAD we did-they also had free drinks and hot breakfast.We went swimming & ordered dinner..the hotel was very pet friendly and even let Noobie hang in the pool area when she whined from the hotel room.
Talked to the friend,Tiffers, I was 'sposed to meet near st.louis-if the weather had been good- turns out we had stopped like 2 MILES from her house! So she came over to have a chat and let the kids play: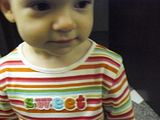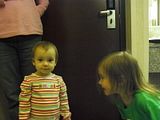 They had great fun :)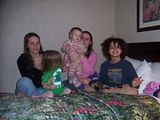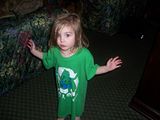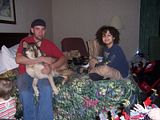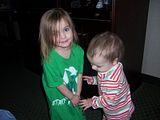 MO/IL was odd the snow stuck to one side of the tree-and many of the trees were really odd WHITE ..It was flat land few trees still .
We stayed on the interstate mostly 'cause of the snow..scary drive.
--feb12 we headed for KY,not too bad of a ride at all-we started seeing hils and trees again-pretty area.
Much prettier than we expected-esspecially when blanketed in such nasty weather: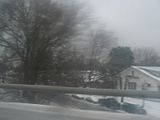 Rory was excited to meet Tata and the baby she calls "buddha" We had a pretty good time chillin at tatas..Rory loved playi video games with Tata's older dd ,petting the kittys and of coarse snuggling buddha..Noobie made an ass of herself peeing on the floor immediately,she was pretty well behaved otherwise.
We stayed up pretty late chatting..after they made a visit to white castle.Ri had to try some white castle..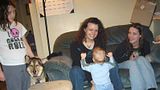 They were more than accommodating,we had fun -nice to hang with adults,like an adult, occasionally.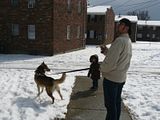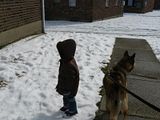 Outside in the snow in KY-it was actually pretty yucky.It would snow then kinda rain..
-----We are now headed for Greeneville TN.
PEACE AND TOFU CHICKEN GREASE,
BABYHELLFIRE