So,Feb 6.
We rode around Ridgeway some in Lee's car.We had planned to go sledding in Telluride but it was soo windy and snowy we decided against it.
At 5pm, We finally get info on the car.They say it MAY need a new gas tank because the light it still flicking on,but THAT will take SEVERAL days.We decide to take the car and go to Estes Park. Ri ride off to get it while I packed,Lee kindly told him he could leave her car at the dealership :).
That puts us on the road at 5 30 6pm.
The sunset was breathtaking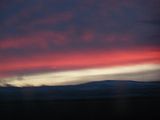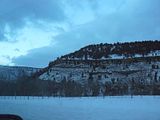 On the plus side,it was MUCH nastier out if we had have left earlier,unfortunately we could only make out vague outlines of the gorgeous scenery
We came through some REALLY nasty snowy,windy,-0 degree weather ,at the vale pass,way high elevation.Snowy ass frozen road,it was kind of nerve racking. Rory slept through most of it.She did like the few tunnels we went through.
The lights were beautiful and terrible,we got the worst headache.My eyes/head hurt and I was able to look away from the road sometimes,I felt bad for Ri.
Every city is soo bright and soo lit up.Its amazing to come over a hill and see:
Like this is Denver: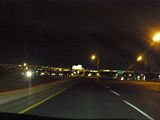 ---We FINALLY made it to our cabin at 1 am...Its way back in the middle of no where.
It's spooky..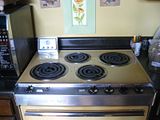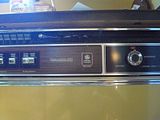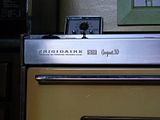 Its like staying at your great aunts house or something.Every appliance in the house 50 yrs old,there are knick knacks ,paintings,family pictures and just stuff everywhere.there are even clothes in closet.WEIRD.Just WEIRD.The guest book dates back to the early 80s with "thank you"s and stories.
Rory seems to LOVE it,and Noobie is doing alright.
There are games,and a cd player that came loaded with a Hannah Montana CD,and Rory found it and figured out how to get it to play INSTANTLY! Already?! We are in so much trouble.
It is CRAZY windy here.NASTY, NASTY cold out .The house doesn't seem to stay warm at all.We've been having the fireplace AND the heat on and ,still,staying near the fire.
-----------------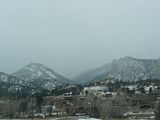 Feb 7th: We go explore the town.We put Noobie in the garage with a treat(she seemed to do ok with that :) ) Estes Park is set up a lot like Gatlinburg TN,the small community outside of the downtown "rocky mountain" shopping.There are LOADS of vegetarian foods ,both in the store and in every restaurant. A lot of the places aren't open this season,though. We walked around downtown.I finally found a gift for mom,at a really good price too.All the store keeps were soo nice and chatted with us and Rory.We let Rory pick out a toy from the toy store.After playing with the toy kitchen and looking at all the boy toys she surprisingly picked a baby doll,in a pink outfit and a baby bottle.She carried it around the rest of the day:
We stopped in a teeny little Indian place for lunch.Ri was nervous about it,but I was COLD and wanted to go in,and they had a lot of veggie dishes. SOO glad we did.The food was GREAT and Rory even ate loads of garbanzo beans and rice. :)
On the way home we stopped by the grocery store : and saw this next to it: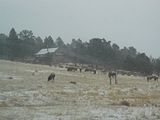 The elk are gigantic,and in BIG groups..hanging out right in the busy neighborhood.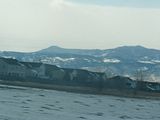 I can safely say-We don't like Estes Park as much as Ridgeway.Its very touristy,and though I am sure it isn't always, the weather is NASTY. I do like that is isn't soo far away from the Denver/boulder area though.
--
Feb 8th;
Today we ordered some breakfast from a local place that was AWESOME. Though silly Rory didn't really eat.
We went into Denver.Just to see the big city mostly.We parked,and walked down this HUGE shopping area of 16th st.It was neat to see-we had subs for lunch,but mostly just so Rory who was HUNGRY could have chips.It was COLD..it was warmer in Denver than in Estes,but still yucky wet wind.The snow here is has been sleety,it sucks.
We didn't walk around too much because I was far too cold.
Before we left Denver I had one more thing I wanted to do:
I LOVE IT!!
I got it done at Mantra tattoo and piercing.
http://www.mantratattoo.us/
I found them pretty highly recommended online. & it was only 30 bucks ,which was cheap (I thought.) The shop was half head shop-half tattoo..It was kewl to look at all the pipes and "hookah"s they no longer sell in FL.Rory was really good the whole time-but very confused,I think she thought I was going to get a shot.
I plan on changing it out for a spike on bioplast . like this:

The piercer told me the ball would be easier to clean ,at first..I don't really mind cause I knew I'd soon need to change this out(you need a longer one at first to accommodate swelling).
I like the little ball more than I thought I would ,too. Rory says "Ok,it cute"..but then a couple hours later asked if I was going to take it out.Ri wants to do something like that for him..but doesn't know what and has therefore done nothing :)
Now,to figure out how to eat.
Well,I really should be off to bed.
PEACE AND TOFU CHICKEN GREASE.