or
" of weird new shoes, half pint golf , how a happy doggy window shops- and a crafty creative 4 yr old"
HEY!!
The past couple days have been pretty good - and I have loads of pics.
From her wardrobe to her art projects Rory has been amazingly creative all over the place. My tables are crowded with paint projects, handmade puppets,and little pets in clay costumes.
...and I have been watching too much internet tv(but whats new).
Tuesday was Ri's day off-
he wanted to take me to this specialty shoe store- where they pressure map and measure your feet to help you find the right shoes/ and custom arch supports. My inability to wear any form of flat shoe is sort of difficult, an makes for really frustrating shoe shopping.
We also had the idea we should take Rory out to play minigolf since she has been really interested and it was such a nice day.She picked out a super pink outfit and they played with Noobie for a bit before heading out
On to the shoe store 1st. It was soo awkward. I wore the too large shoes mom had given me the other day- only to be told they were too small- huh?
Well, I was aware I have a freaky high, and long arch. The podiatrist lady seemed to think most other things with my foot were a-ok , one foot bigger than the other, and very wide.
but advised me for flat running shoes, I would need a much larger size,than I would have even looked at for the width and for where my foot bends. She actually said " you have a great step, perfect beautiful arches, like a foot model, but good luck finding shoes for that", and mentioned I probably have no trouble finding heels.
Yes.I even run in boots.
She was ,however, not very helpful at all about my complaints about shoe rubbing and blisters though, besides suggesting I ask my dr about a possible latex allergy.
She suggested an arch support and went to the back to get one for me and the young boy with flat feet (and much different problems than me) who came in at the same time,
They supports made an AMAZING difference!
- and then she started showing me shoes..ugly cheap looking THIN material HUGE old man shoes, they felt huge and uncomfortable and for 150 bucks !
Rory was tooo wonderful the whole time, it took a long time and she was eager to go play golf.
She ended up getting loads of compliments about how awesome she was.
We left with just the arch supports, and plans to go look at shoes with all the advise about proper fit in mind.
It was awkward and weird, I wouldn't recommend the hyped over priced shoes they push- but I would definitely recommend the fitting to anyone else with foot problems, and so far the arch supports have been great nan all together it wasn't as expensive as I feared
So we headed off to Fiesta Falls to play miniature golf.
Rory was eager to pick out a pink ball- but settled for a pink putter and a red ball.
Rory got a little frustrated with a bit of it , the tricky holes, learning to hold here putter, being told to stay off the green for other peoples turn.
yeah, mini golf can certainly be as frustrating as fun.
You can see the beach from here!!
We failed to really keep score- and declared Rory the winner she did get some great shots in despite her frustrations with it.
So she got victory ice cream:
Soft serve with sprinkles! before dinner
We packed up and headed to a local pizza place to eat.
Oh man! That pizza was HUGE and wonderful. Rory loved out waitress, she ordered her own water and asked for a cup for the bottle,made Rory feel very big.
Ri was saying he recognized the guy that runs that store was one of the same guys that used to work at the awesome pizza place near our beach house.(and we found out later owns a few other local pizza places we have heard are similarly awesome, well yeah).
We watched headline news while we waited and ate- the on going search for the local girl Haleigh Cummings is huge ,it is so weird to see our corner of nowhere and all the people we know all over the news.I recognize someone every time it is on, that time we saw Rory's nurse on tv- it is just so surreal.... and yes,I want to remind you once more in my blog to keep the little girl and her family in your thoughts. Its has been over 18 days since she went missing :(
After tremendous pizza engorgement(Rory even chowed down on a whole slice veggies and all) - We told Rory we would take her to walmart to use her valentine money from Momo. (Rory wanted a little pet and some pink frosted sugar cookies) .
First though, we stopped at payless to look at shoes. UGH. I must have tried on a dozen- and threw a bit of a tantrum about my hatred shoes.
BUT- it was really exciting to be able to LOOk at flat skater type shoes , and not instantly assume they had no arch an have to dig for platformed or heeled running shoes!!!
The problem I had was how high the back of my heel is, so the collar of low tennis shoes NEVER sits in the right place, and HURTS- and once you add an arch support to the mix my heel is even higher UGH!!. Finally I saw some high tops- or midtops, the ones I liked of course weren't in the size I needed (which by the way, I have no idea what size that is I was trying out any size between 9 and 10 depending on the shoe) ...but these ones were. Ri says he likes them better than the cheese pink skull ones I wanted more.. but I dunno. I have to tell myself they are soo kitchy and dorky that they are cool-
While I was trying on a dozen shoes and tantruming, Ri distracted Rory getting her feet measured- she is always and forever stuck at half sizes longer, and kids shoes don't always come in half sizes.fun stuff.. but he was determined she must have tennis shoes and tried on many finding a few that fit, and because of payless' buy one get one half off sale he sprung for them.She DID say she wanted brown shoes.(she has some THING for brown shoes?)
Rory found exactly the little pet she had been looking for and the cookies she wanted at walmart, and we picked up a few little household things we needed(forgetting other things we needed because we didn't make a list )- gah, I was beyond exhausted when we made it home.
Wednesday -Ri had to work all day . I started in on the laundry pile with tons of mindnumbing tv, an Rory returned to her crafts.
She
ended up not watching any tv all day!
She was soo cute while I was hanging clothes. She was making lego block sculptures and telling me NO peeking until it was complete.
Ha- also she helped me hang her clothes and picked out her purple play outfit
She also spent some time making "delicious tasty treats" in her toy kitchen with all sorts of interesting combinations- "tea sweetened carrot samples' sounded pretty good.
Then decided to pretend she had a baby in her belly, and then played mommy to her dolly for awhile.
I made ratatouille in the crockpot in an attempt to save the squash,eggplant, and zucchini that were on the verge of going bad.- I also made us lunch with some of the extra baked squash and zucchini, which Rory surprisingly loved. she says she hates the raw ,steamed or boiled " squishy stuff" - but baked sliced thin and salted like chips- those are good.
I sent her full belly out to play with before sunset.Where she cuddled the dog and pretended to be a pirate
- oh, and tasted some sour weed.
Insomnia and allergies has me looking old
ooo flowering blackberry brambles! I can't wait for the blackberries Yum!!
Noobie even tasted some sour weed
AWW!!!!My kids are cute!!!
My endeavor to make crockpot ratatouille for dinner turned out to be a success!!Rory had hers soupy with extra sauce to sip.I stayed up way too late after Ri got home- and woke up sore an overtired Thursday
- Ri was off again thursday. He needed his oil change and doesn't trust anyone but te dealership after that issue with a local place last year. ...and since that required another trip into st.auggy he wanted to look at these
funky toed shoes
he had found out about
Yes, the toes are separate- it is weirdness, but he found out a place on St. George street had them to try , so we figured we would take the dog downtown and make a day of our trip.
1st stop the dealership... super nice day so we walked the dog around the lot while they changed out oil.
ooooo trippy prius city
of coarse,ya go near the sale lot and you have to deal with at least one salesman "ever come in for an oil change and leave with a new car" , but it was cool we told him we loved our prius and he understood -tis a great car.Whats he gonna do offer us another prius ha.
Now , we had planned to go downtown, get some veg food and have a picnic on the hill. Rory was excited to have another picnic- but far too hungry to wait that long...and we all know in Roryworld hungry=fussy, so we ended up stopping and getting her a bk kids meal- she actually begged for a burger- and we gave in.Noobie likes this burger idea
Rory said their cow next door looked more like a dog- She is right
.. I dunno how her clip thing got so high up.
On to St.George street-
Noobie was soo excited to go out, it was cute! She was amazingly behaved. ...well, except for when a group of little froofy poofy white dogs (on leashes with their owner) acted like they were going to fight her-lol Ri ended up practically scooping her up to stop her from barking back at them..but as we passed all the people who had saw it cheered her on -saying " i don't blame ya boy' or 'You could have taken them" (everyone thinks she is a boy)
Rory and I wondered around a bit while Ri went into 'the clog shop' to try on the weird shoes.- the shop was right across from the old school, and for awhile we just sat(Noobie was being really good just sitting/laying waiting ) watching the teacher who was stuck on a loop repeated her" time for school" message.
Ri ended up buying the shoes he is in love with them so far.
We walked around and even treated the well behaved pup with a shopping trip to the pet boutique- and purchased her a cow trachea -ewwwwwwwwwwwwww
Irritatingly both of the cafes we wanted to order food from were closed :( - so we ended up heading back to the car and ordering lunch from a near by restraunt- then driving back to the fort to have our picnic.
I still haven't figured out wat is so great about this hill
Rory only at a couple of chips tat came with the wraps we got and ran a muck.
Oh, and Rory fed Noobie the other half of her burger-
ever seen a happier doggy?
I swear the dog laughed all the way home. she was great, not even pulling on her leash as much.
Rory was a bit over tired and fussy on the way home.
Lissy called RIGHT as we walked in the door asking if she could come over.
cool, it will give us someone to show our new shoes to. Bo had taken his bike to work, so she decided to take the car and visit(she stopped by our house on the way from moms).
Lissy chatted and I played video games while Rory helped Ri make stuffed shells...but then fell asleep sitting straight up watching him
Lissy stayed for dinner chatting about everything she is STILL not moved in to the house- waiting for all the paperwork to be finalized on it ugh- fun stuff. I am sure far too stressful when she is due in a month and I am sure can't wait to begin nesting in her new place.
Rory was soo funny at dinner - saying her kelly dolls "name is mary, and her ( pink) lamb is named Fleeceaswhiteassnow, or Periwinkle for short". haha She didn't understand why that was so halarious to us.I should have sent Lissy home with some of the extra stuffed shells.
Rory had what looked like a bug bite pop on her cheek..:( We stayed up FAR longer than I expected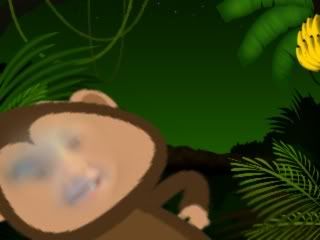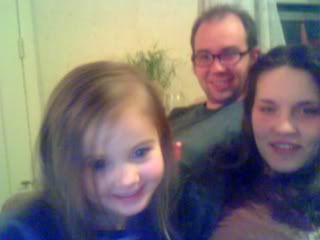 by the time Rory fell asleep on my lap I noticed the "bug bite" on her cheek was actually a patch of bumps- HIVES! I slathered it with lotion and just hoped it was just a mild contact irritation that would be gone by morning...
Nope, she was covered in them... big patches that would appear and disappear up and down her body.. -luckily se has had no other problems with the hives-
I turned her into the pink calamine girl
BUT! now I know for sure that it wasn't someting she ate that caused hives - it is that GRASS!!! it is the third time it happened and everytime was after grass(not our backyard grass, i am guessing st.augustine grass- but it ould be a number of plants, or things they use)
This time was the worst, I was tempted to call the dr. Instead I called mom and had her bring me benadryl on the way home from work(Ri worked all day.).
She had the teeniest bit of medicine and grammy brougt her ice cream, so I made her a float with the soda- she loved it then passed out from the benadryl
for HOURS!
She woke up with clear skin and an empty belly -she picked out veggies and a veggie dog.
whew- Glad she is feeling better!!
Ri got off a little early from cowboys(after making awesome tips at the taco stand-woot-), and is already almost home -yay. I'm off to raid the fridge.
night folks
PEACE AND TOFU CHIkEN GREASE,
BABYHELLFIRE