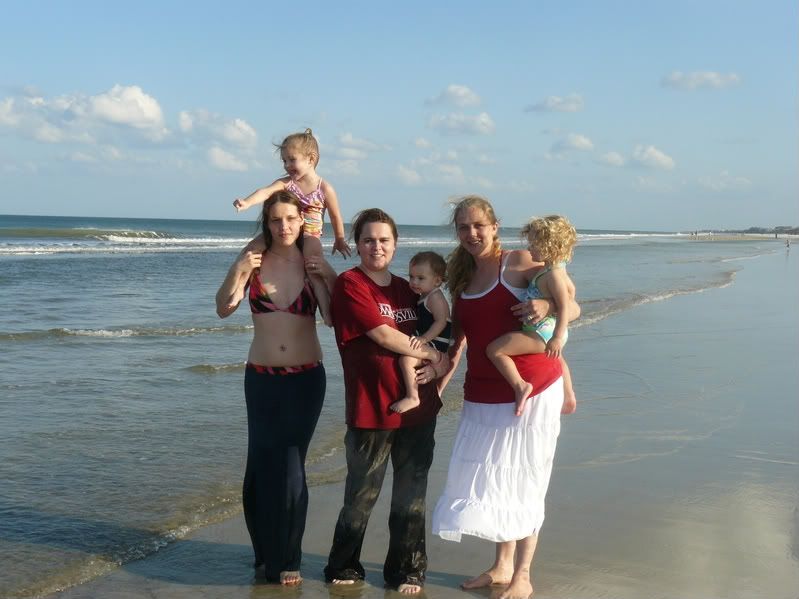 Soooo....
We got to meet Ben's girlfriend Chiho(sp?) she is super sweet,and Ben was right,Rory fell in love with her. Rory played every game she could think of with her,until she crashed right out. So cute.
March 15th-RI had to leave early to help Scottie get a car.. and we had to get up to go to the beach..
We did eventually make it to the beach again. We still left a little late. Ah,we all value our sleep apparently lol.Rory barely wanted to get out bed.I kept telling her we were going to the beach,and she was like- "OK,but right now I am going to sleep"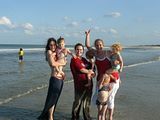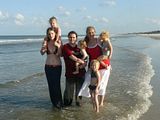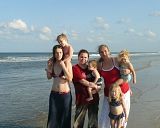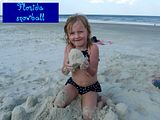 Evie's Florida snowball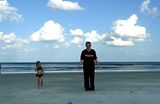 Tiff found the ocean!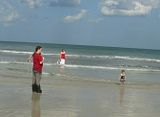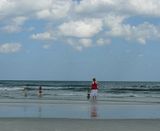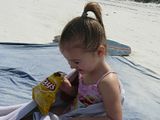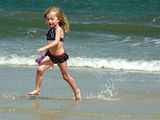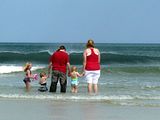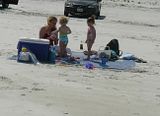 It was much warmer & crowded this time. This time, Amber's son couldn't go,he was at his dads.Rory was probably a little sad about that,I think she has a bit of a crush on him.
The beach was SOOO windy though. A wind would blow, and cover everything in sand ,sand got EVERYWHERE,and in everything.
It was Saturday,so we made phone calls to online friends .
It was much warmer , we actually did some swimming-there weren't many waves but the current was REALLY strong. The girls all loved jumping the little waves. We stayed out there most the day. UGH- my bathing suit top clasp broke right off,causing me to flash the entire beach.I didn't think anyone had really saw it.Tiffs hubby said he thought he did.- I am betting he just said that to mock me.
We made sand castles-and SANDwiches ,heavy on the sand LOL. I think Rory could stay playing in the sand forever.
We took Tiff to the "shell shack" to buy some FL souvenirs. She also bought all of us "turtle rings" :) I had soo much fun taggin along with them , I am really sad Tiff had to go home. hopefully me & Amber will hang out more. :) They are hilarious,I wonder when they will start working on their skanky trailer mansion ;) .
On the way home ,the kids ALL crashed.
When we finally got to our house Rory woke up saying " I have to potty!!" .. I thought, I smelled something when I got her out of the car..but, really ,she hasn't had an poo accident since she was barely 24 mo old ! ,I didn't think it was her.
When we got in the house she was bawling and almost too upset, to hug tiff bye... I took her and put her on the potty- only to find my poor baby ,had & was still pooing all over.
It was clearly diarrhea,and worst of all she was VERY embarrassed by it-she was almost hyperventilating crying.Poor ,poor, kid. I kept telling her,"It isn't your fault ,it could happen to anyone, and I am soo sorry".I gave her a bath-and ended up cleaning my entire bathroom from it . sorry for the TMI.
Amber & Tiff had told me they had had a mild stomach bug-so, I thought she may have caught it.I gave her some baby tylonol ,because she also said she didn't feel well... Really ,I think she just drank too much salt water.She is fine now,which really makes me think it was from the water.
I have been hungry lately,but not wanting ANYTHING. I ended up making shells in alfredo sauce , with cherry tomatoes and broccoli for dinner that night,because Rory wanted mac& cheese and I that was as close as I could get.
I was grumpy when Ri came home, Rory had me stressed -she decided she was big enough to make gigantic messes-and pull HUGE toy boxes into different rooms,but not big enough to put any of it back .URG.. I can't believe she didn't fall asleep early after being at the beach all day!
Yesterday- Ri worked all damn day again...but at least we got to sleep in a little. I have been sooo tired,and I am sure he HAS to be exhausted I cleaned and finally caught up on laundry,while Rory trashed the living room of course.
Went outside..it was SO hot, I stripped the kid down and tossed her in the pool.Ah,to have such simple pleasures. It's awesome how a few mins in a little teeny pool can make her whole day.
I made vegan orange spice pancakes for lunch.. so YUMMY! I was looking for a vegan recipe-that Rory would eat,that called for lots of citrus and no soymilk(I was out).
I think Ri is purposely foiling my attempts to go vegan,bringing home milk and butter.I am still making many more vegan foods though,so I guess it doesn't really matter.
When Ri came home- again I was feeling hungry but didn't want anything. I searched the net for a vegan recipe that sounded remotely yummy ,really quick,and I had ingredients on hand to make.
-- I ended up making enchiladas with the leftover mex food in the fridge. And they were awesome.Rory had been DEMANDING to whisk eggs all day.So Ri(being a sucker) let her whisk th last two eggs-cooked them for her , and put them on top of the enchiladas(ruining their vegan ,LOL) but they were REALLY good.
Ri is off work tomorrow FINALLY! Rory has been missing him REALLY BAD.He does have possible plans to hang out with some freinds he hasn't seen in a long time..but promises we will do something or spend some time together.
-- I am in the mood to blog today-and working on multi posts... so look forward to more ,shorter posts lata .
PEACE AND TOFU CHICKEN GREASE,
Angela