Time Marches on.
Sooo!
We made arrangements with Ben too go to Disney -late Bday present for Rory. ...and decided to take Amy & Libby since neither of them has ever been.
Saturday Ri wasn't supposed to work ,but they asked him to come in.So me and Rory stayed home I walked the dog and child 'round the neighbor--Because I don't want to let Noobie out alone anymore.Saw Jade and his buddy in passing.It was HOT ,hotter than I had anticipated and we ended up coming home pretty quick. We got netflix in the mail-the "neverwhere"series-which I was excited about..and was really good BTW...
Ri is still talking about turning it off though.
Sunday-Ri had to work again and I needed to buy a few groceries and snacks for Disney,So I ended up going shopping with mom. Rory didn't let mom take us home -despite her being a bit fussy.So we went back to Mom& Dads .They made a fire,and hot dogs and 'smores.Rory ate a marshmallow and some chocolate-but wouldn't eat it all together.She only likes RAW marshmallows. LOL.She mostly wanted to eat chips anyway.She knows grammy has chips,and Grandada has "nem-i-nems"(m&ms).
Mom seems pretty good.She showed me the scar and she seems pretty concerned about it-but I think it is tiny and not bad AT ALL ,considering how fresh it is. They are in the middle of a HUGE reorganization effort.Doing the laundry room right now-They found clothes in there I wore when I was 8!
Libby and Amy came home with us so we could leave early in the morning.
So,Of coarse Rory was a handful and hard to get to sleep with guests over. She whines a lot instead of using words-makes my blood boil.Then Ri and I had to destroy the house in search of her pink shoe.
So we get up all TOO early and head toward DISNEY WORLD :). Ha! half asleep that night Ri asked if 20 mins would be good for us to get ready,so we set the clock for that.It took an hour for us to get ready.
Poor Libby & Amy were pretty cramped back there with Rory's GIANT carseat.
We had a pretty awesome breakfast at IHOP-which Rory slept through.
We met up with Ben,- Then decided to go to Animal Kingdom 1st and ride Everest.
While Libby bought a ticket(Ben couldn't get that many guest passes -jeez,we'd NEVER afford DW without Ben,that was one expensive ticket).
Rory got to see Minnie while we waited:
We headed for "Asia"- We didn't get a chance to ride this before. So we took turns..We did the baby swap,which means Libby and Amy held Rory ,and explored the gift shop while we rode-then we got a fast pass for three-and I took Libby and Amy back on the ride while Ri & Ben watched Rory.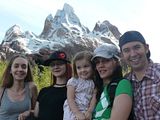 AWESOME RIDE!!! Amy & Libby seemed to love it too. We walked around and looked at the animals,goofed a bit-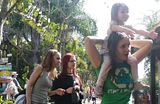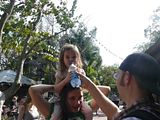 Amy is too cool for dorky posing: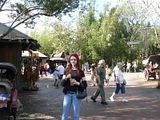 We aren't: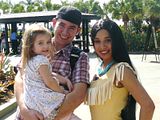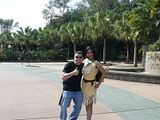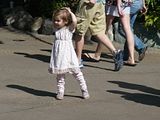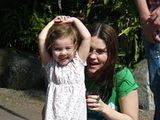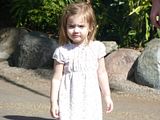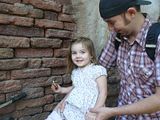 Then decided we would head to Magic Kingdom while it was still early.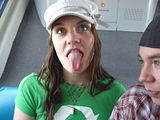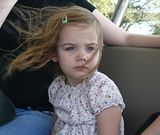 We got to ride the monorail there-sooo much walking.I switched into my sandals even. We caught a show at the palace as we were walking by-Rory got REALLY into it-Ben got THE WHOLE thing on vid,no way I will be able to upload something soo large but it is awesome.
She is soo big!She was soo involved chanting "dreams come true" with Mickey :) .
We had reservations for a buffet character lunch at the Crystal Palace. Lunch was pretty good-Libby didn't really eat though.Amy almost didn't but I forced her back through the line with me to get more food. Rory was promised french fries..and FLIPPED when they didn't have any.Our server found us some and snuck them to our table(to avoid other people asking for them) and Winnie came in like a pro and made her feel all better: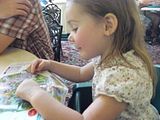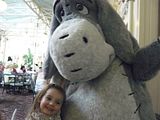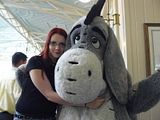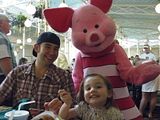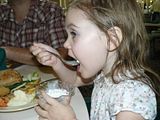 We rode sooo many ride I can't even remember them all -We got in line for POTC-and made it all the way to there front when they shut the ride down for a problem - :( .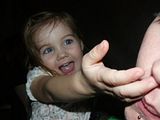 So we went off to ride more rides and Rory crashed out-we stood in line for Haunted mansion (a long line) and she was out cold: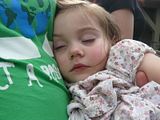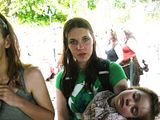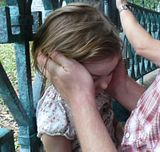 ---we got stuck on this ride,and splash mountain,and everything we rode lol.
Rory begged for her face painted ALL day- Ben ended up asking someone were she could get her face painted -toontown.It does pay to have an extroverted friend.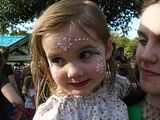 She picked it out herself,and was sooo serious about it-sitting very still,not touching it or letting anyone else touch her face all day.It was soo cute.
be pimping his Iphone..trying to talk ri into getting one lol
Rory was JUST big enough to ride Goofys Barnstormer this year,and SHE LOVED it! I have a short vid of it,hopefully I will get it to upload somewhere.
We went on winnies ride which was a little cooler than I expected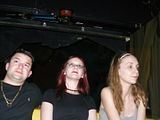 very trippy
OH, we went to Mickeys Philharmagic-grudgingly ' to Ben's encouragement-SOO glad,Rory LOVED LOVED it.She was grabbng at the screen
!
We rode (and made Libby,Amy and Ben ride with us) all the kiddie rides:
-including and especially the much dreaded SMALL WORLD MWAHAAHAAAHAHAHAHHA!!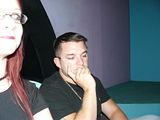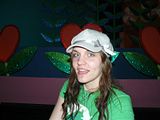 This cracked my sisters up:


We went to Tommowland and Rory got to drive in the speedway cars that had been closed when we went last year.Somehow my terrified of driving ass ended up driving a cart.-it was like a go cart with a set speed and sensors on a set path,.lol and my chickenshitness was still nervy..at least Amy rode with me and helped.It was obviously set up for little kids in the drivers seat with their parent next to them-and Rory thought it was AWESOME,she is still talking about it.
We rode space mountain-well Rory played in the arcade while we baby swapped.Libby and Amy rode with me ,in the front half of a cart filled with confused dudes dressed up as pirates who shouted "whiskey" at every turn.It was funny-and annoying.
Then as the parade started we decided to race back toward Pirates of the Caribbean in hopes it was running-and it was with no line at all-woohoo: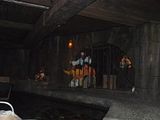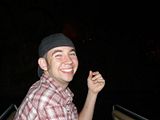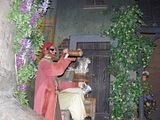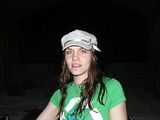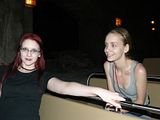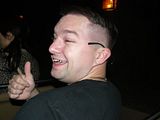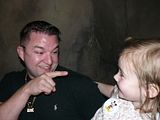 Me & Ri ended up on Big thunder Mountain as the fireworks started.We could see them it was neat.
Rory watched the fireworks with everyone else.She told Ben they were "friends forever".Too cute.
Rory picked out a Princess Minnie toy and we got outta the park-and in line to ride the ferry to our car-damn everything is a line and a trip.
At this point Rory was sooo overtired she sounded drunk-and chased Ben around having a poke fight it was HILARIOUS.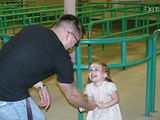 I have that vid too-I'll see if i can get it uploaded
--
Soo tired we piled back into the car.It wasn't long before all but Ri was asleep.Poor Ri,I tried to stay awake for him,But I kept crashing.
Ri actually went to work the next day.UGH! I could barely function half my muscles were/are pulled.I didn't get anything around the house done until today.
I am STILL sore.Soo worth it we had sooo much fun. Spent too much money.Got sooo much in in one day.
I wish I could upload some vids I will try..I will include the vid of Rory last night singing a song she calls "sexy" with Minnie mouse.-sigh,no more Black Eyed Peas on car trips
I will end it on this:
the end of Small World: