Mondays are Rian's day off.
I made waffles for breakfast-remind me not to try that recipe again,it was good if you were going for waffle shaped bread.
We went to Lowe's to get grass seed...ended up prying Rory out of her car cart and leaving with an aloe plant instead.It would be 60 bucks just for the seed and we'd probably need to buy a seeder- So,We are talking about doing some kewl yard deco stuff instead.We always hated to mow anyway.Thinking statues,sand and gravel and a path.If we are have to spend it either way I'd rather spend it doing what I want with the yard.I really hope i find a Buddha statue I have been wanting one for SOO long.
Rory was completely infatuated with all the holiday stuff out.She is a bit skeeved out by all the large Halloween dummies.(We still haven't found a toy ax for Ri's woodsman costume).I do wish they could at least wait till after Halloween to put up Xmas decorations,Rory,however, has been going on and on about the Xmas trees .I think she actually told one of Rian's friends that she wants one for her birthday LOL.
We found some cheap -CHEAP mark down crayola sidewalk art kits at Kmart ,so Ri snuck away and bought them while I distracted her.It is sitting in the trunk with the Diego and backyardigan cups I bought markdown,at this rate we may have to buy a storage unit for hidden presents.
So,While I was sitting here reading another short story(I really love Neil gaiman,recommend his books to everyone)-I started thinking.It feels like no one reads anymore.I hardly ever see adults just sitting in the park reading anymore.I am fairly certain I am the only one who brings books to the doctors office waiting room. I guess it doesn't matter they all have television sets anyway,Even my dentist had put one in on my last visit.Kind of makes me sad.
..a pick of rory in her beloved race car cart: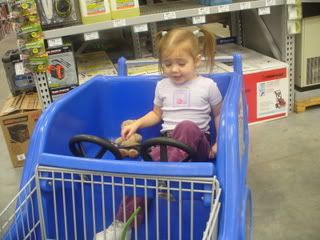 & one to prove we didn't steal the ONLY car cart(lol):