Got woke up on my bday by Libby telling me to grab the car seat we are going to a wedding.
I already had the car seat out just in case I needed to go some where on my Bday.
So, this family friends daughter was getting married... one of them , not sure which even LOL.So , I sleepily struggled to find a dress that wasn't too black or too white.
They basically didn't want to go and looked for any excuse not to.I wouldn't have minded watching the wedding, those are often entertaining... if they are three hours long or anything.
So , mom finally showed up with Libby and we headed out- early. So ,we made a few stops.
Mom wanted to buy me a nice rug for my bday.It is what I really wanted my stained carpet has really been bothering me.
We make it to Ravine Gardens, and it is raining.So we ask the guy were the wedding is, he says they moved it to the reception place, and ave us the cell phone number he was left with... We didn't go.
We went ahead shopping.We stopped in trendkill- I'd never actually been in there,, I just wanted to see what body jewelry they had on hand.. not shit.
Every five minutes Rory asked if we could go to Grammys house already.Then told the story of Dora and the mermaid.
We went to a few places to look at rugs- and got one cheapest from Babcock. I really love it -Mom ended up getting herself one ,too.
Ri was shocked how expensive it was-but dude it was the CHEAPER one, and 'why do ya think we don't already have one'.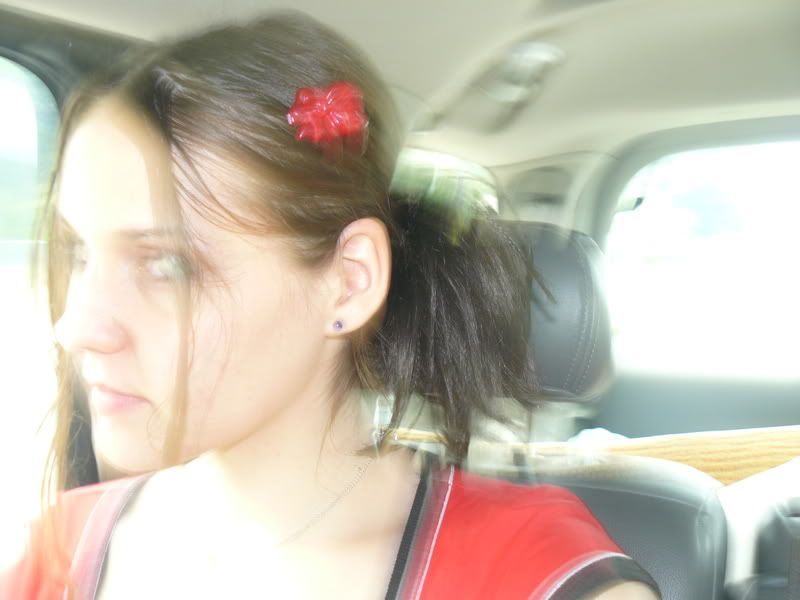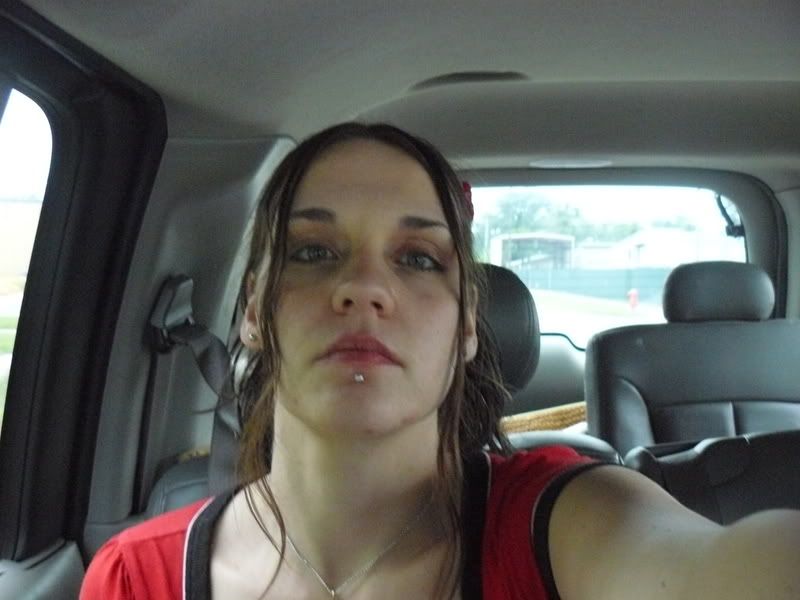 We stopped in this hair supply store they have been shopping at- Lissy got her hair peroxide stuff and grey hair color.Rory wanted a pink hair brush and hair bows.. I asked mom why they were turning her into such a girly girl.
Lissy was trying to cash a money order- but it was circlek and there is not one out here.. and NO ONE would cash it.We went to pizza hut for lunch - got in at shift change and waited for ever for our food.She ate her crust into a crown and then proudly told our waitress about the crown in "Dora and the mermaid "movie.-- with big arm motions and loads of drama . It was hilarious.
While we were there I realized I didn't have my cell phone- Mom and Lissy heard them ask if they lost a cell phone at Babcock .. but I didn't hear them ask. :( So we had to go back across town for it.
We saw Becca at wally world for a split second... she says she is still working all the time. Libby gave her one of her business cards( Lissy got her business license and is now a spiritual adviser and reads tarot cards ,and palms)-- becca said- you were always a weird one. LOL.
-- oh i dunno if i told ya either, Mom got the job she was going for, working for the health dept and is off one weekends now.We went to the groery store while Lissy went to get some fake nails next door.. we ended up beating her and waiting for her in the parking lot- Rory told us to just GO to your house.. Mom told her we couldn't leave lissy, she said "fine, wait for your GIRLFreind". lissy came out with the damn littlest petshpop pink owl,chihuahua,butterfly pack that I have searched all over for since the day we bought one for miranda's bday and rory wanted one too.
So on to moms house. Mom bought be a key lime "pie" that turned out to be a cake--it was really good.
JJ got me cheesecake and mom got me make up and stuff :)
Rory played with the kittens again-- they are already much bigger than last time and a bit more resilient...still working on teaching Rory the proper way to cuddle.I tried to convince them to name the one with allergies Colonel Sniffles.. and the one with dog like dots "puppy". Libby told Rory she was going to "dye her hair" and Rory GASPED and covered her mouth "thats terrible! " then tried to explain how she meant color! Rory ate a whole ice cream cone and CRASHED it was so cute one minute she was up.. then she was out cold.While she was passed out I got libby to bleach out the front of my hair too.it was soo funny.. or we were inhaling too many fumes.
check it out!
I will dye it red.. I still hafta find the red I want!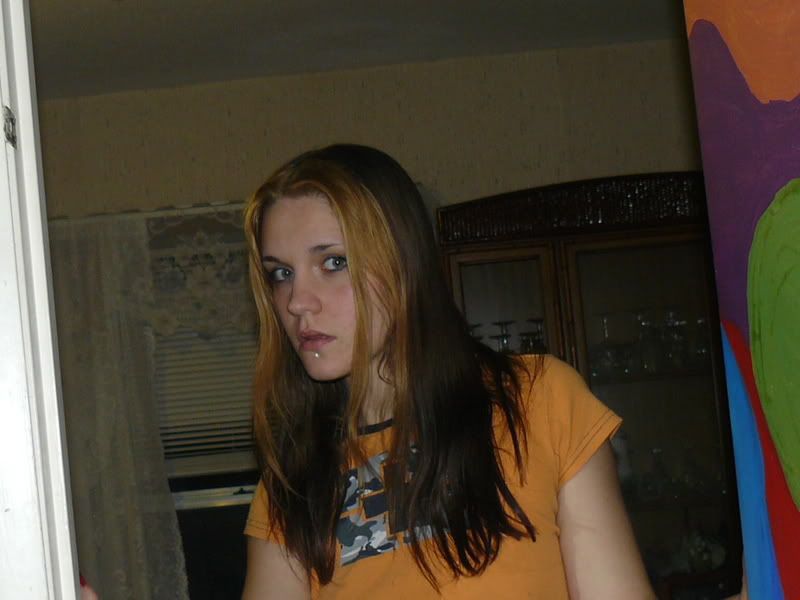 So after libby tried to murder me with burny amonium a hot blow dryer and melty plastic-
and after the folks had gone to bed and i was done goofing off chatting with the siblings
we woke the kid up and got ready to go. She cried about leaving the kitties.. she said they cried, too.
Ri came home and made me dinner.Chinese food! I have really been wanting some,but can't really bring home any in the middle of the night .so, he bought ingredients and made dinner
So,
today- I decided to clean the the living room and organize Rory's toys..
BUT, in order to organize the toys I would need to clean Rory's room..
BUT to clean that i needed to hang her clothes 1st... LOL.So I deep cleaned the kids room, organized everything.. and cleaned the living room. Rory actually helped and picked out a BUNCH of toys she wants to give to baby Lily.
heres some pics Rory took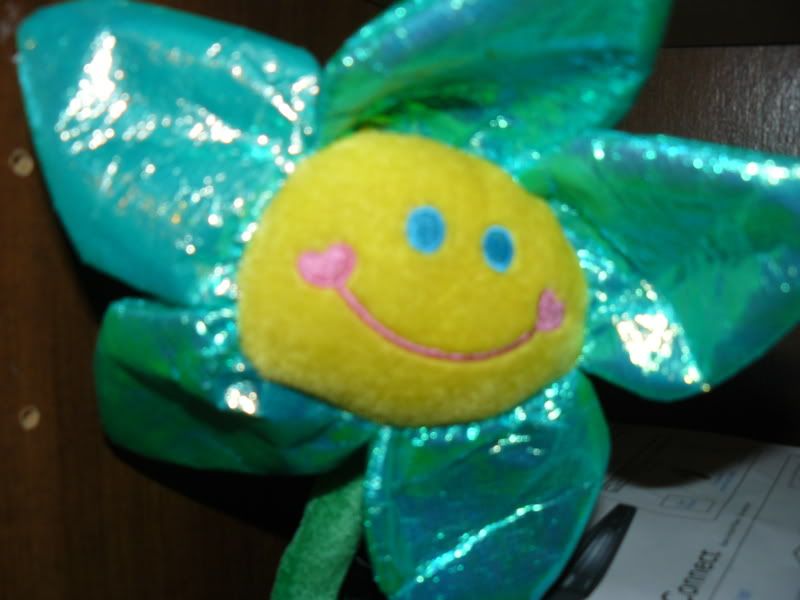 A pic of my new rug... i think Rory got a better pic.