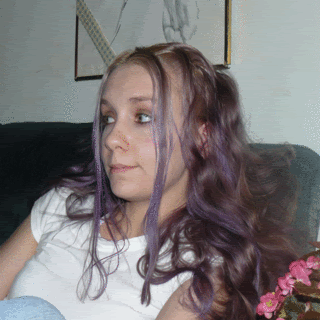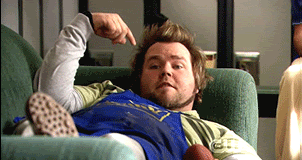 HEY! Check out my mad new photoshop skills,(assuming you can see them move,Lissy can't)
Aren't you proud??
So,
here I sit watching scrubs at 7 am...nope, no sleep all night. I have a dentist appointment at 8thirty - just figured after 6 or so I should just stay up.Rory has been asleep though I guess thats good.
Sorry for my lack of pics this installment, I have had the memory card in the computer and haven't taken many pics lately. I did take a vid of her dancing around the living room-but she was wearing a dress,and kept showing her butt-for one,
and for two ,its probably too huge to download anyway.
Sunday - when ri went to work- Mom and Libby stopped in and kidnapped us for the beach. We even took Noobs.She was soo freaking happy about it.Noobie and Libby taunted each other the whole ride.She is such a person sometimes.
I am sad I didn't get any pics.I was in such a half asleep rush I forgot my memory card...as well as clothes to change into. It was nasty cloudy threatening to rain the whole time,but never did. Noobie didn't want ANY ONE in the water.She would bark at people even. One family near us had kids she was really concerned about..but then their dog came(really friendly dog) ,and she sat down with us.It was REALLY lowtide and we sat in a tide pool to play.Rory just wanted to eat chips,and junk. ..but she did make a pretty awesome little castle - she was soo focused,too.
There were tons of shells and a starfish.- and "sand quarters"(peices of sand dollars).By the time we left there were NO WAVES I took Rory in for a little swim- the water was pretty warm.We didn't end up staying too awful long.We dropped the dog off picked up a change of clothes and went to moms house- of course.I was exhausted when we came home..but I STILL didn't go to bed till like five am.
Speaking of sleep WHY do I keep sleeping soo tensed up and angry?Clenched fists and jaw.I wake up soo sore.I haven't been getting much sleep at all..I guess I should be happy I sleep at all.
Rory has been soo hard to deal with...even though its all love ,its her CLIMBING on me to "give me love" her need to either be touching me- or destroying the house.She is almost violent towards me about telling her no lately.She always wants to do just the thing I have told her a hundred times not to,like pretend to cook with food from the fridge..and when I finally break and say "I SAID NO! " she gets sooo upset..but dammit
.ugh. three yr olds are soo fun.
--- So anyway..I know there is more but I really gotta get ready to go.