Eye know . I know, a dog centric post,
what is happening to the world
I think the blogathon is getting to me a bit. I've read some AMAZING blog posts this week( both by blogathoners I am just meeting -Hi there!, and at my regular bloggy haunts.)
Fact of the matter is : I may be JUST a Mommy blogger, and mommy bloggers are a dime a dozen, and it IS a lot of "look at what my kid did" bragging.
I also break a lot of "blog rules"
I don't stick to a set theme - I have had all sort of themes, some having nothing to do with motherhood even LOL! ,
I ramble ,
I suffer from attacks of run on sentences AND bad grammar .obviously.
I also post loads of photographs despite being far from a pro photog. I know these rules ,and I know people that stick by them for very well done, professional journalistic blogs..
I also know witty, snarky , clever, or just cute Mommy bloggers...
and you know what, despite being one of the millions of Mommy bloggers, I like their blogs.
So, that awkward little side ramble out of the way, in the spirit of Mommy blogging I shall introduce you to my 1st child.
My fur baby:
Meet Anubis Pookie Doobs.
Better known as Noobs.or Noobie
Or
n00bs
if you are really nerdy.


Baby Noobie..

I want to say she is going on 9 years old...maybe 8?
I am the worst mommy ever.
When my beloved (read:Ancient) cat died I relented to letting Ri get a dog.
He is a dog person, I never thought of myself as much of a dog person.. Noobie changed all that..
We scoured local papers and ads desperately looking for a German Shepherd.
While at the same time my Best Friend way back when called me to tell me her Inlaws dog (some sort of mix,perhaps timberwolf in there) was pregnant. .. by the neighbors GS.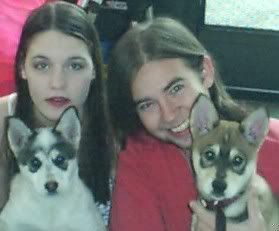 The pup I am holding is her litter mate, at the time our neighbor /landlords dog.
I cannot express to you how spoiled Noobie was in those 1st few years.She was master escape artist and with her sister by her side it made for HUGE trouble. Those 1st few years of crazy puppydom were HARD. She was AMAZINGLY easy to housetrain, but training her for other things, walks , manners, stubbornness , everything was a differnt story. Her full title as a pup became :


ANUBIS Digger of Dirt, and Defiler of plants



We never went ANYWHERE without her. Even taking her with us on the roadtrip when we eloped (To a cabin in Tennessee)..where she frightened the poor hillbilly pastor that married us.

When we got pregnant Ri would wake up to Noobie resting her head on my belly.We did worry a bit about how Noobs would be with an infant, but she had been around babies, and small dogs and kittens even and done well.



If anything she is protective, She is still super careful to play gently with Rory. Sometimes a neighborboy will come over and she will think she can be rough with them and chase them, but she never does that to Rory.



We even went on a HUGE huge road trip with her 3 yrs ago,
To Colorado and back. Staying at various pet friendly hotels (and a friends house) and going anywhere we could with her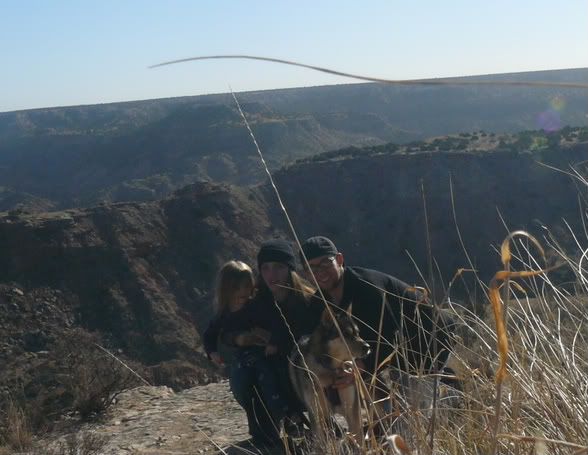 (.. I still think she was better behaved on that road trip than she is on a day to day basis)


and she LOVED the snow.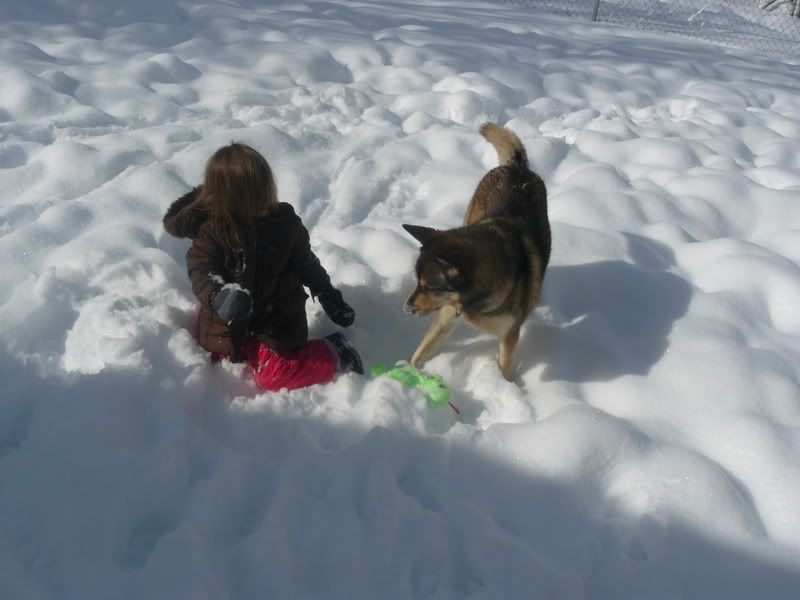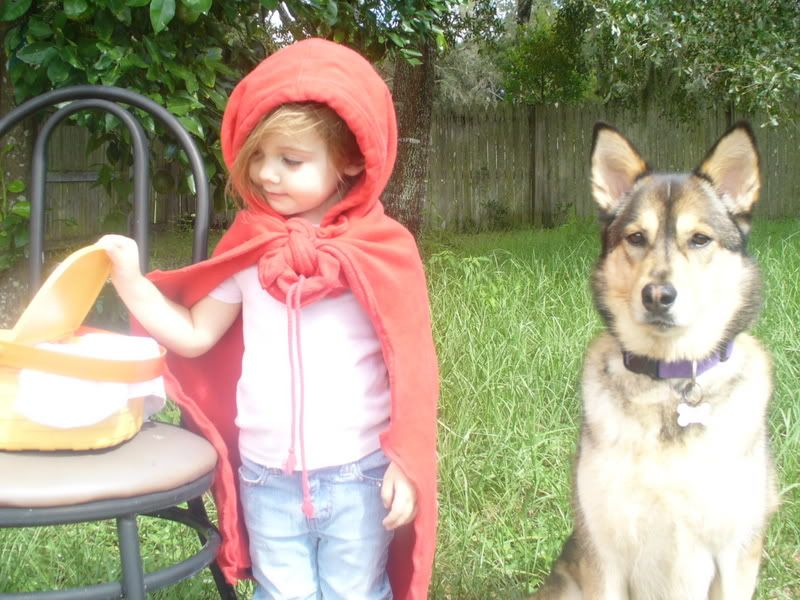 One Halloween she helped with Rory's Little Red costume

and one year she was in a local parade with us: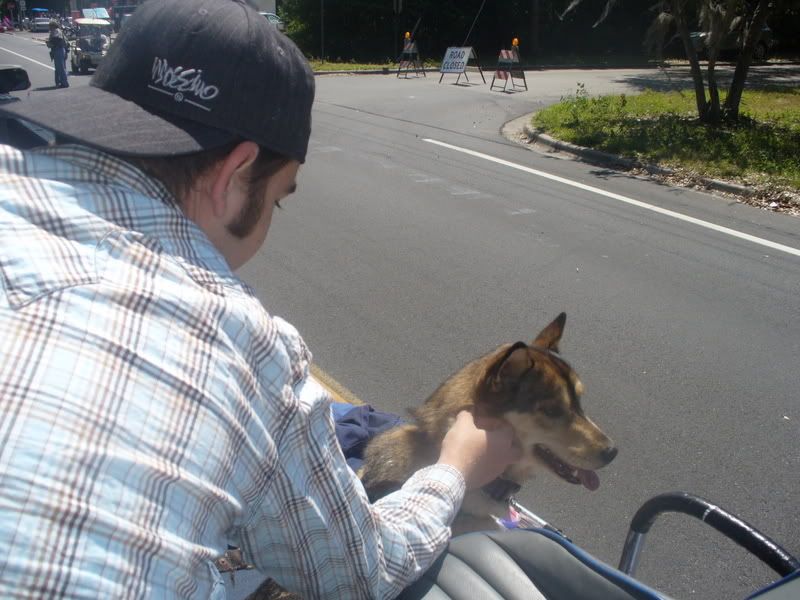 She gets all the attention.


She really is an awesome dog, and I think she has converted me completely from a cat person to a dog person.
I love our quiet mornings together, our bike rides around the neighborhood.. and the silly goofy faces she makes.
I love her pee-pee dance when I take too long to let her out,.
I even love that attention craving thing she does when she feels neglected- She brings her stuffed lovey out and start suckling it right in the middle of the room... usually when people are over, because clearly she is neglected and unloved.
I love her coming to lay RIGHT on top of me somehow, and then acting like I am intruding on her space when I pet her, I love that she barks to tell me someone is here when I am home.. but doesn't bother to bark at people who come up when we aren't home, or we are asleep.
I love the way she talks back, and sighs like a teen when I tell her to do something:
and when she does stuff like this:
I lover her despite her escaping escapades (which I think /hope she finally seems to have outgrown)
despite her eating the last of the foil wrapped Easter chocolates, and puking up the foil on the lawn, and mildly panicking me.
I lover her despite the fact that she has chewed up various things over the years that I sort of wanted to keep.
and despite that insanely high pitched nose whistle she does the second her water bowl is empty (when she doesn't actually WANT water, she just hates that her bowl is empty)
.. I mean, you have to love this face
I could probably go on for a very long time, and I am leaving some priceless stuff out..
but the end of the world is coming, and I need to get some sleep.
PEACE AND TOFU CHICKEN GREASE,
BABYHELLFIRE